Everest Climbers SPEAKERS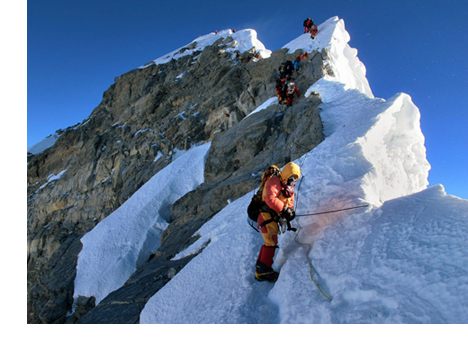 Climbing Mount Everest is one of the most intimidating—and most rewarding—challenges in the world. Those who have successfully summited Mount Everest join an exclusive club and have stories to tell that will last a lifetime. In order to climb Everest, an individual needs to have physical endurance, mental toughness, and advanced teamwork and leadership skills.
Our Everest Climber speakers can offer your organization a captivating presentation that will easily grab the attention of everyone in the room. Most people go their whole lives without meeting someone who has climbed the tallest peak in the world, so bringing one of our Everest Climbers to your event is something that no one in the audience will ever forget.
People who have climbed Mount Everest not only possess a sense of adventure, but also know how to set a goal and then work hard to accomplish it; that trait is something that every organization can benefit from. The Everest Climbers we represent for speaking engagements, will be proud to inspire your audience to strive for both the professional and personal goals in their own lives.
Reaching the highest point in the world is an experience that, for most climbers, is the fulfillment of a lifelong passion and pursuit. Anyone with the dedication and perseverance to reach such a lofty goal is someone that you can be sure will enthrall your audience with amazing stories, stunning visuals and advice to apply to your organizational goals.
Please browse speaker candidates below, refine the results or choose another topic.