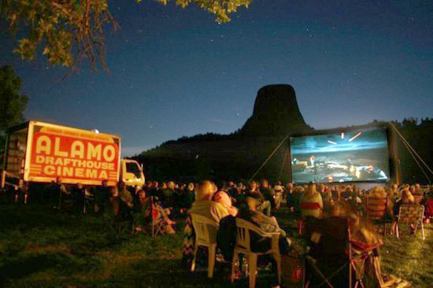 Turning Detractors Into Loyalists
The Alamo Drafthouse theater chain based in Austin, Texas has built a reputation on their love of movies, creative programming and perhaps more recently for its stringent no texting and talking policies. For the uninformed, Alamo strictly prohibits using one's cell phone for any reason during a movie. Rule breakers are warned once, and upon a second infringement are unceremoniously kicked out the theater—with no refund. Many people became aware of this chain in 2011 when Alamo released captioned video of a voicemail from an angry customer who had been kicked out of the theater. The video went viral and CNN's Anderson Cooper said that Alamo Drafthouse CEO, Tim League, should win the Nobel Peace Prize for bringing civility back to going to the movies.
These strict rules are just part of League's vision to "be the movie theater for movie lovers." League started with just one theater in Austin in 1997 and now has fifteen theaters in seven states, with more under construction. I sat down with League to ask how the company hoped to keep up the dedication to the movie-going experience given its expansion into so many new markets. This is made even more difficult given that the chain now has over 2,000 employees, and the theaters don't just show movies, but are also full-fledged restaurants with servers bringing food and alcohol to your seat.
League said that his mission has always been and will continue to be to "ensure every guest has an awesome experience and is excited to come back." He does this primarily by using Net Promoter Score, a customer survey system used to gauge customer happiness. I asked if League wouldn't mind sharing Alamo's NPS to get a sense of how he is doing so far.
"Overall, system wide, it would probably be low 70s…I can tell you that every single employee in the entire company is focused on it." That's an amazing score, with most companies averaging between 5 and 10. Alamo's score is up there with the best in the business, such as USAA (the insurance company) whose score is 80 and Costco whose score is 78. The Net Promoter system involves surveying customers on one simple question, how likely is it that they would recommend this business to a friend of colleague on a scale of one to ten. Based on the survey answers, respondents are divided into three groups: promoters, passives and detractors. Promoters score nine or ten, passives seven or eight, and detractors six and below. The overall NPS is calculated by subtracting the percentage of detractors from the percentage of promoters.
Unlike the Alamo detractor who made it on Anderson Cooper's show, League usually takes a different strategy: turn a detractor into a promoter, saying that, "Every detractor has to be responded to within three days." His hope is that by responding quickly he can take care of issues immediately and give the detractor a positive experience on his or her next visit.
With this data, League can also make sure that each movie showing is effectively staffed, which keeps customers happy, and from a business operations standpoint that Alamo is running as efficiently as possible. Leagues says that, "It starts with ticket sales. It does have Net Promoter score on there…Labor's really a huge challenge for us where profitability is, because if a movie's a hit, we tried to forecast that, and we try to schedule for that, but two bad things can happen. If the movie's ahead, and you're not staffed for it, then you have bad service. If a movie's a tank, and you staff for it, then you're losing a bunch of money."
Alamo's NPS did drop in 2013, and from the scoring League was able to identify at a recent menu overhaul as the cause. "We can see that of the 700 people that scored it poorly on the menu change, that 5% of those were pissed off that we took off the Mac & Cheese…enough people said they really want the Mac & Cheese back, we're going to bring back the damn Mac & Cheese." Without feedback like this, League might not be able to pinpoint why people stopped showing up to movies and might mistake the cause for something else, like understaffing.
League would like to be able take the NPS to the next level and spot his detractors when they sit down at every show. "Hopefully what we can do is almost have a server alert. It's like, 'OK, here's your section, and seat 1012 has a detractor and it…You need to make sure that John is taking care of, and be on your best behavior, because the last time he was here he had a really bad time, and this is what went wrong.' Sort of a pre shift report based on advance ticket sales to identify the detractors that we need to turn around into promoters."
That system isn't quite here yet, but that sort of customer-focused goal is part of what why Alamo has built up a legion of loyal fans in Austin for years. League's marketing strategy is a smart one: leverage your existing promoters, turn your detractors into loyalists and give the customer what they want, especially if it's Mac & Cheese. He knows that to build a base of brand loyalty he has to start with a culture of movie lovers and continue providing outstanding customer focus.
Author
More Marketing / Branding Blogs
Create a Future of Prosperity with Innovation Speaker, Michael Perman
By Michael Perman


Innovation keynote speaker, Michael Perman helps teams crack the innovation paradox to generate actionable ideas, breakthrough products, and revolutionary customer experiences. The founder of C'EST... more...

Transforming Your Business through Practice Management, with Sales Speaker Duncan MacPherson
By Duncan MacPherson


A professional branding and client acquisition expert, sales and marketing speaker Duncan MacPherson has been coaching financial professionals for over 20 years. His company Pareto Systems is at the f... more...

Four Pillars of Exceptional Execution, with Kevin Kelly
By Kevin Kelly


Internationally acclaimed motivational speaker Kevin Kelly is a foremost authority on entrepreneurship, leadership, sales, creativity and personal excellence. Over the course of two decades, Kevin has... more...

Purposeful Branding, with Simon Mainwaring
By Simon Mainwaring


Simon Mainwaring is the founder of We First, a leading brand consultancy that provides purpose-driven strategy, content, and training that empowers companies to lead business, shape culture, and bette... more...

Learn What Customers & Employees Crave Most, with Gregg Lederman
By Gregg Lederman


Gregg Lederman is the founder and CEO of Brand Integrity, a passionate engagement company with disruptive and sustainable solutions that don't just work, they matter. He is the author of ENGAGED! Outb... more...

Think Big, Act Bigger, with Leadership Speaker Jeffrey Hayzlett
By Jeffrey Hayzlett


An expert in leadership, change management, entrepreneurship, creativity and communication, Jeffrey Hayzlett is a bestselling author whose dynamic, insightful presentations make him a popular public s... more...

Purpose-Driven Branding with Simon Mainwaring
By Simon Mainwaring


Simon Mainwaring is the founder of We First, a leading brand consultancy that provides purpose-driven strategy, content, and training that empowers companies to lead business, shape culture, and bette... more...