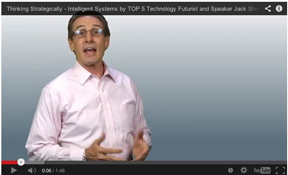 Thinking Strategically – Intelligent Systems by TOP 5 Technology Futurist and Speaker Jack Shaw
VIDEO: Thinking Strategically – Intelligent Systems by TOP 5 Technology Futurist and Speaker Jack Shaw
Author
More Technology / Innovation Blogs
What is Personal Disruption? Answers from Innovation Speaker Whitney Johnson…
By Whitney Johnson


Founder and Managing Director of the Springboard Fund, business and innovation speaker Whitney Johnson is a top investor and leading thinker on driving innovation through personal disruption. As cofou... more...

Bringing Rocket Science Down to Earth, with Innovation Speaker Dan Goods
By Dan Goods


Named "One of the Most Interesting People in Los Angeles" by LA Weekly, innovation keynote speaker Dan Goods created his own dream position as "Visual Strategist" at NASA's Jet Propulsion Labora... more...

Harnessing the Green Business Revolution, with Sustainability Speaker Peter Boyd
By Peter Boyd


Business and environment expert, Peter Boyd helps companies accelerate the adoption of business solutions that lower carbon emissions and increase long-term profits. Driven by his personal motto that... more...

Why Simple Wins, with Innovation Speaker Lisa Bodell
By Lisa Bodell


Founder & CEO of innovation firm futurethink Lisa Bodell is the bestselling author of Kill the Company, and her latest Why Simple Wins. A leader on simplifying innovation and change management, Lisa i... more...

Harnessing the Power of Consumer Trends, with Futurist Speaker Daniel Levine
By Daniel Levine


One of the world's leading trends analysts, consumer trends keynote speaker, Daniel Levine heads an international team of over 9,000 trend spotters who research and chronicle the latest ideas, produ... more...

Creativity Speaker Dr. AnnMarie Thomas Inspires Innovators to Play
By AnnMarie Thomas


Innovation keynote speaker and expert, Dr. AnnMarie Thomas works (and plays) to empower, support, and inspire today's innovators, engineers, and inventors, as well as those of tomorrow. A seasoned ma... more...

Disruption and Invention, with Innovation Speaker Kevin Surace
By Kevin Surace


Kevin Surace is a well known Silicon Valley entrepreneur, disruptive innovator and innovation keynote speaker, who had been awarded Inc Magazine's Entrepreneur of the Year, listed as one of the top 15... more...