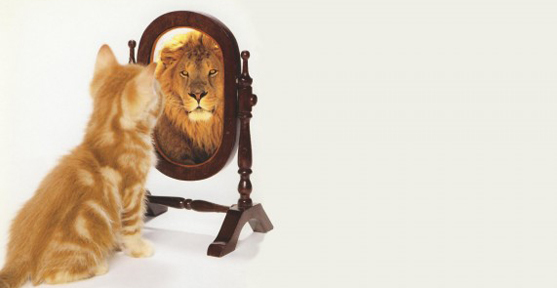 The Confidence Code
We all think we know confidence when we see it. It's what the person who speaks first and longest at the office meeting has. It's what your friend who always seems so sure of their opinions has. It's there in the who-cares-that-my-last-10-ideas-were-shot-down,-I'll-just-propose-another attitude of that slightly irritating new hire.
When we started this project we assumed this was confidence. It was an attitude, a mindset, if you like, of bravura. And there was something about it that felt pretty foreign to us. It seemed like you had to be a jerk to be confident – or at least confident in that way.
But the more we talked to the psychologists and neurologists who make the study of confidence their life's work, the more we came to the realization that we were wrong. Our early assessment of what this elusive quality is, was off target.
Confidence isn't about throwing your weight around or talking over people or always being the first to jump in. Confidence isn't an attitude at all. You know that old expression about something being all in your head? Well, when it comes to confidence the opposite is true. Confidence is about the actions you take not the postures you strike.
Having confidence is taking action. We all want to do or try certain things but fear they are just beyond our reach and yet we worry about failing. Those nerves are normal – everyone has them. The difference between a confident person and an unconfident person is simply that the confident person acts on their ambitions and desires and who does let that fear of failure stop them.
And the notion of confidence as action is a virtuous circle. The more we act, the more our confidence grows. We try something, and the next time round we feel a little bit easier about trying it again. Even if we fail we have learned something valuable, namely that taking the risk of trying didn't kill us. That's useful, confidence building knowledge.
We spent a long time trying to define confidence because we felt that it would be easier to grow it if we really knew what is was. In the end we came to this conclusion: confidence is life's enabler – it is the quality that turns thoughts into action.
Author
Blogs By Katty Kay
More Personal Growth Blogs
Bear Grylls on Success, Team Building and Personal Strength
By Bear Grylls


One of television's most watched celebrities, Bear Grylls launched a Survivalism Fever that has swept across the world. The former British Special Forces operative is best-known for taking his adventu... more...

Adventures in Kindness with Inspirational Speaker Leon Logothetis
By Leon Logothetis


Leon Logothetis is a global adventurer, motivational speaker and philanthropist. It wasn't always that way. He used to be a broker in the city of London where he felt uninspired and chronically depr... more...

Fitness, Nutrition and Life Balance with Gabrielle Reece
By Gabrielle Reece


Fashion icon, health expert and TV Show Host Gabrielle Reece is an avid proponent of empowering people to take responsibility for their own health. Her commanding presence, passion for healthy living,... more...

What is Personal Disruption? Answers from Innovation Speaker Whitney Johnson…
By Whitney Johnson


Founder and Managing Director of the Springboard Fund, business and innovation speaker Whitney Johnson is a top investor and leading thinker on driving innovation through personal disruption. As cofou... more...

Building Resilience, with Global Keynote Speaker Margie Warrell
By Margie Warrell


Coach, author, and mother of four Margie Warrell is constantly sought by conferences, corporations, and media outlets for her advice on taking risks, living courageously, and building resilience. Mar... more...

Building Stronger Teams through Vulnerability, with Corey Blake
By Corey Blake


With over two decades of experience as a master communicator in Hollywood and the fine arts, leadership speaker Corey Blake's talent for creatively and emotionally connecting with audiences is unrival... more...

Following Your Dreams, with Inspirational Speaker Jim "The Rookie" Morris
By Jim Morris


Jim "The Rookie" Morris's inspirational and transformational message about following your dreams and having a game plan for success connects with audiences, young and old, male and female. His l... more...