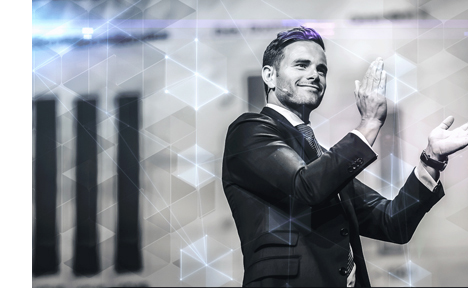 Workforce Trends with Seth Mattison
Seth Mattison is an Internationally renowned expert on workforce trends and generational dynamics. As founder and CEO of Futuresight Labs and Strategic Partner at BridgeWorks, LLC, Seth advises many of the world's leading brands and corporations on the key shifts happening around talent management, change and innovation, leadership, and the future of work.
To win in the new world of work it's going to take all of us. Diversity of thought and perspective is huge. Leverage the gifts each generation brings to the table.
SPEAKING.COM: Today's workforce is split between multiple generations. What complexities and opportunities do these present for leaders and organizations?
MATTISON: We're in uncharted waters as it relates to multiple generations of talent in our organizations today. For the first time in history we have three and some times even four generations working together. The reality is each of the generations has a pretty unique profile and view of the world, which affects everything from communication to relationships with authority.
Now, more than ever, there is an incredible opportunity to invite every generational voice to the table. Think about it, Millennials have grown up as digital natives, collaborating and connecting in new ways to solve challenges with peers all over the world. They have assets and talents the other generation's lack. At the same time, we have this incredible amount of wisdom, knowledge, and perspective from our seasoned generations that we absolutely must tap into. They've seen a lot and much of that tribal knowledge cannot be learned in a book or computer program. It's earned through years of blood, sweat, tears, and sacrifice.
At the end of the day it can't be an "out with the old, in with the new" type mentality. To win in the new world of work it's going to take all of us. I always say to my leadership groups, whenever you're working on a new strategy, ask yourself, "is every generation's voice represented at this table?" Diversity of thought and perspective is huge. Leverage the gifts each generation brings to the table.
SPEAKING.COM: What is the "future of work" and how will it affect management styles?
MATTISON: What's often left out of the story of "the future of work" is the fact that the structures–and more importantly the culture of hierarchy–are still deeply embedded in our organizations today.
The hierarchy–driven by top down command and control mentalities yet credited with creating incredible efficiencies and scale over the past 150 years–is colliding head on with the world of the network today. Chaotic and disruptive yet deeply empowering, the network is lowering the barriers to entry and fundamentally rocking the way we organize and distribute power.
Today the hierarchy and the network are squaring off, leaving behind a wake of conflict and confusion as we strive to put new tools and technologies to work yet find ourselves saddled with traditional and often inflexible structures and mindsets.
I personally believe the battle and the balancing between the hierarchy and the network will be a defining component of society and business in the coming years as we find ourselves living in a half changed world.
Start asking the people you interact with how they would like to be communicated with and stop judging it. The key is to learn how to meet people where they are without losing who you are.
SPEAKING.COM: Can you give us a few tips for better communication in this new Digital Age? How do we all get on the same page?
MATTISON: Communication challenges are everywhere in our digitally charged workplace today. We have so many channels through which we can connect. I can tweet you, text you, Skype you, Facebook you, instant message you, email, and perhaps even pick up the phone and call you! And each channel posses it's own set of challenges.
The bottom-line is there is no "one size fits all" approach to communication any more. Today we must all be flexible in how we connect with one another. I work with Boomers who really appreciate a personal phone call, especially when dealing with a conflict. At the same time I'm sure many of you have tried calling your Millennial colleagues or children only to be met by voicemail and then a text that reads, "What's Up?" My generation X mentor loves to say, "What's Up is pick up your damn phone!" We laugh but the fact is we all struggle with this. The best is advice I've received is simply this, "It's not about how you want to communicate, it's about how the person you're trying to reach wants to be communicated with."
We all have to be flexible. Can you text? You need to learn how to text. Will you pick up the phone and make a professional business call? You better learn. Start asking the people you interact with how they would like to be communicated with and stop judging it. The key is to learn how to meet people where they are without losing who you are.
SPEAKING.COM: What's your professional mission?
MATTISON: My main mission today is to help facilitate a shift in consciousness around what work and leadership will mean in the 21st Century; and the role individuals can play in intentionally creating careers and companies that bring deep value to the world. The truth is we're facing a leadership crisis today at all levels of society and I want to inspire people to be courageous enough to elevate virtue in all that they do.
---
To bring Seth Mattison to your organization, please contact Speaking.com at: Speakers@Speaking.com.
Author
More Leadership / Management Blogs
How to Drive Sustainable Growth with Leadership Speaker Rick Miller
By Rick Miller


Rick Miller is one of the few accomplished business executives who has been able to translate his decades of experience into actionable management advice that helps other senior leaders grow their bus... more...

Increasing Employee Engagement in Healthcare with Leadership Speaker Vicki Hess
By Vicki Hess


Healthcare keynote speaker, Vicki Hess, RN, is your go-to resource for improving employee engagement in healthcare. Whether you work in a hospital, health system or your members or customers work in h... more...

Leadership Success with Dr. Marshall Goldsmith
By Marshall Goldsmith


Dr. Marshall Goldsmith is a world authority on leadership and employee relations, demonstrating how good management can achieve positive, lasting change in the age of globalization. What we've lear... more...

Using Debriefing to Foster Continuous Improvement, with Leadership Speaker Anthony Bourke
By Anthony Bourke


Accomplished fighter pilot, seasoned CEO, and leadership keynote speaker, Major Anthony Bourke has helped thousands of leaders streamline growth and improvement in their companies. After flying hundr... more...

Building Stronger Teams through Vulnerability, with Corey Blake
By Corey Blake


With over two decades of experience as a master communicator in Hollywood and the fine arts, leadership speaker Corey Blake's talent for creatively and emotionally connecting with audiences is unrival... more...

How to Create Competitive Organizations with Happy Teams
By Jennifer Moss


Honored as the Canadian Business Innovator of the Year, corporate culture keynote speaker, Jennifer Moss and her groundbreaking work on the power of happiness are transforming hundreds of global compa... more...

Maximizing your Millennial ROI, with Keynote Speaker Aaron McDaniel
By Aaron McDaniel


Millennial speaker Aaron McDaniel delivers timely "aha moments" and viable solutions on how to bridge generational gaps in the workplace and marketplace. Drawing from his own experience as a Millenni... more...