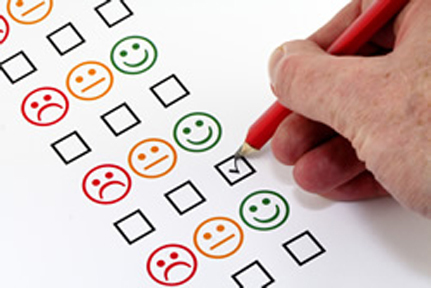 Measuring Customer Satisfaction
One of the fundamental tenets of performance improvement is to identify a metric that measures how you are doing. In business, the typical metrics are profitability, operational efficiency, and stakeholder satisfaction. The stakeholders are generally defined as ownership, employees, and customers. Of all these metrics, the one that can be the most misleading is customer satisfaction.
Recently, I used a town car company to provide me with ground transportation from the airport to my hotel. Afterwards, the transportation company sent me a brief customer survey. The five questions seemed appropriate enough; inquiring about ease of use, promptness, courtesy, safety, and overall satisfaction. I scored them at the highest rating in each category, but a nagging thought entered my mind.
For me, those five areas did not differentiate the company from their competitors. I expected it to be easy to arrange to be picked up. I expected the car to be there when I arrived. I expected a courteous driver and to be safely transported to my destination. The fact that I was completely satisfied by the experience did not mean that I wouldn't consider hiring a different transportation next time.
Customer satisfaction does not ensure customer retention; and retaining customers is the point.
This transportation company's approach to measuring satisfaction isn't unusual. In fact, most surveys I take from companies of which I have been a customer focus on components of the transaction/service that I expect to be performed well.
In my opinion, an organization does not differentiate itself from the competition by meeting fundamental expectations. By surveying customers on how well they performed the essential functions of the transaction, these organizations are simply measuring basic competence. Basic competence does not make for an exceptional customer experience. Basic competence is the expectation of the customer, not a value differentiator.
Measuring your ability to deliver the basics is an operational metric, not a customer satisfaction one. To believe that your success is based on satisfying your customer suggests that you are hoping none of your competitors are competent. That is fool's gold.
The best metric for customer satisfaction focuses on that "special sauce" that your organization offers that keeps your clients delighted and loyal. It is the element of your brand that inspires your current clients to evangelize you to others.
To truly determine how well you are doing, consider asking your clients what makes you special; what makes your offerings distinctive in the market place. Instead of customer satisfaction scores as a measure of effectiveness, try measuring your ability to consistently deliver the thing(s) that keep your clients from straying to the competition. Otherwise, you risk experiencing the false sense of security of high customer satisfaction scores while your customers continue to consider your competitors.
In the words of the famous management consultant Peter Drucker, "There is nothing so useless as doing efficiently that which should not be done at all."
Author
Blogs By Dave Mitchell
More Customer Service / Sales Blogs
Becoming a Master Influencer, with Leadership Speaker Joseph Grenny
By Joseph Grenny


Leadership speaker Joseph Grenny uses his cutting edge research on leadership practices, influence, and human behavior to boost business productivity and foster high performing work environments. The ... more...

Becoming a Successful Salesperson, with Sales Keynote Speaker Shawna Suckow
By Shawna Suckow


Ranked among the top women speakers in business, sales keynote speaker Shawna Suckow uses her 20 years of expertise as a million-dollar B2B Buyer to help sales professionals and business leaders bette... more...

Harnessing the Power of Consumer Trends, with Futurist Speaker Daniel Levine
By Daniel Levine


One of the world's leading trends analysts, consumer trends keynote speaker, Daniel Levine heads an international team of over 9,000 trend spotters who research and chronicle the latest ideas, produ... more...

Transforming Your Business through Practice Management, with Sales Speaker Duncan MacPherson
By Duncan MacPherson


A professional branding and client acquisition expert, sales and marketing speaker Duncan MacPherson has been coaching financial professionals for over 20 years. His company Pareto Systems is at the f... more...

Building a Culture of World-Class Service, with Customer Service Speaker Dennis Snow
By Dennis Snow


Dennis Snow's customer service abilities were honed over 20 years with the Walt Disney World Company. Today he is a full-time customer service speaker, trainer and consultant who helps organizations... more...

Maximizing your Millennial ROI, with Keynote Speaker Aaron McDaniel
By Aaron McDaniel


Millennial speaker Aaron McDaniel delivers timely "aha moments" and viable solutions on how to bridge generational gaps in the workplace and marketplace. Drawing from his own experience as a Millenni... more...

The Future of Work, with Jacob Morgan
By Jacob Morgan


Jacob Morgan is moving companies forward by helping them adapt to the changing world of work. He guides companies in revamping their approach to talent management, the physical workplace, and culture ... more...