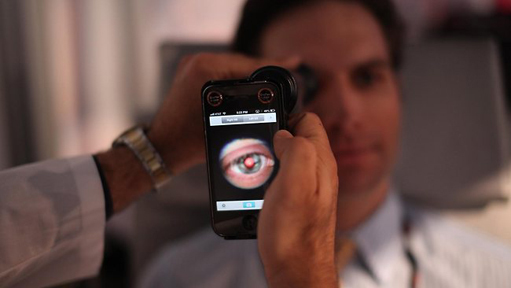 Innovation in Healthcare Technology- Kay Koplovitz
The very first time I saw real innovation in healthcare IT was in 2003 in Chicago, when Linda Hall presented QuickMedix (later named MinuteClinic). What really impressed me was the simplicity of the premise, based on the easy "in and out" of 1 Hour Photo. If people could drop off their film and pick up the photos at a mall kiosk within an 1 hour, why couldn't we do the same for diagnosing and treating common maladies such as strep throat, ear infections, viruses, high fevers and the flu? The technology wasn't so simple, but it's what made possible a walk-in kiosk staffed by a nurse practitioner who could see a patient, take a swab, send it via e- processing and get a read-out for a prescription within 15 to 20 minutes. That prescription could then be filled at the in store pharmacy, with the patient on their way in less in 30 or 45 minutes. I just knew this would be a success.


Health apps downloads doubled from 127 million to 247 million in 2012.(Photo Source: Healthy Celeb)
Linda explained what a convenience the service would be, particularly for women who often sacrifice an entire day at work getting to a doctor's appointment with a sick child, driving to the pharmacy to get the prescription filled and finally returning home to tend to her child. This convenience kiosk, introduced at Target and CVS, could be a real breakthrough in healthcare IT and people's lives. The company became a national success when it was recognized as a forerunner to urgent care in the US. Linda and her team successfully raised $30 million to market this service which was acquired by CVS in 2006 for $214 million.
Now, years later, one of the most robust investment categories for investors in start-up companies is healthcare technology, or healthcare IT. Much of this has been prompted by the Affordable Care Act of 2010. In that year, there were only 17 seed and Series A healthcare software and application companies that were funded. Even with this astonishingly low number, we began to see more development of healthcare IT at Springboard Enterprises, where a raft of companies applied to the Springboard accelerator program and three were accepted.
The numbers began to build from there; several dozen companies were screened by our expert life science advisors and 22 have since been accepted into the program. This isn't to say that Springboard, the accelerator accepting companies founded or co-founded by women, vetted a majority of the pack out there. We are just one of many, but it was an indication that the demand for technology improvements in the market was there and the investors were buying in.
Just a few examples could illustrate the range and targets of these companies. Ubiqi Health, founded by Jacqueline Thong, developed a mobile program for tracking migraine headaches. It not only tracks migraines, but provides the user with tools to help determine what causes their onset and potential options for reducing their effect. One user named Shantel wrote on their site that, "I noticed from my Ubiqi tracker that certain foods triggered my migraines, then I changed my diet".
The potential impact of managing migraines can be huge. For example, one study on kids with migraines revealed that kids with migraines are out of school 32 days to 3 months a year compared to an average of 3 to 13 days for other kids. Being able to manage the migraine and reduce days absent would have a profound impact on kids, teachers, administrators and healthcare providers. Ubiqi has moved into tracking other chronic illnesses such as asthma and diabetes.
ZappRX, presented in 2012 by one of our youngest entrepreneurs, Zoe Bary, is developing a mobile wallet for subscription orders. What fascinated me about Zoe's presentation is that she taught herself to write the patent for ZappRX technology and her investment documents by researching both online. Her start-up costs were next to zilch, primarily because she took on the tasks herself. In addition she was extraordinarily confident.
And it's a good thing that she is because what she is trying to do is take the pain out of getting prescriptions filled. So many people find glitches in the prescription fulfillment process, from connecting the doctor with the pharmacy, to providing the healthcare provider with accurate pharmacy records. ZappRX intends to make this process a pharmacy agnostic one. While that certainly would make sense for consumers, it isn't an easy process to penetrate. The biggest pharmacy chains: Wal-Mart, Target, Walgreens and CVS are more interested in keeping their customers in-house.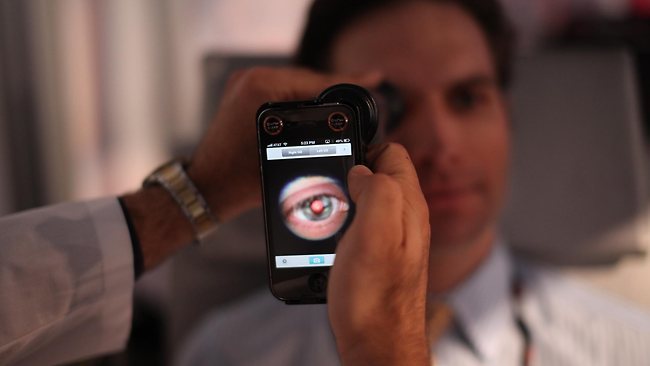 Photographing the inside of someone's eye with a special tool that uses a smartphone camera (Photo credit: AP, Source: theaustralian.com.au)
According to a report from CrunchBase, the number of funded companies tackling problems in healthcare rose from 17 in 2010 to 89 in 2013. That doesn't really speak to the amount of capital invested across all 195 companies in the same period. According to a report from investment firm Rock Health, a total of $1.9 billion was invested in healthcare related-firms that raised at least $2 million in capital during this time.
Funding isn't the only engine driving healthcare IT. The $10 million X Prize competition funded by Qualcomm and supervised by Dr. Daniel Kraft , a serial entrepreneur and faculty member at Singularity and Stanford University, is another route. The challenge is to put "Healthcare in the Palm of Your Hand" by enabling your vital medical signs to be transmitted on a mobile device connected to your doctor for up to the minute tracking. Imagine how that will bear fruit for early detection and treatment. This truly could be life saving
One Springboard company that raised funds is Tiatros, which presented at our class of 2012. Kimberlie Cerrone, founder and CEO, was trying to solve a problem of her own; it turned out that her son had been shipped overseas to the battle zone in Iraq. Kimberlie wanted to have all of his vital mental health and treatment information in one place in case it was needed for emergency life support in battle. She couldn't find a simple solution to bringing all his vital information together in a combined and secure file where doctors would be able to view all other medical history at the same.
Kimberlie, who has multiple degrees in biochemistry, an MBA and a law degree, started out to find a solution. She began with her colleagues at the San Francisco Medical Center for Research. If she could figure out how to bring together patient research from various potentially unrelated fields, Tiatros could be a life saver for the troops facing traumatic brain injury in war zones.
Already proven successful in beta tests in San Francisco, she may have cracked on of the most vexing problems dogging the healthcare industry: coordination among different physicians treating the same patient, with all the medical partners accessing the same data that's housed in a secure cloud accessible via any internet connected device. Providing that info in one place could vastly improve coordination among physicians treating a patient and reduce healthcare costs.
Without a doubt, the rise of healthcare IT start-up companies is starting to grow from a stream to a fast flowing river. The San Francisco Bay area leads the charge followed by New York, Boston, Atlanta and Los Angeles.
Summary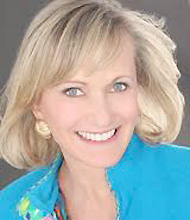 Article Name
Innovation in Healthcare Technology
Description
Investors are combing the stream of start-up companies for entrepreneurs and companies that can scale. companies have been tackling the vexing problems of making healthcare more efficient and effective since the turn of this century but early attempts during internet 1.0 just couldn't penetrate the complex system. Now nearly a decade and a half later, we are beginning to see real traction. This is good news for the industry and consumers alike.
Author
Author
Blogs By Kay Koplovitz
More Healthcare Blogs
Increasing Employee Engagement in Healthcare with Leadership Speaker Vicki Hess
By Vicki Hess


Healthcare keynote speaker, Vicki Hess, RN, is your go-to resource for improving employee engagement in healthcare. Whether you work in a hospital, health system or your members or customers work in h... more...

Healthcare in the Digital Age, with John Patrick
By John R. Patrick


For the past three decades, digital technology visionary John Patrick has been one of the primary forces driving technology innovation. As vice president of Internet technology at IBM, Patrick was at ... more...

Transforming Healthcare through Technology, with Bertalan Mesko
By Bertalan Mesko


Dr. Bertalan Mesko, PhD is the Medical Futurist. As a geek physician with a PhD in genomics and Amazon Top 100 author, he envisions the impact of digital health technologies on the future of health, a... more...

Improving Excellence in Healthcare with Dr. John Kenagy
By Dr. John Kenagy


Dr. John Kenagy is a well-respected physician, executive, academic researcher and lecturer with a unique view of healthcare. Forbes magazine featured Dr. Kenagy as "the man who would save healthcare... more...

Fostering Equal Access to Healthcare with Dr. Sampson Davis
By Dr. Sampson Davis


Let's make education popular. Let's "glorify and glamorize" it. Education is the new cool! After all, students have a better chance of becoming an engineer, architect, lawyer, or doctor than... more...

Healthcare Technology Future Trends with Dr. Daniel Kraft
By Daniel Kraft


The chair of the Exponential Medicine Track at Singularity University since its inception, Dr. Daniel Kraft has more than two decades of experience in clinical practice, biomedical research and health... more...

The Closing of Hospitals
By Robert Wachter


While much is uncertain in the era of health reform, the number of hospitals is clearly going to shrink, perhaps by a lot. A healthcare system that tolerated the inefficiency of having two mediocre 12... more...