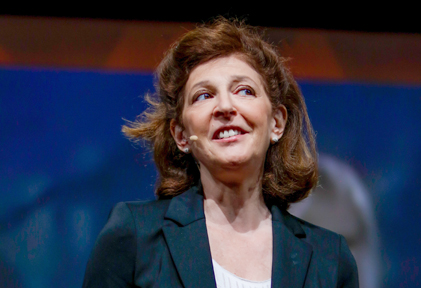 How to Spot a Lie with Pamela Meyer
Certified Fraud Examiner Pamela Meyer is a leading expert in the science of deception. She uses her extensive training in research into psychology and visual cues to help uncover the truth. She brings this knowledge to her fascinating speeches that are essential viewing for leaders and human resource managers everywhere.
I did further investigation and learned that there is a treasure trove of research in the field of deception
SPEAKING.COM: What first sparked your interest in the subject of lying and detecting lies?
MEYER: I was at a Harvard Business School Reunion, and a professor outlined some basic findings on what people do in negotiations when lying. I watched a room full of hugely sophisticated experienced alumni pay attention like they never do: heads up, no one on the phone, no one running out to take a call, everyone fascinated. I realized that this was new information for a group that had for the most part seen it all. Then I did further investigation and learned that there is a treasure trove of research in the field of deception that had never been brought to the business world, so I started by conducting a broad survey of all of the findings on deception.
SPEAKING.COM: What are the most common reasons people lie?
MEYER: We lie for different reasons, often to avoid conflict.
Offensive lies tend to be:
· To obtain a reward that's not otherwise easily attainable
· To gain advantage over another person or situation
· To create a positive impression over others and win admiration
· To exercise power over others by controlling information
Defensive lies tend to be:
· To avoid being punished or embarrassed
· To protect someone else from punishment
· To protect yourself from physical or emotional harm
· To get out of an awkward social situation
· To maintain privacy
SPEAKING.COM: What are a few of the most common misperceptions people have about how to spot a lie?
MEYER: We think liars fidget all the time, and sometimes they freeze their upper bodies while lying since the cognitive load is so high on them. We think liars won't look you in the eyes when, in fact, the average amount of time an honest person will look you in the eyes is about 60%.
The biggest mistake we make is jumping to conclusions without supporting evidence.
SPEAKING.COM: Should people be concerned about all the lies they encounter, or are only some worth addressing?
MEYER: I think we should be deeply concerned about high stakes lies and not as concerned about white lies that we utter for the sake of social dignity ("LOVE the haircut!"). We should also recognize that the world has changed—the moral bar has lowered a bit, and we can do our part in raising it by signaling to everyone around us that our world is going to be one where significant falsehoods are not tolerated.
We do have a bit of a deception epidemic upon us. Sportsmanship, which was once esteemed, is considered fuddy duddy. Cheating on exams has become standard practice in some parts of the country. We have a lack of trust in major institutions: our legal system, banks, corporations and the media – which used to be considered a valid watchdog institution – is partisan. Our heroes have fallen: Lance Armstrong, for example. This erosion of values, combined with the decline in face-to-face communication has created a perfect storm for deceptive practices.
SPEAKING.COM: What are a few of the most common mistakes people make in confronting someone who has lied?
MEYER: The biggest mistake we make is jumping to conclusions without supporting evidence— and failing to baseline someone sufficiently. Just because someone taps their foot—doesn't mean they are a liar when you ask that hard question. Maybe their norm, their baseline, is to tap their foot. Leaping to conclusions is for louts! You need to baseline, ask hard questions, observe carefully, confirm with facts and pursue facts, and not people.
===============================================
To bring Pamela Meyer to your organization to teach you how to identify lies and how to deal with them in order to win in negotiations, sales situations, workplace environments and interviews, please contact Michael Frick at: Mike@Speaking.com.
Author
More Customer Service / Sales Blogs
Becoming a Master Influencer, with Leadership Speaker Joseph Grenny
By Joseph Grenny


Leadership speaker Joseph Grenny uses his cutting edge research on leadership practices, influence, and human behavior to boost business productivity and foster high performing work environments. The ... more...

Becoming a Successful Salesperson, with Sales Keynote Speaker Shawna Suckow
By Shawna Suckow


Ranked among the top women speakers in business, sales keynote speaker Shawna Suckow uses her 20 years of expertise as a million-dollar B2B Buyer to help sales professionals and business leaders bette... more...

Harnessing the Power of Consumer Trends, with Futurist Speaker Daniel Levine
By Daniel Levine


One of the world's leading trends analysts, consumer trends keynote speaker, Daniel Levine heads an international team of over 9,000 trend spotters who research and chronicle the latest ideas, produ... more...

Transforming Your Business through Practice Management, with Sales Speaker Duncan MacPherson
By Duncan MacPherson


A professional branding and client acquisition expert, sales and marketing speaker Duncan MacPherson has been coaching financial professionals for over 20 years. His company Pareto Systems is at the f... more...

Building a Culture of World-Class Service, with Customer Service Speaker Dennis Snow
By Dennis Snow


Dennis Snow's customer service abilities were honed over 20 years with the Walt Disney World Company. Today he is a full-time customer service speaker, trainer and consultant who helps organizations... more...

Maximizing your Millennial ROI, with Keynote Speaker Aaron McDaniel
By Aaron McDaniel


Millennial speaker Aaron McDaniel delivers timely "aha moments" and viable solutions on how to bridge generational gaps in the workplace and marketplace. Drawing from his own experience as a Millenni... more...

The Future of Work, with Jacob Morgan
By Jacob Morgan


Jacob Morgan is moving companies forward by helping them adapt to the changing world of work. He guides companies in revamping their approach to talent management, the physical workplace, and culture ... more...