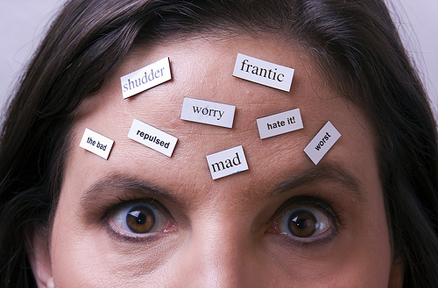 How to Kill Negative Automatic Thoughts
NATS (negative automatic thoughts) are big confidence killers for women. You know them. "I should have done x…" "Why did I say y?…" "That paper wasn't as good as it could have been…"
Women are particularly prone to NATS. We think we make one tiny mistake and we dwell on it for hours and hours. We can't let it go. Sometimes we are still swirling those insidious, negative thoughts round our brains for days or even weeks after the perceived slip up. And it kills our confidence.
Men don't seem to do this nearly as much as we do. They are better at simply swatting those irritating thoughts away.
Since moving on doesn't come as easily to us, we need a system for killing NATS.
3 to 1. That's our formula. Three positive thoughts to one negative thought.
Every time the negative thought sneaks into your brain, you need to remind yourself of three good things you did.
So, imagine this scenario, you're sitting on the bus on the way home and you keep thinking of that proposal deadline you missed by half an hour. As soon as the thought crops up, force your brain to list three good things you did that day. I was helpful to Angela who's just joined the team. The conclusion of my report was really strong. I called my mother-in-law and cancelled dinner, even though I'd been dreading the confrontation.
Now just one go round won't kill the NAT – far from it. This takes work. A few minutes later that missed deadline will rear its ugly head again. And so you repeat the 3 successes again. And again. And again. 3 to 1. Keep going.
Eventually you will wipe out that negative thought. This exercise does work because it puts the minor failure in perspective. It reminds you that while you may have had one set back, you also had a triumph. Even better, if you keep doing this, and make it part of your mental routine, you will train your brain to think differently. Scientists call this brain plasticity – the ability to physically change our brains so they work differently. For women in search of confidence tricks, plasticity is great news.
Author
Blogs By Katty Kay
More Personal Growth Blogs
Bear Grylls on Success, Team Building and Personal Strength
By Bear Grylls


One of television's most watched celebrities, Bear Grylls launched a Survivalism Fever that has swept across the world. The former British Special Forces operative is best-known for taking his adventu... more...

Adventures in Kindness with Inspirational Speaker Leon Logothetis
By Leon Logothetis


Leon Logothetis is a global adventurer, motivational speaker and philanthropist. It wasn't always that way. He used to be a broker in the city of London where he felt uninspired and chronically depr... more...

Fitness, Nutrition and Life Balance with Gabrielle Reece
By Gabrielle Reece


Fashion icon, health expert and TV Show Host Gabrielle Reece is an avid proponent of empowering people to take responsibility for their own health. Her commanding presence, passion for healthy living,... more...

What is Personal Disruption? Answers from Innovation Speaker Whitney Johnson…
By Whitney Johnson


Founder and Managing Director of the Springboard Fund, business and innovation speaker Whitney Johnson is a top investor and leading thinker on driving innovation through personal disruption. As cofou... more...

Building Resilience, with Global Keynote Speaker Margie Warrell
By Margie Warrell


Coach, author, and mother of four Margie Warrell is constantly sought by conferences, corporations, and media outlets for her advice on taking risks, living courageously, and building resilience. Mar... more...

Building Stronger Teams through Vulnerability, with Corey Blake
By Corey Blake


With over two decades of experience as a master communicator in Hollywood and the fine arts, leadership speaker Corey Blake's talent for creatively and emotionally connecting with audiences is unrival... more...

Following Your Dreams, with Inspirational Speaker Jim "The Rookie" Morris
By Jim Morris


Jim "The Rookie" Morris's inspirational and transformational message about following your dreams and having a game plan for success connects with audiences, young and old, male and female. His l... more...