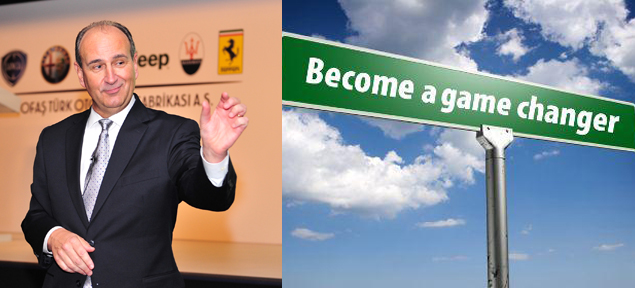 Game-Changing Leadership with John Mattone
John Mattone is known throughout the Fortune 500 as a cutting-edge thinker – recognized by the Thinkers50 and Leadership Excellence Magazine as one of the world's leading management thinkers and a powerful keynote speaker who delivers practical, content-rich, research-based programs that immediately engage his audience. John is the author of seven books as well as 100+ professional articles and book chapters.
SPEAKING.COM: What are some of the main challenges and opportunities faced today in managing talent?
JOHN: The biggest challenge cited by CEO's all over the world is "how do we develop current leaders and how do we identify and accelerate the development of future leaders"?
I conduct a major talent/leadership global study that is published by Pearson every two years and the last 10 years this has been cited as the main talent issue and again it is not just the US. This is a global concern. Aside from this issue, companies that become world-class in managing talent are laser-focused on optimizing their talent systems in support of driving short and long-term operating success. It is beyond having great systems and technology.
The most important thing is having a collective "mindset" and belief that building and sustaining what I call the talent "leading indicators" of capability, commitment and connectedness can predict success in operations. Companies that build their talent systems with an eye toward strengthening these three C's achieve incredible operating success.
"Companies that build their talent systems with an eye toward strengthening capability, commitment and connectedness achieve incredible operating success."
SPEAKING.COM: What are some of the leadership and talent management trends you see emerging within the next ten years?
JOHN: 1. Major focus worldwide on Culture. How to Transform Culture so that the company is poised to reinvent and renew
2. Massive leadership gaps all over the world. Much more focus on developing stronger leaders and future leaders.
3. More disruption in the C-Suite. Boards have little patience for CEO's and senior executive teams who can't deliver results quickly and who are not preparing their organizations to compete in the future.
SPEAKING.COM: How do you suggest people embrace "game-changing" leadership?
JOHN: There are over 100,000 books on leadership and countless events and programs on this topic. A recent PwC global study identified the biggest gaps that CEO's are worried about and this is true in every country worldwide (over 3500 respondents from thousands of organizations from all regions of the world)…. leadership and culture.
My speeches, programs and leadership retreats are based on my best selling book, Intelligent Leadership. My book and my work is "game-changing" because I get leaders and future leaders to focus in on what i call their "inner-core" (character, values, thinking patterns, emotional make-up, etc.) as strength in their "inner-core" will translate to success in their "outer-core" (the skills and competencies they exhibit as leaders—and what the "world" sees). I get leaders to balance their head, heart and gut so they can become the best they can be.
SPEAKING.COM: Can you give us three tips for how to identify and develop future leaders?
JOHN: 1. Companies need to do a great job identifying a clear picture of what great leadership constitutes in their business with an eye toward the future. They need to be concrete about what this picture looks like.
2. Companies need to measure both "inner-core" and "outer-core" attributes…using both objective assessments and 360 assessments to calibrate how well future leaders match the target of what great leadership constitutes. By the way, the biggest predictor is not intellect. It is agility…. leaders and future leaders need to show the hunger to learn, the ability to be agile with change, and the ability to be agile with people. Add character and passion to the mix and those are your high-potential people.
3. Future leaders are best developed by offering them coaching, mentoring and a strong focus on developing both their "inner-core" and "outer-core". They need to develop targeted Individual Development Plans based on their assessment information and they must be held accountable for executing that Plan.
SPEAKING.COM: Who are some of today's leaders you find most inspiring and why?
JOHN: There are some amazing leaders around the world who are doing amazing things. Many of these people are CEO's who are flying under the radar who are not the "rock star" CEO's but who are transforming lives and their companies. Kathy Mazzarella, Chairman and CEO of fortune 500 Graybar; Eddie Maachalanni, CEO og Bigcommerce, Kris Cankeratne, Chairman and CEO of Virtusa, JuanCarlos Archila, CEO of CLARO-Colombia are just a few.
SPEAKING.COM: What are some of the successes you've helped clients make?
JOHN: I received a call from one of the fastest growing IT Services companies in the world–Virtusa (450M) that they wanted me to come in and consult and coach their senior executive team. I asked them how they found out about me. The VP of Learning and Development said, "oh, we are implementing your ideas in your books and your ideas are working for us"! I have many stories like this. I am only interested in helping leaders; future leaders and organizations get better. That's why I do the work I do.
SPEAKING.COM: What do you want people to learn / take away from your presentations?
JOHN: My major objective is to move people to take positive action. I move people through my passionate delivery combining my research and coaching and consulting with CEO's and senior executive groups all over the world (in terms of what I have learned and continue to learn through this work).
I present actionable ideas with passion and offer materials both on-line on my website and sometimes as part of the program that add lot's of value to the program. For example, a group that brings me in to talk about Intelligent Leadership for a half-day or longer, will take pre-session, my on-line proprietary leadership assessment that will generate a report that they bring to the program and we then use those reports to better identify their unique leadership gifts and strengths (that they need to continue strengthening) and their leadership development needs (that they need to address).
My assessment is very unique and I use it in my coaching work with CEO's all over the world. It's called the MLEI and it is focused on the nine "inner-core" traits that define executive maturity.
SPEAKING.COM: What types of audiences would most benefit from your message?
JOHN: Leadership groups at all levels, including younger groups (future leaders and high potentials). Human resources groups benefit from my talk, Talent and Succession.
SPEAKING.COM: What inspired you to become a speaker?
JOHN: When I was pursuing my PhD at Old Dominion many years ago I wanted a research assistantship. They only had teaching assistantships. So, I had to teach an under grad course in industrial psychology and I already had my Master's in Industrial Psychology so I knew the material. But I still prepared because I was so afraid to fail and was pretty nervous.
The first class I taught I was so motivated to move the students and also scared to fail that I ended up delivering the material with passion, excitement and humor. The students were in shock and so was I. I was 23 years old and I found out I was pretty good on the platform and that was the start of my speaking career.
I have delivered over 2000 presentations in my career and have delivered speeches and programs in just about every country in the world.
SPEAKING.COM: Which of your keynote topics are the most popular?
JOHN: Intelligent Leadership is hot. I just came back from Switzerland, UAE and Zimbabwe where I did speeches and a multi-day retreat. Talent leadership is a great program and my new talk based on my book coming out in the spring–Cultural Transformations (Wiley) is going to be huge. I just delivered this speech at the World of Business Ideas (WOBI) Mexico in front of 2000 leaders.
SPEAKING.COM: What other projects are you working on currently?
JOHN: I was just named the #9 leadership authority in the world the other day (very honored and humbled). Literally I have received numerous inquiries for my speaking and coaching just in the past few days after this announcement. I am very busy with my speaking and coaching work and of course my new book. I also have a great life with my wife of 36 years (Gayle) and our four adult children.
Author
Blogs By John Mattone
More Leadership / Management Blogs
How to Drive Sustainable Growth with Leadership Speaker Rick Miller
By Rick Miller


Rick Miller is one of the few accomplished business executives who has been able to translate his decades of experience into actionable management advice that helps other senior leaders grow their bus... more...

Increasing Employee Engagement in Healthcare with Leadership Speaker Vicki Hess
By Vicki Hess


Healthcare keynote speaker, Vicki Hess, RN, is your go-to resource for improving employee engagement in healthcare. Whether you work in a hospital, health system or your members or customers work in h... more...

Leadership Success with Dr. Marshall Goldsmith
By Marshall Goldsmith


Dr. Marshall Goldsmith is a world authority on leadership and employee relations, demonstrating how good management can achieve positive, lasting change in the age of globalization. What we've lear... more...

Using Debriefing to Foster Continuous Improvement, with Leadership Speaker Anthony Bourke
By Anthony Bourke


Accomplished fighter pilot, seasoned CEO, and leadership keynote speaker, Major Anthony Bourke has helped thousands of leaders streamline growth and improvement in their companies. After flying hundr... more...

Building Stronger Teams through Vulnerability, with Corey Blake
By Corey Blake


With over two decades of experience as a master communicator in Hollywood and the fine arts, leadership speaker Corey Blake's talent for creatively and emotionally connecting with audiences is unrival... more...

How to Create Competitive Organizations with Happy Teams
By Jennifer Moss


Honored as the Canadian Business Innovator of the Year, corporate culture keynote speaker, Jennifer Moss and her groundbreaking work on the power of happiness are transforming hundreds of global compa... more...

Maximizing your Millennial ROI, with Keynote Speaker Aaron McDaniel
By Aaron McDaniel


Millennial speaker Aaron McDaniel delivers timely "aha moments" and viable solutions on how to bridge generational gaps in the workplace and marketplace. Drawing from his own experience as a Millenni... more...