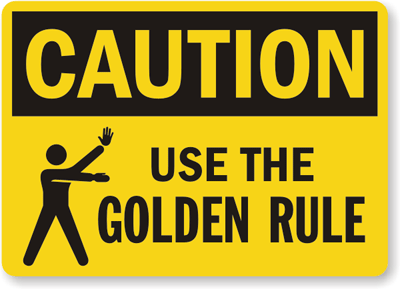 DISC and The Platinum Rule
We have all heard of the Golden Rule and many people aspire to live by it. The Golden Rule is not a panacea. Think about it: "Do unto others as you would have them do unto you." The Golden Rule implies the basic assumption that other people would like to be treated the way that you would like to be treated.
The alternative to the Golden Rule is the Platinum Rule:
"Treat others the way they want to be treated." Ah hah! What a difference. The Platinum Rule accommodates the feelings of others. The focus of relationships shifts from "this is what I want, so I'll give everyone the same thing" to "let me first understand what they want and then I'll give it to them."
A Modern Model for Chemistry
The goal of The Platinum Rule is personal chemistry and productive relationships. You do not have to change your personality. You do not have to roll over and submit to others. You simply have to understand what drives people and recognize your options for dealing with them.
The Platinum Rule divides behavioral preferences into four basic styles:
Dominance Style
Interactive Style
Steadiness Style
Conscientious Style
Everyone possesses the qualities of each style to various degrees and everyone has a dominant style. For the sake of simplicity, this article will focus only on dominant styles.
Dominance Styles are driven by two governing needs: to control and achieve. Dominance Styles are goal-oriented go-getters who are most comfortable when they are in charge of people and situations. They want to accomplish many things-now-so they focus on no-nonsense approaches to bottom-line results.
Interactive Styles
Interactive Styles are friendly, enthusiastic "party-animals" who like to be where the action is. They thrive on the admiration, acknowledgment, and compliments that come with being in the lime-light. Their primary strengths are enthusiasm, charm, persuasiveness, and warmth. They are idea-people and dreamers who excel at getting others excited about their vision. They are eternal optimists with an abundance of charisma. These qualities help them influence people and build alliances to accomplish their goals.
Steadiness Styles are warm and nurturing individuals. They are the most people-oriented of the four styles. Steadiness Styles are excellent listeners, devoted friends, and loyal employees. Their relaxed disposition makes them approachable and warm. They develop strong networks of people who are willing to be mutually supportive and reliable. Steadiness Styles are excellent team players.
Conscientious Styles are analytical, persistent, systematic people who enjoy problem-solving. Conscientious Styles are detail-oriented, which makes them more concerned with content than style. Conscientious Styles are task-oriented people who enjoy perfecting processes and working toward tangible results. They're always in control of their emotions and may become uncomfortable around people who are very outgoing, e.g., Interactive Styles.
Adapting To Dominance Styles
Dominance Styles are very time-sensitive, so never waste their time. Be organized and get to the point. Give them bottom-line information and options, with probabilities of success, if relevant. Give them written details to read at their leisure. With Dominance Styles, in general, be efficient and competent.
Adapting To Interactive Styles
Interactive Styles thrive on personal recognition, so pour it on sincerely. Support their ideas, goals, opinions, and dreams. Try not to argue with their pie-in-the-sky visions; get excited about them. With Interactive Styles, in general, be interested in them.
Adapting To Steadiness Styles
Steadiness Styles are relationship-oriented, want warm and fuzzy relationships, so take things slow, earn their trust, support their feelings, and show sincere interest. Talk in terms of feelings, not facts. With Steadiness Styles, in general, be non-threatening and sincere.
Adapting To Conscientious Styles
Conscientious Styles are time-disciplined, so be sensitive to their time. They need details, so give them data. Support Conscientious Styles in their organized, thoughtful approach to problem-solving. Be systematic, logical, well-prepared, and exact with them. Give them time to make decisions and work independently. Allow them to talk in detail. With Conscientious Styles, in general, be thorough, well-prepared, detail-oriented, business-like, and patient.
The Platinum Rule provides powerful life-skills that will serve you well in all your relationships: business, friends, family, spouse, and children. Improved relationships create infinite possibilities.
Author
Blogs By Tony Alessandra
More Customer Service / Sales Blogs
Becoming a Master Influencer, with Leadership Speaker Joseph Grenny
By Joseph Grenny


Leadership speaker Joseph Grenny uses his cutting edge research on leadership practices, influence, and human behavior to boost business productivity and foster high performing work environments. The ... more...

Becoming a Successful Salesperson, with Sales Keynote Speaker Shawna Suckow
By Shawna Suckow


Ranked among the top women speakers in business, sales keynote speaker Shawna Suckow uses her 20 years of expertise as a million-dollar B2B Buyer to help sales professionals and business leaders bette... more...

Harnessing the Power of Consumer Trends, with Futurist Speaker Daniel Levine
By Daniel Levine


One of the world's leading trends analysts, consumer trends keynote speaker, Daniel Levine heads an international team of over 9,000 trend spotters who research and chronicle the latest ideas, produ... more...

Transforming Your Business through Practice Management, with Sales Speaker Duncan MacPherson
By Duncan MacPherson


A professional branding and client acquisition expert, sales and marketing speaker Duncan MacPherson has been coaching financial professionals for over 20 years. His company Pareto Systems is at the f... more...

Building a Culture of World-Class Service, with Customer Service Speaker Dennis Snow
By Dennis Snow


Dennis Snow's customer service abilities were honed over 20 years with the Walt Disney World Company. Today he is a full-time customer service speaker, trainer and consultant who helps organizations... more...

Maximizing your Millennial ROI, with Keynote Speaker Aaron McDaniel
By Aaron McDaniel


Millennial speaker Aaron McDaniel delivers timely "aha moments" and viable solutions on how to bridge generational gaps in the workplace and marketplace. Drawing from his own experience as a Millenni... more...

The Future of Work, with Jacob Morgan
By Jacob Morgan


Jacob Morgan is moving companies forward by helping them adapt to the changing world of work. He guides companies in revamping their approach to talent management, the physical workplace, and culture ... more...