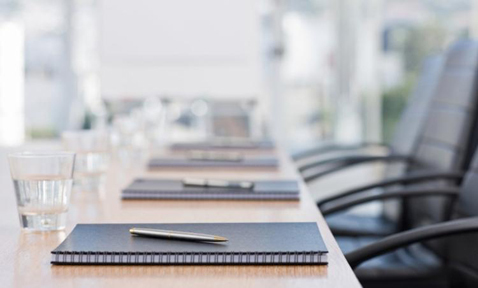 Affordable Strategies for Getting More From Every Meeting
From event programming to setup and transportation, meeting professionals have no shortage of concerns that constantly demand their attention. With so much effort routinely poured into crafting compelling programs and delivering powerful experiences for attendees, it's therefore all-too-easy to overlook opportunities to engage audiences both ahead of and beyond actual day-of activities. Happily, with each presenting sizable opportunities to create value for your constituents, a few straightforward strategies can help you engage and activate participants more effectively. The following hints, tips and solutions can help you squeeze more from meetings, extending the value of events far beyond their actual duration – even to the point of providing lasting benefits for those who can't attend.
Source Contributions From Your Audience – Invite observers to participate in programs via official channels (e.g. Web, word-of-mouth, email, social media platforms, etc.) by submitting their questions and suggestions, or showing support for programs and initiatives via comments, videos or podcasts prior to your occasion. Submissions can be used to shape event programming (e.g. when weighing trending topics to feature), incorporated into speeches (i.e. by putting queries that participants have sent to featured experts), and used in supporting materials (ex: video reels filled with testimonials, insights and real-world frontline commentary). Note that all are fair game for posting on your website, sharing online, or incorporating into current or future programs, takeaways and promotions. Each presents a great way to acknowledge your community, and make its voice heard.
Film and Distribute Programs – As many resources as government planners invest in offering attention-grabbing activities and speakers, many neglect the exponential gains videotaping provides despite its only incremental expenses. Where appropriate, always keep a camera on-hand during events to capture learning and insight, and ensure that insights gained from challenges and team-building activities are preserved for others to learn from and enjoy. Lessons and program highlights can easily be uploaded to sites like YouTube or Vimeo (where they can be promoted, shared or embedded into other websites), or incorporated into exclusive members-only archives. Inside tip: Setting aside a space at your event – e.g. a quiet room where users can talk to the camera – allows them to comfortably share personal insights, anecdotes and testimonials, thereby boosting engagement rates while simultaneously building your library of potential assets. Can't afford a professional camera crew? Skip fancy setups and have a volunteer man a budget-friendly portable HD camcorder – dozens of models cost just $100-$200.
Live Stream the Proceedings – You can also beam panels, keynotes and training sessions straight to viewers' offices using live video streaming solutions. Services like Justin.tv, UStream and Stickam, or apps such as Qik and Livestream let you share video to computers, the Web or social networks from smartphones, tablets and more. A number of off-the-shelf hardware solutions such as the Looxcie HD and Sony Bloggie Live HD cameras can even stream or record the excitement as seen through the eyes of attendees themselves. Just because audience members can't be on-hand doesn't mean that they can't tune in remotely, or enjoy proceedings as time presents itself between daily tasks.
Provide Running Coverage – In the same way that radio announcers offer running play-by-play sports coverage, you can also provide live recaps, feedback and commentary on event proceedings on your website over the Internet. Case in point: Live blogging tools including ScribbleLive, CoverItLive, and Blyve let you share text, audio and video updates as presenters reveal new research or provide key takeaways from case studies. Options such as Wordfaire and the WordPress Live Blogging plugin further make it possible to embed real-time commentary into preexisting websites completely free of charge. Letting you share news, insights and analysis as they're delivered from the podium, all provide a handy way to cover event highlights and happenings, and aid with providing event recaps or ongoing coverage.
Capture Advice and Insights – Continuous content marketing and publishing efforts should be a part of every organization's outreach programs. Events provide the perfect venue at which to tap high-ranking officials, experts and thought leaders for learning, insights and advice which can be used to generate added value and help raise awareness for organizations and causes all year long. As part of your programs, workshops and events, ask all to share stories, provide hints and tips, and offer support or feedback. Quotes and commentary can then be incorporated back into newsletters, mailers, trailers and more. With so many great resources on-site, why not utilize them? Consider assigning volunteers to play journalist, or setting up an event area reserved for video- or audio-taping viewers' or speakers' thoughts, and encouraging all to participate in such programs.
Appeal to Audiences' Creative Side – Want to better highlight what's happening within an organization, provide feedback from the real-world frontlines, or underscore enthusiasm for various government initiatives and programs? Invite participants to share their spirit, thoughts and ideas by sharing photos, slideshows, videos, suggestions, and more – all of which are easily posted to your event's website, social network page or online community. Tight on resources? You mkight also consider expanding your army of volunteer recruits overnight by pursuing crowdsourced campaigns. (Submit your best designs for our annual off-site's new logo: Winners will be featured in supporting assets, and enjoy on-stage recognition at the event!) The more creative, the more engaging programs will be – and the greater the chance you encourage more widespread participation.
Collect and Respond to Fan Feedback – Now that your event's done, don't be afraid to ask: How we make the next one even better? Go beyond simple surveys and questionnaires by reaching out participants and speakers via your Wiki, webpage, email newsletter, surveys, or social channels to find out what they loved, and would like to see more of in coming months. Encourage them to suggest future topics and programs, provide feedback on their experiences, and brainstorm even better ways to share event highlights and learning. As a key part of any winning events team, it bears reminding – it's never too early to get audience members involved.
Author
Blogs By Scott Steinberg
More Entrepreneurship / Business Blogs
Thriving as a Sustainable Business, with Strategy Speaker Andrew Winston
By Andrew Winston


Keynote speaker Andrew Winston is the author of the award-winning The Big Pivot and co-author of the international best seller Green to Gold . He speaks to executives around the world, appears regul... more...

Shark Tank's Kevin Harrington Reveals the Secrets to Business Success
By Kevin Harrington


Kevin Harrington is a self-made millionaire and successful entrepreneur who is better known as one of the "sharks" on the popular TV show Shark Tank. He is recognized as the inventor of the infomercia... more...

Launching a Successful Business, with Keynote Speaker Scott Duffy
By Scott Duffy


One of the most popular entrepreneurship and business keynote speakers in the world, Scott Duffy has had the rare opportunity to learn from some of the most brilliant innovators and business professio... more...

Getting Your Business Unstuck with Barry Moltz
By Barry Moltz


Barry Moltz gets businesses growing again by unlocking their long forgotten potential. Thanks to decades of entrepreneurial experience in his own business ventures as well as consulting countless oth... more...

Entrepreneurship Can Save the World, with Mallory Brown
By Mallory Brown


Social entrepreneur Mallory Brown represents a new generation of philanthropy. At age 24, she founded World Clothes Line, an online business that donates one article of clothing for every article sold... more...

Creating a Hope-Driven Culture with Libby Gill
By Libby Gill


After nearly twenty years in senior leadership roles in communications at media giants Universal, Sony and Turner Broadcasting, Libby is now CEO of executive coaching and consulting firm Libby Gill &a... more...

Perspectives on Leadership and Entrepreneurship from Ram Charan
By Ram Charan


World-renowned consultant, author and speaker Ram Charan has made an extraordinary life journey, from working in the family shoe shop in a small town in northern India to an engineering degree then a ... more...