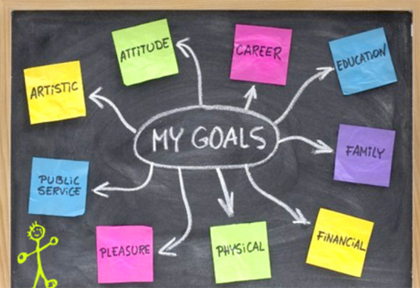 Achieve Your Goals
Goals are the most important tools you need to accomplish anything, and there are certain steps you can take to complete your goals after you've made them. There are certain areas you need to consider while you work towards your goals, which will help you succeed:
Define your goal. Your first task is to work out the factors of your goal, then write your goal down, as clearly as possible, and keep it in a prominent location.
Examine obstacles that stand in your way. This is a time to guard against negative assumptions and other self-defeating thoughts. Remember the definition of realistic. An obstacle blocks you only if you let it. You should also write down your innovative ways of overcoming obstacles with your goal.
W.I.I.F.M. What's in it for me? Why do you want to achieve the goal? What kind of payoff is motivating you?
Plan your action. You need to carefully list the steps you will take to bring you closer to your goal. The smaller the increments the easier they will be to accomplish. There is a German proverb that says, "He who begins too much accomplishes little." As the American Dental Association is fond of saying, "Don't bite off more than you can chew."
Project a target date for your goal. State your deadline range, such as, "between March 15 and April 1." Think carefully about the amount of time you need. Too little time will increase the pressure and frustrate you. Too much time may reduce your drive.
Know how you'll measure your success. Goals should be described in terms of the final outcome of an activity rather than as the activity. This is part of being specific. Instead of saying, "I will be running more in four to six months," you could say "I'll be running three miles instead of two miles in four to six months." How will you measure this? Probably by having one-third more blisters on your feet.
Author
Blogs By Tony Alessandra
More Personal Growth Blogs
Bear Grylls on Success, Team Building and Personal Strength
By Bear Grylls


One of television's most watched celebrities, Bear Grylls launched a Survivalism Fever that has swept across the world. The former British Special Forces operative is best-known for taking his adventu... more...

Adventures in Kindness with Inspirational Speaker Leon Logothetis
By Leon Logothetis


Leon Logothetis is a global adventurer, motivational speaker and philanthropist. It wasn't always that way. He used to be a broker in the city of London where he felt uninspired and chronically depr... more...

Fitness, Nutrition and Life Balance with Gabrielle Reece
By Gabrielle Reece


Fashion icon, health expert and TV Show Host Gabrielle Reece is an avid proponent of empowering people to take responsibility for their own health. Her commanding presence, passion for healthy living,... more...

What is Personal Disruption? Answers from Innovation Speaker Whitney Johnson…
By Whitney Johnson


Founder and Managing Director of the Springboard Fund, business and innovation speaker Whitney Johnson is a top investor and leading thinker on driving innovation through personal disruption. As cofou... more...

Building Resilience, with Global Keynote Speaker Margie Warrell
By Margie Warrell


Coach, author, and mother of four Margie Warrell is constantly sought by conferences, corporations, and media outlets for her advice on taking risks, living courageously, and building resilience. Mar... more...

Building Stronger Teams through Vulnerability, with Corey Blake
By Corey Blake


With over two decades of experience as a master communicator in Hollywood and the fine arts, leadership speaker Corey Blake's talent for creatively and emotionally connecting with audiences is unrival... more...

Following Your Dreams, with Inspirational Speaker Jim "The Rookie" Morris
By Jim Morris


Jim "The Rookie" Morris's inspirational and transformational message about following your dreams and having a game plan for success connects with audiences, young and old, male and female. His l... more...