Personal Growth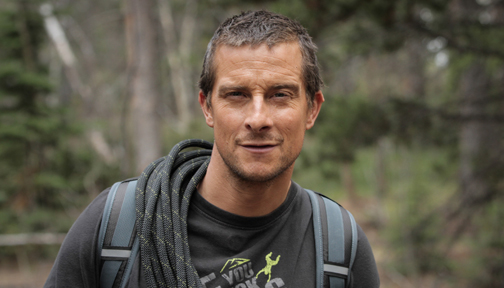 One of television's most watched celebrities, Bear Grylls launched a Survivalism Fever that has swept across the world. The former British Special Forces operative is best-known for taking his adventures in the planet's most hostile environments to the small screen. Similar to his acclaimed television shows, Grylls' keynotes grip audiences of all backgrounds, while sharing ... more...
Blog Topics
Speakers / Writers
Robin Farmanfarmaian After a medical misdiagnosis put her through multiple unnecessary surgeries as a teenager, Robin Farmanfarmaian made it her mission to empower patients through a tool she did not have during her sickness: modern-day tech ... more...
John Larroquette

Emmy and Tony-award winning actor, John Larroquette uses his personal experience to educate the public on substance abuse and recovery. The iconic stage and television actor from pop culture favorites such as the sitc ... more...

Keith Barry Keith Barry is the world's leading TV Hypnotist, Mentalist and Brain Hacker. As a world- renowned performer, Keith has toured for many years showcasing his mind-blowing skills in every corner of the globe. Keith has st ... more...
Allon Raiz When things got tough, Allon Raiz rethought his failing business and turned it into the most successful business incubator in South Africa. Today Raizcorp is one of the few profitable business incubators in the world, an ... more...
Antonio Nieto-Rodriguez Global business strategist Antonio Nieto-Rodriguez equips multinational executives to focus their company and themselves, so they can elect, manage, and execute projects more efficiently even during tough times. He draws ... more...
Shaun Tomson

One of the greatest surfers of all time, legend Shaun Tomson brings a message of optimism and positivity to over 100,000 young people and adults each year. A successful entrepreneur, his application of surfing culture ... more...

Alexander Tsiaras

Alexander Tsiaras has been bringing science to life for years through his artistic genius. Known as "The Digital Leonardo DaVinci," his images are famous worldwide having graced the covers of LIFE, Time, an ... more...

Uri Gneezy

Uri Gneezy's early work on when and why incentives can backfire has become the cornerstone in a compelling line of research that explores when traditional economic theories fail to explain real human behavior. He is ... more...

Courtney Martin Described as "one of our most insightful culture critics and one of our finest young writers," Courtney Martin is a storyteller, feminist, social problem solver, and a provocative speaker. She is the author of six bo ... more...
Roberto Carlos (RöC) One of Latin America's most influential leaders in innovation, Roberto Carlos (RöC) is the creator of Factor WOW, a methodology that is revolutionizing the way organizations do business. Twice voted one of Mexico's mos ... more...
Jim Abbott

You have heard people say, "I'd give my right hand for that," meaning they'd give up the most important part of their body? Star baseball pitcher and inspirational speaker Jim Abbott was born without a right hand, a ... more...

Kevin Abdulrahman Better known as "the man inspiring millions," international author, speaker, coach, and mind nutritionist Kevin Abdulrahman is the new voice of motivation around the world. Hailing from the Middle East, but raised in ... more...
Client Testimonials
Working with your speakers agency on our training projects during the year proved to be a great business choice. I felt that my account reps were always around when I needed them, willing to help and listen. They showed flexibility when it was required and were reliable and dependable.

KPMG, Europe

Our event was what I would call 'over the top'... The survey results were at 92% very favorable. The speakers formed such a good relationship with myself and others at the conference. I am confident we will bring them back to do more. I will definitely contact you when we are in need of additional services. You have been the best!

American Express

I just wanted to send a quick follow-up note to say – THANK YOU! I appreciate your partnership, and perseverance in helping us to find the right speaker for our group. Our speaker was absolutely excellent! The group loved him; it was perfect.

DeVry Education Group

It was an extreme pleasure to work with our account rep. She was friendly, flexible, and knowledgeable about all their speakers. She made the process simple. I cannot begin to put into words the impact that our speaker had on our audience. People are still taking about his presentation and his program set a standard on all diversity programs.

FDIC: Federal Deposit Insurance Corporation

Our Account Executive was a pleasure to work with to arrange our keynote presenter for the Sustainable Brands Sydney Conference. He was swift to respond and his communication was always clear. If I am looking for international speakers, I will think of SPEAKING.com in future.

Sustainable Brands

Our client rep was a pleasure to work with. He was well organized and kept me updated every step of the way. The level of professionalism and the quality of the materials received were excellent. I will be in touch for future speakers!

Mattel

Working with your speakers bureau has been a pleasure. Everyone on your team was extremely responsive and informative, and really helped us to customize our event. I will be sure to reach out to your agency again in the future with any speaker needs that I may have.

The Advisory Board Company

Your speakers bureau was a tremendous resource for the NHL as we planned and executed our NHL Club Business Meetings. Their assistance with securing our keynote was invaluable. They provided detailed information in a timely manner which was crucial to the success of the event. The execution was seamless!

National Hockey League

Our account rep was fantastic; he is very responsive, handled registration for our speaker, submitted the contract and invoice quickly - so easy to work with. Thank you!

Deloitte

Our Account Executive is an extraordinary person. Always available, very kind and funny. Eager to help and always quick to respond. I have so much fun working with him. A very delightful experience. I hope continue working together for years to come!

Credicorp Bank

Our speakers were absolutely outstanding and top class. Once again, thank you for making this happen for us. You have been outstanding and the best speakers bureau we have ever worked with!

Volkswagen

My account executive was very professional as well as patient with us. The entire experience of working with your agency was cordial and professional, with attention to all the, sometimes complicated, important details.

U.S. Department of Agriculture

SPEAKING.com / Core Agency were very helpful in every way possible. I would recommend them to others and we will most definitely secure all our future conference speakers through them again.

Babcock & Wilcox

I'm extremely impressed with your speakers bureau's follow-through, responsiveness and willingness to understand our needs so that he could match the best speakers with what we are looking for. I will definitely work with you again in the future. Thank you for all that you did to help us create an exceptional learning experience for our attendees.

American Society of Association Executives

SPEAKING.com does a wonderful job! Our AE always responds promptly and is very professional, thank you!

AlphaNet

Our agent was great to work with. Very easy to reach when needed and promptly returned messages. Thank you for making our event such a big success, we are looking forward to working with you again soon!

American Lung Association

Once again our agent did an outstanding job. Not only did he provide me with a number of options for potential speakers but he helped with seeing who was available, when they could speak, and getting everything done in a timely fashion. I look forward to working with him again.

Auburn University

THANK YOU for your consistent communication, organization, and hard work. It truly has been a pleasure partnering with you too, we would love to stay connected with you for future events.

National Human Resources Association

Our account rep was great to work with. He helped facilitate some specific requests on our part, kept us in the loop of any issues, and promptly replied to all communications. Thanks for making this a great event!

Foundation for Economic Education

Finding the appropriate speaker for an event is a challenge. Your stellar speakers agency made the process extremely easy. I would recommend your agency to anyone.

Mercury University

This has been one of the most outstanding speaker agencies I have had in my 25+ years in the hospitality industry. They have helped my company secure speakers for years to the delight of my attendees. They have secured high profile speakers, even within the confines of a tight turnaround and an even tighter budget. I recommend their services without hesitation. They are truly leaders in their profession looking out for their clients: excellent is all I can say!

AHIMA

Everyone at your speakers bureau was incredibly attentive and easy to work with; you have been a conference organizer's dream!

ABS Capital Partners

Everyone at your speakers agency were professional and helpful throughout the process, making it easy to book, communicate, and prepare for our event.

Hewlett Packard

My Account Executive was able to work within my quick turn around time and price limitations to find the perfect speaker for the job. Although I thought finding and booking a speaker for our sales meeting would be the most difficult part of the planning process, your agency made it the easiest.

Ales Group USA, Inc.

I so appreciated my representative for his responsiveness and for the ease with which I could communicate with him. This was my first time having to secure the talent for our program myself, and I could not have asked for a better experience with your speakers agency.

Mayor's Commission on Unity, Diversity and Prosperity for Columbus, GA

The retreat was extraordinary, professional, and personable. Everyone is still raving about it. They said it was the best experience of their lifetime. And, I would have to agree. I most certainly hope we have the opportunity to work together in the future.

YPO: Young Presidents' Organization

I will certainly recommend to others that they contact you for guest speakers in the future. It was a pleasure working with you as well. We all appreciate your professionalism and exemplary service.

BASF