* Please note that while this speaker's specific speaking fee falls within the range posted above (for Continental U.S. based events), fees are subject to change. For current fee information or international event fees (which are generally 50-75% more than U.S based event fees), please contact us.
Top25 Speaker Voting

Victor Antonio Gonzalez needs 21 vote(s) to make it into the Top 25 speakers on Speaking.com!
Speaker Booking Tip
"Tip: speakers bureaus provide added value that you cannot get by booking speakers directly. "
For Event Planners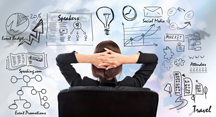 • Keynote Speaker Booking Toolkit.
• Booking a Celebrity Speaker.
• How to Find and Book the Right Speaker.
• Google+ Event Planning Forum.
• Tips for International Clients Booking U.S. Based Speakers.
Similar Speakers
Billy Mills

Gold medalist, Billy Mills wowed the world when he overtook the world's highest performing runners in the home stretch of the 1964 Olympic 10,000-meter-dash. Mills,…

Rene Godefroy

When Rene Godefroy found himself unhappy with his life, he decided to do something about it. His perseverance and resourcefulness led him from an impoverished…

Stephen Frost

Stephen Frost is a global authority on making inclusion and diversity happen in the workplace. After an intense five years designing and implementing the social…

Our speakers were absolutely outstanding and top class. Once again, thank you for making this happen for us. You have been outstanding and the best speakers bureau we have ever worked with!
Volkswagen
About SPEAKING.com
Established in 1994, we are exclusive agents for some of the world's leading experts, celebrities and professional speakers.
We offer event planners a fully staffed speaker logistics planning team, plus a personal SPEAKING.com Account Executive – a knowledgeable and trustworthy partner. We guarantee your satisfaction with your speaker and a smooth booking process.
Contact us today to book your favorite speaker.

"Victor, I love your style of presentation. You are not a get rich quick preacher-kind of rah-rah motivational speaker with a lot of fluff and no substance."
Guillermo Nunez,
SBA
"Your talk was nothing short of inspiring. Our group is made up of highly accomplished managers with years of experience directing the activities of major companies both here and overseas. They can be a tough…, but you completely captured them with your energy, your conviction and the undeniable truth of your message. Terrific!"
Roland Janisse,
MENG- Marketing Executive Network Group
Yes, our conference was great and Victor was a huge success!!! I am still getting lots of positive feedback and requests for his contact information. Yes, I am pushing to have Victor at our National conference in Orlando. Once again, thanks! Victor, you were awesome!!!
Monique Jackson
Society of Hispanic Professional Engineers
"We Want Victor Back! Well, the students want to bring Victor back! More specifically, they are interested in The Logic of Success."
Andy A. Herrera, Diversity Programs
Penn State Erie, The Behrend College
"Your motivational speech was AWESOME. You hit a Grand Slam. Your talk was very motivating and inspirational. In talking to some of the folks who were in attendance, they all agreed that your message was very well received."
Orlando Montan,
Verizon
"Rare is the opportunity to be part of a class that truly provides both form and substance to the selling process. You clearly delivered the best sales seminar I have ever attended by cutting through all the clutter that exists. I unequivocally recommend your program to anyone interested in improving their approach. They would not gain a mere inch, but several miles over the competition, we certainly have."
Victor Lue-Yat, CEO
DocuGreen.com
"The knowledge and information that I have learned in just a few short hours is priceless. Thank you so much for your help and info."
Scott Feinerman
Heart of Miami Company
"THANK YOU! THANK YOU! THANK YOU! Jackson State University have been greatly enhanced because of your appearance on campus....The presentation was simply amazing and thoroughly captivating with just the right balance of humor.
Lori Jackson-Stewart
Jackson State University
"You are amazing! Victor, I felt such a ′closeness′ to you and your message,...you are the BEST I have ever heard!
B. Brooke Peterson
InnerLight
"The right amount of humor with the right amount of knowledge makes for the perfect speaker. I know my wife and I were touched and are now working harder to "climb" to a higher plateau both personal and financial. Thank you very much."
Genaro Pineda
LogoMerch
Thank you so much for sharing. You absolutely HAVE to have a GOOD HEART. Honestly, I don′t know when I have run across anyone like you before. Thank you again.
Tommy Howard
Thank you very much for all the great stuff that you kindly, generously, and willingly share with me and thousands of other people. May God bless you richly and I wish you the very best for all your awesome works!
Joshua from www.healandgrowcenter.com
Thank you Victor, you have been a tremendous help in my fledgling career.
Calvin G. Sims
Great!!! I love it. This came at a good time for me. My one play aired on PBS/Educational station in LA last month. Thanks for the lift!
Carl Raye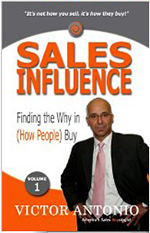 Sales Influence: Finding the Why in (How People) Buy
How do buyers decide what product to buy when faced with two similar options? Is there a way to influence a buyer to buy one product over the other? Sales trainer Victor Antonio takes a unique approach to sales training. While most sales training books focus on the selling process or how to sell, Sales Influence focuses in on how buyer's make buying decision. By understanding the sales process from the buyer's perspective (i.e., Why do people buy? How do they make buying decisions?), you can sell more effectively! Find out how to close more sales by understanding how the buyer thinks.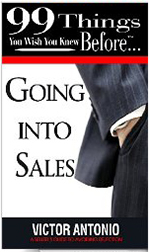 99 Things You Wish You Knew Before Going Into Sales (99 Series)
Let's face it, today's consumers has access to information and is often times just as well informed as you the seller. So what you need is an edge! You need something that's going to help you close more deals faster and hopefully bigger.
99 Things You Wish You Knew Before Going into Sales is a book designed specifically for salespeople on the run. Sales trainer Victor Antonio has compressed over 20 years worth of sales experience into bite-size sales techniques that you can apply immediately. Whether you're selling product or services, the techniques in this book will astound you and how effective, yet simple they are to use.
Whether you're dealing with a small retail sale or a large account, it doesn't matter. This book covers the full sales spectrum from the simple to the complex deal. Here you'll find strategies and techniques that not only teach you how to sell, but more importantly exposes the thought process behind why people make buying decisions. The more you understand how buyers buy, the more effective you'll be in making your sales presentation and eventually closing more deal.
And, for those of you who are veteran salespeople with years of experience, you're going to find the latest in sales and consumer research that will help you sharpen your sales saw by giving you that extra insight that your competitors don't have.
You're busy! I'm busy! We're all busy! That's why we've designed 99 Things You Wish You Knew Before Going into Sales was developed. What you need is a book a like this that delivers no fluff and gets straight to what you need to go out and SELL MORE NOW. In the book you'll find 99 tips and techniques that will either remind you of something you should've been doing or teach you something you should be doing to close more sales.
Even the best-of-the-best never stop learning. Those top 5-10% of salespeople in any given company are the same salespeople who are always looking for that added advantage in selling. You can afford this book. You can afford a few minutes out of your day to improve. What you can't afford is not reading what's inside!
Don't just buy a copy for yourself, buy a few extra for your salespeople or colleagues; they'll thank you for it!
Business Keynotes on Sales and Motivation
INFLUENCING CHANGE
The Art of Nudging, Not Pushing
Stop feeling helpless! This leadership keynote focuses around understanding the different strategies we can use to influence or persuade others to execute 1) their personal goals, and 2) your company's short and long-term goals.
Every day is filled with 'influence moments' where you can move and guide others to follow your lead. Humorous and engaging, learn how easy it is to drive other's decision-making process!
Victor's Note: From Managers to employees, this is great for organizations experiencing internal change and a changing marketplace. It focuses in on why change is good without the browbeating!
WINNING THROUGH INFLUENCE
Sell Beyond Your Own Expectations
This sales motivation keynote is loaded with research and studies on how to influence the buying process and increase buyer satisfaction.
Find out why outdated techniques don't work anymore. Learn how to position your product by framing the context of the conversation. Find out how to reduce buyer resistance and gain their acceptance by employing simple to use strategies and tactic!
Victor's Note: Salespeople love this keynote because it's loaded with nuggets on how to influence buying behaviors. Yes, even sales veterans love this keynote!
Sales Training Workshops
SALES INFLUENCE: Finding the Why in (How Clients) Buy
(B2C) Sales Influence focuses on how buyers make buying decisions. In today's market, consumers have access to the Internet and often times know more about the product or service then the salesperson. Given this shift in knowledge power, outdated sales techniques aren't going to cut it anymore. Sales Influence shares the latest transactional sales methods, based on the latest research in consumer behavioral to help you increase your close rate.
VALUE-CENTRIC SELLING: Position Your Value, Not Your Price
(B2B) Selling your product (or service) value has become a sales imperative to remain profitable. Value Centric Selling focuses in on how to position your product, not with feature and benefits, but by positioning value. Beyond ROI, TCO and BE, salespeople today need to shift their complex sales strategy from selling on price (cost) to selling on value by first locating where they can impact the client's value chain and then quantifying and articulating (present) that value.
SELLING FOR ENGINEERS: Mastering the Technical Sale, Presentation & Demo
(B2B) Engineers are an integral part of the sales process as networks and system solutions increase in complexity. Mastering the technical sale requires the engineer to be in sync with the salesperson & learn how to positon the product's value beyond the features, benefits and advantages. Understanding how to present and sell the technical value comes down to learning how to structure a compelling and insightful demonstration. An engineer's presentation can make or break a sale.
Victor Antonio: Speaking at National Sales Network
Victor Antonio Gonzalez rocks the audience as he shares a powerful technique for succeeding in sales: "nudge, don't push." While everyone has the power to influence other people's decisions, consumers generally do not respond favorably when they feel they are being pressured. By understanding how people buy rather than how people sell, Victor asserts that salespeople can reach greater success.
"The buyer today is less trusting, less loyal, more demanding, and more price sensitive," he says. These are just some of the reasons salespeople and organizations need to be subtler in the way they approach customers today. When someone is nudged they don't even realize it's happened. Victor cites research linking the physical layout of a store to a consumer's mindset: "If you have a narrow aisle you will walk faster. If you have a wider aisle you will slow down."
Victor Antonio: Nationwide Financial Services - Influencing the Sale