* Please note that while this speaker's specific speaking fee falls within the range posted above (for Continental U.S. based events), fees are subject to change. For current fee information or international event fees (which are generally 50-75% more than U.S based event fees), please contact us.
Top25 Speaker Voting

Susan Scott needs 4 vote(s) to make it into the Top 25 speakers on Speaking.com!
Speaker Booking Tip
"Tip: some speakers might provide one of their popular book titles as a free gift to your audience. "
For Event Planners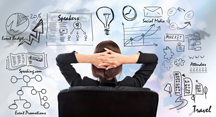 • Keynote Speaker Booking Toolkit.
• Booking a Celebrity Speaker.
• How to Find and Book the Right Speaker.
• Google+ Event Planning Forum.
• Tips for International Clients Booking U.S. Based Speakers.
Similar Speakers
Seth Mattison

One of MeetingsNet's Editors' Picks as a Favorite Speaker, Seth Mattison is known around the world for his expertise in employee relations and communication culture.…

Chris Helder

Chris Helder's high energy, humor, and powerful one-step "Useful Belief" system have made him one of the world's busiest speakers. The sought-out communication expert equips…

Margaret Heffernan

CEO, entrepreneur, and author Margaret Heffernan doesn't play the game; she writes the rules. The experienced television writer, producer, and business woman helps leaders and…

I just wanted to send a quick follow-up note to say – THANK YOU! I appreciate your partnership, and perseverance in helping us to find the right speaker for our group. Our speaker was absolutely excellent! The group loved him; it was perfect.
DeVry Education Group
About SPEAKING.com
Established in 1994, we are exclusive agents for some of the world's leading experts, celebrities and professional speakers.
We offer event planners a fully staffed speaker logistics planning team, plus a personal SPEAKING.com Account Executive – a knowledgeable and trustworthy partner. We guarantee your satisfaction with your speaker and a smooth booking process.
Contact us today to book your favorite speaker.

"This program is applicable to all levels within the organization. The skills learned have the potential to bring a complete transformation to the conversation you and your team members have. It was one of the best trainings I have ever participated in."
PETER LYNCH, VP LEARNING AND ORGANIZATION DEVELOPMENT AIMCO

"Relationships define my career, my company and my life. Fierce has given me another set of great tools to build those relationships."
ROBERT JACKSON, TRAINING DPR CONSTRUCTION, INC.

"I have been actively seeking ways to take myself to the next level as a leader, particularly as our company continues to grow and take ′it′ to the next level. It is hard to argue that effective communication is not critical to any leader′s success. The training, tools and format offered by Fierce are compelling."
KRISTEN CURRY, EXECUTIVE VICE PRESIDENT & ASSISTANT GENERAL COUNSEL GUIDANT FINANCIAL GROUP

"Fierce Conversations makes you aware of the subtle differences in the different types of relationships we have and how conversation is the vehicle for managing these relationships today, tomorrow, and into the future."
DAVID SOMERVILLE, ADVANCED MANUFACTURING CENTRE

"There are so few times in a leader′s development that provide such clarity that you start leading your new life immediately. This is one of them."
NINA B. EIDELL, VICE PRESIDENT HUMAN RESOURCES, ALLSTATE INSURANCE COMPANY

"Fierce hit the target! We have had many staff development days over the years, but none that have met our needs so directly as this one. Many thanks to our facilitators. Their presentation was clear, engaging, and best of all FUN! In the few months since, I′ve witnessed many needed conversations HAPPENING! Our staff have been given some clear organizational tools and common language to make these conversations possible. And while we know that ′no single conversation is guaranteed to change everything, any single conversation can′! We look forward to working with Fierce on an ongoing basis as our organization grows and continues to develop."
MEGAN KARCH, EXECUTIVE DIRECTOR, FARESTART

"Your book, Fierce Conversations, Achieving Success at Work & in Life — One Conversation at a Time, is a key component of our Leadership Alchemy program."
GAIL S. WILLIAMS, NASA GODDARD SPACE FLIGHT CENTER

"There have been a few times in my experience (personal and professional) where connections are made and everything comes together in a way that makes great things happen. My connection (and Xerox′s connection) with Fierce is one of those. Thank you for that!"
PAT NAZEMETZ, VICE PRESIDENT, HUMAN RESOURCES, XEROX CORPORATION

"Business results rely on others′ support. Support comes from relationships, relationships come from honest conversations. There is little room for dishonesty in ′fierce!′"
LESLIE HAYDEN, SENIOR CURRICULUM MANAGER, BENCH PROGRAMS, MICROSOFT CORP.

"Susan′s session with the Food & Wine sales and marketing team was a resounding success with solid learning, actual practice, and unquestionable relevance to what we all do every day. The group was inspired and motivated to put into action what we covered and the reverberations from our session have already begun to make themselves felt."
JULIE MCGOWAN, SENIOR VICE PRESIDENT/PUBLISHER, FOOD & WINE MAGAZINE

"Our partnership with Fierce has enabled our organization to challenge/validate reality in a real-time way that has an immediate impact on our decision-making in a very dynamic industry."
PETER NEILL, EXECUTIVE DIRECTOR, NETWORK ENGINEERING AT&T WIRELESS

"I and my company were honored with the most profound and meaningful contribution by Susan at our Leadership Conference. I have received endless calls and e-mails of thanks from my clients, strategic partners and prospects for hosting this event and for sharing Fierce Conversations with them."
RON HOEFER, CIC, PRESIDENT, MILESTONE RISK MANAGEMENT

"Susan handled 300 people extremely well. Her use of stories and exercises were very involving. We did a lot of prep upfront and Susan handled the learning curve well. Our CEO was involved. Almost universally people said, ′Wow.′

My favorite line and what I am working on is, ′What′s the most important thing we should be talking about today?′ That, for me, questioning more and giving advice less quickly, is my challenge. I want to make sure that the time I have with the leaders that I work with is spent talking about the most important things. Working much more on questioning them. A result is that people are more engaged."
DR. BONNIE KAY, CHIEF LEARNING OFFICER, THE BRICKMAN GROUP, LTD.

Would you recommend this workshop? "Unequivocally yes! We need to get out from behind the computer and television and engage in fierce conversations. Leadership is about articulating a vision and having folks make it happen. That′s accomplished through conversations. Building a problem-solving organizational dynamic. Confronting the real problems. Developing leaders. Establishing an open, respectful culture."
CHRISTINE GREGOIRE, WASHINGTON STATE GOVENOR

"Many decisions in the workplace are motivated by emotion. This workshop teaches you how to effectively channel that emotion to build stronger teams and build greater success: clear communication, stronger employee morale, greater productivity, happier customers, better decisions."
DANIEL RUSSELL, VICE PRESIDENT, SALES, INFOSPACE

"There is absolutely no question that Susan Scott is one of the single most outstanding speakers in the U.S. today. For the past two years she has presented at the Women Presidents′ Organization conference and both years received the highest rating of any speaker. The members of the WPO are very successful business women who have high expectations and standards, and Susan has exceeded these in every way.

In fact, one of our members stated that she used one of the recommendations from Susan′s presentation and found that it immediately changed her way of doing business."
MARSHA FIRESTONE, PRESIDENT & FOUNDER WOMEN PRESIDENTS′ ORGANIZATION

"Fierce Conversations gave me the tools to address issues that affected the productivity of my team and the workgroup around them. Fierce Conversations is so important to me that I insisted all managers in our team be trained so that they understood how to communicate with each other openly and in a straightforward manner."
RAJ BERI, VICE PRESIDENT, FIELD OPERATIONS CENTRAL REGION, AT&T WIRELESS
Fierce Leadership: A Bold Alternative to the Worst "Best" Practices of Business Today
From the author of the acclaimed book Fierce Conversations comes the antidote to some of the most wrongheaded practices of business today.

"Provide anonymous feedback."
"Hire smart people."
"Hold people accountable."

These are all sound, business practices, right? Not so fast, says leadership visionary and bestselling author Susan Scott. In fact, these mantras — despite being long-accepted and adopted by business leaders everywhere — are completely wrongheaded. Worse, they are costing companies billions of dollars, driving away valuable employees and profitable customers, limiting performance, and stalling careers. Yet they are so deeply ingrained in organizational cultures that no one has questioned them. Until now.

In Fierce Leadership, Scott teaches us how to spot the worst "best" practices in our organizations using a technique she calls "squid eye"–the ability to see the "tells" or signs that we have fallen prey to disastrous behaviors by knowing what to look for. Only then, she says, can we apply the antidote.

Informed by over a decade of conversations with Fortune 500 executives, this book is that antidote. With fierce new approaches to everything from employee feedback to corporate diversity to customer relations, Scott offers fresh and surprising alternatives to six of the so-called "best" practices permeating today's businesses. This refreshingly candid book is a must-read for any manager or leader at any level who is ready to take a long hard look at what trouble might be lurking in their organization - and do something about it.
Order Here




Fierce Conversations: Achieving Success at Work and in Life, One Conversation at a Time
FIERCE CONVERSATIONS
A way of conducting business.
An attitude.
A way of life.

Susan Scott trains clients in the art of fierce conversations, empowering them to achieve exceptional results through transforming dialogue. Success hinges on engaging people in ways that interrogate reality, provoke learning, tackle tough challenges, tap our deepest aspirations, and enrich relationships. Fierce Conversations takes you step-by-step through your first fierce conversation — with yourself — and on to the most challenging and important conversations facing you.

Susan Scott teaches you how to:

Overcome barriers to meaningful conversation
Expand and enrich the territory you explore with colleagues, friends, and family
Explore issues by mining for increased clarity, improved understanding, and impetus for change
Confront challenges with courage, compassion, and skill
Leverage new skills for frictionless debate
Handle strong emotions - your own as well as others′
Build breakthrough relationships with colleagues, clients, friends, and family

Fierce Conversations is the master guidebook to transforming the conversations that are central to your success, offering a new way of relating to people — at work, and in every area of your life.
Order Here





In her new book, Fierce Leadership, Scott busts six of the worst "best" business practices and reveals a technique she calls "squid eye"—the ability to see the obvious, once we know what to look for and to spot the "tells" that we're falling prey to disastrous behaviors before they cripple us and our organizations. Scott offers surprising alternatives that leaders and managers at every level can put into place. With new approaches to everything from employee feedback, to corporate diversity, to customer relations, Fierce Leadership provides audiences with an honest look at what might be holding them back—and what to do about it.

Scott is the founder of Fierce, Inc., whose diverse, global client list underscores a basic truth: Business is fundamentally an extended conversation—with colleagues, customers and the unknown future emerging around us.

Whether you focus on implementing key initiatives, managing top talent, improving customer acquisition and retention, developing leaders, or simply igniting productive dialogue that generates clarity and impetus for change—success occurs one conversation at a time.

Fierce Accountability®
Fierce Accountability® builds on the principles and practices of Fierce Conversations® and teaches leaders how to create a culture where people actively seek and demonstrate personal accountability, delivering agreed-upon results, despite obstacles.

Accountability is the single most powerful, most desired, yet least understood characteristic of a high performance culture. It's an attitude, a private, non-negotiable choice about how to live one's life. A choice that makes all the difference.

The problem is, "holding people accountable" generates tension, yet without accountability, time and energy is spent generating excuses about why something did or did not happen.

While it's human nature to blame other people or circumstances for our problems, individuals and organizations pay a high price for this behavior. Strategies adopted are half-hearted, safe, passive and diluted. Worse yet, sometimes the result is no action at all.

This workshop helps participants recognize the cost of blaming, protecting, defending and playing it safe. And the advantages of embracing accountability for the relationships and results central to their success.

Outcomes


Increased productivity, execution effectiveness, and job enjoyment regardless of challenging constraints
Effective responses by leaders to those who have a context of blame, protection or defense
Skills to build a culture of accountability within a team or organization

Fierce Conversations®
Fierce Conversations® teaches attendees how to ignite productive dialogue that interrogates reality, provokes learning, resolves tough challenges and enriches relationships. It's the place to begin, the cornerstone of great leadership, healthy cultures, intelligent strategies and whole-hearted execution.

The simplest definition of a fierce conversation is one in which we come out from behind ourselves, into the conversation, and make it real. While many fear real, it is the unreal conversations that ought to concern us because they are incredibly expensive. Once you've tasted this illusive thing called candor, served up with intelligence, passion and skill, all of the possibilities will be expanded and, when sustained, will revolutionize your culture.

At Fierce, we believe that the conversation is the relationship. That careers and companies succeed or fail, one conversation at a time. That conversations are the work of the leader and the work horses of an organization. And we believe that the central function of a leader is to engineer productive, spirited dialogue that reveals we are capable of original thought and provides clarity and impetus for change.

The Seven Principles:
Explore the Principles of Fierce Conversation and their relevance to your personal and professional success.
Master the courage to interrogate reality.®
Come out from behind yourself, into the conversation, and make it real.®
Be here, prepared to be nowhere else.®
Tackle your toughest challenge today.®
Obey your instincts.®
Take responsibility for your emotional wake.®
Let silence do the heavy lifting.®
Outcomes

A performance culture that values initiative, agility, risk taking
Focus on results; Deep-seated accountability; Initiatives executed
Improved customer acquisition and retention
Effective talent Management
Globally competitive leaders
Effectively confronting attitudinal, performance or behavioral issues
Improved profitability per employee
Fierce Negotiations®
Fierce Negotiations® builds on the foundations of Fierce Conversations®, explores traditional practices of negotiating (can you feel your shoulders tighten?) and reframes the negotiation process using Fierce techniques.
People negotiate, not businesses. Fierce negotiators master the art of enriching relationships, while steering negotiations to successful outcomes. They are authentic, clear in resolve, skilled at interrogating competing realities - and redirecting the conversation to a place where new and expanded solutions are discovered.
The Fierce Negotiation Model enables innovative and creative options as opposed to compromises that are often the result of traditional "win-win" negotiations. It's about maximizing yield while protecting and strengthening relationships.
Outcomes
Expand the possibilities by envisioning larger outcomes
Recognize and respond effectively to common negotiation tactics
Transform emotionally charged negotiations into a catalyst for new solutions
Apply skills to negotiations with internal & external partners
Understand the role of negotiations in all relationships
Close negotiations effectively
TEDx Talk