* Please note that while this speaker's specific speaking fee falls within the range posted above (for Continental U.S. based events), fees are subject to change. For current fee information or international event fees (which are generally 50-75% more than U.S based event fees), please contact us.
Top25 Speaker Voting

Scott O'Grady needs 6 vote(s) to make it into the Top 25 speakers on Speaking.com!
Speaker Booking Tip
"Tip: ask your speaker to do a book signing or attend a VIP meal with your guests. "
For Event Planners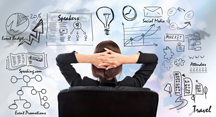 • Keynote Speaker Booking Toolkit.
• Booking a Celebrity Speaker.
• How to Find and Book the Right Speaker.
• Google+ Event Planning Forum.
• Tips for International Clients Booking U.S. Based Speakers.
Similar Speakers
Robert Van Arlen

Jazz pianist and speaker to over 250,000 salespeople across the world, Robert Van Arlen takes the title of his book, Focused Synergy, and shows you…

Sharon Wood

Mount Everest was a culmination of an odyssey that began at age twelve when her father took her up her first mountain. By the time…

Dan Lothian

Dan Lothian is a veteran national TV news correspondent and is a co-founder of Heart Beings, a gathering point for positive news, insightful perspectives and…

Everyone at your speakers agency were professional and helpful throughout the process, making it easy to book, communicate, and prepare for our event.
Hewlett Packard
About SPEAKING.com
Established in 1994, we are exclusive agents for some of the world's leading experts, celebrities and professional speakers.
We offer event planners a fully staffed speaker logistics planning team, plus a personal SPEAKING.com Account Executive – a knowledgeable and trustworthy partner. We guarantee your satisfaction with your speaker and a smooth booking process.
Contact us today to book your favorite speaker.

"Scott, first and foremost, I want to thank you for coming to Johnstown, Pennsylvania and speaking to my company's employee base. You are a true American hero and an inspiration to all. Following your presentation, I received overwhelming positive feedback from over 100 of our employees. With that being said, I want to personally thank you for excepting my offer to return to Johnstown to speak to the Greater Johnstown Chamber of Commerce."
Jack Babich
Ameriserv Bank
Senior Vice President

"Scott O'Grady came to speak at PepsiCo's North America Beverages Headquarters and Global Headquarters for our Veterans Day event. His powerful speech captivated the audience as he talked about his life-changing experience. Scott's passion and enthusiasm was contagious, and I would highly recommend him as an inspirational speaker."
Jim Farrell
Vice President - Logistics
PepsiCo

Return With Honor
An account of the author′s ordeal when, as a US Air Force Captain helping to enforce the NATO no-fly zone above Bosnia in June 1995, his aircraft was shot out of the sky by Bosnian Serbs and he had to spend six days and nights in hostile territory, sometimes with his pursuers only five feet away.
Order Here





Return With Honor
Scott O′Grady speaks about his incredible true-life struggle to survive in the hostile territory of war-torn Bosnia. Scott O′Grady′s story is an inspirational tale of courage, faith and patriotism by an American hero.
Demo Video
Scott O'Grady details his six days trapped on the ground of war-torn Bosnia after his plane was hit by an enemy missile and exploded around him. The former fighter pilot paints a vivid picture of his gritty fight for survival as he scrambled through the countryside avoiding the Serb soldiers who were trying to hunt him down.
Though he found himself knocking at death's door several times that week, he describes the experience as "the most positive six days of his life," crediting his ability to persevere under pressing circumstances to his faith in God and his love for his family and country. "I was able to explore that relationship with God in depth like never before," O'Grady claims. "My weaknesses and my strengths were completely exposed and out on the table."