* Please note that while this speaker's specific speaking fee falls within the range posted above (for Continental U.S. based events), fees are subject to change. For current fee information or international event fees (which are generally 50-75% more than U.S based event fees), please contact us.
Top25 Speaker Voting

Ron Tite needs 4 vote(s) to make it into the Top 25 speakers on Speaking.com!
Speaker Booking Tip
"Tip: find a speaker in your local area to save on travel costs. Most speakers will also reduce their keynote fee for local events. "
For Event Planners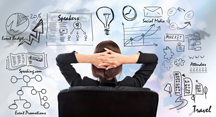 • Keynote Speaker Booking Toolkit.
• Booking a Celebrity Speaker.
• How to Find and Book the Right Speaker.
• Google+ Event Planning Forum.
• Tips for International Clients Booking U.S. Based Speakers.
Similar Speakers
Marjorie Brody

Marjorie Brody has gained a reputation as one of the best speakers for professional development in the USA. Her clients from the Fortune 100 and…

Ira Blumenthal

A visionary business development expert, Ira Blumenthal has been invited to open for speakers like President George H. W. Bush, General Colin Powell, Bob Dole,…

Jack Sims

"It′s not how much you want, but how much you want it!" – Jack Sims Jack Sims – Founder and CEO of America′s largest marketing…

I will certainly recommend to others that they contact you for guest speakers in the future. It was a pleasure working with you as well. We all appreciate your professionalism and exemplary service.
BASF
About SPEAKING.com
Established in 1994, we are exclusive agents for some of the world's leading experts, celebrities and professional speakers.
We offer event planners a fully staffed speaker logistics planning team, plus a personal SPEAKING.com Account Executive – a knowledgeable and trustworthy partner. We guarantee your satisfaction with your speaker and a smooth booking process.
Contact us today to book your favorite speaker.

Partial Client List:

The 50 Best Managed Companies
The Art of Marketing
American Express
Bell
CIBC
Coke
Deloitte
Dell
Frito Lay
KPMG
McDonalds
Pfizer
Volvo

"Tite has the right universal touch, handles physical comedy effortlessly and never heads for the bog to make his audiences laugh. We did. Here′s a young man on the move, for all the right reasons."
The Edmonton Journal

"Worth mentioning, however is comedian Ron Tite. Pokes at political families and the West Coast lifestyle were bang on. "People think UBC stands for University of British Columbia," he muses, "but it′s really the University of Buenos Cannabis. Everyone was high except for the business students, who sold potato chips for eight bucks a bag."
Toronto Star

"Tite′s energy and booming voice completely take over...and he works the material like a veteran with nary a slip-up. True Canadiana comedy that doesn′t rely on Air Farce-style ridiculous on-the-nose political non-humour is a rare treat, and deserves to be noticed."
The Edmonton Sun

"The skits and stand-up were hysterical and everyone loved how they were customized for Nortel! Some of the inside jokes really hit home and had people laughing for the rest of the conference."
Nortel Networks

"Let′s just say RAVE Reviews! Your show was just great - very, very appropriate."
Trent University

"The delegates of the Big Brothers Big Sisters of Canada National Convention were treated to a night of hilarity. With a theme of a "Cross Canada Comedy Review" everyone was able to laugh at ordinary things from their part of the country. We′d go back in a minute."
Big Brothers & Big Sisters of Canada

"Ron′s ability to fearlessly stand in front of nearly 300 fraternity members and poke fun at our time-honored traditions and beliefs is a testament to his commitment to research and show customization. He created entirely new material that not only rewrote our Creed and founding principles, but also capitalized on the traditional stereotypes associated with fraternity life. What resulted was a hilariously engaging show our attendees will not soon forget."
Sigma Nu Fraternity, Inc. (Lexington, VA)

"An intelligent look at pure, unadultered Canadiana."
See Magazine

"Reviews were absolutely positive! What a nice addition to our conference! Thanks for adding some laughter and life to our busy and generally serious work routines."
Emergency Nurses Association of Ontario

"Tite is definitely a comic for our generation. He made for 30 minutes of laughter and fond memories."
The Queen′s Journal
Everyone's a Comedian (Or at Least They Should Be)
Subject Area: Creativity
In an entertaining fashion, this presentation not only illustrates the corporate need and benefits of thinking creatively in business, it actually teaches people how.
This session details how comedians approach their own creative thinking, writing and performance. It shares some tricks of the trade that can be applied to any professional setting.
And most importantly, it teaches people how to actually be creative. Most businesses are demanding more creative intelligence from their employees but no one is telling them how to do it. This session helps that.
Live Up To The Line
Subject Area: Personal branding
Most organizations have an external positioning or tag-line that they communicate to the outside world. That's great....Unless their people don't back it up with behaviours and decisions that re-enforce the core brand message.
This session helps management by rallying personnel to support external messaging and helps individuals by illustrating how their personal brand can complement the organizational brand.
Social Makes Sense
Subject Area: Social Media, Branding, Corporate Strategy
This session is the next generation of the social media keynote. It doesn't focus on why a company should have a Social media strategy (Or Twitter strategy or Facebook, or Foursquare..) but rather, why they should have a "social" strategy that runs through the entire organization. Does it include Social Media? Certainly. But there's so much more.
Using a number of proprietary global studies on consumer behaviour and consumer perspectives, this session explores the emerging consumer and the emerging corporations and brands they'll interact with and how.
Telling Your Story
Subject Area: Corporate Storytelling
In a world of 140 character interaction, text abbreviations and an inbox that forces us to respond with the briefest of emails, consumers are craving for emotional connection in their lives and they're certainly gravitating to brands who make that emotional connection with them.
One of the best ways to make that connection? Don't share powerpoint slides, tell stories. People don't emotionally connect with a spreadsheet, they connect with a real story featuring real people in real situations and real outcomes.
Whether it's sharing stories internally to capture best practices or recognize achievement or whether it's telling stories externally to win pitches, grow the business or create a campaign, all organizations have wonderful stories to tell. They just need to know how to tell them and how to share them. This session accomplishes that.
The Host
Subject Area: Conference or Symposium Host (as opposed to an event host)
Here's what you usually get in a business host:
1. A comedian who is funny but doesn't get the content.
2. A business person who gets the content but who isn't entertaining.
3. A TV personality who may get the content but you never know because it's all about them.
This is where Ron's different. With close to 15 years performing, he can be funny. With over 15 years in advertising for a large number of different global clients, he usually gets the content. And with a commitment to preparation, he works with clients to establish threads between speakers, reinforce key topics, provide executive summaries / valuable lessons and keep the day moving in a fun and appropriate way. Attendees walk away feeling as if they've experienced a coordinated content effort opposed to a random display of facts and figures. And they have more fun along the way too.

Keynote Speech
In this speech, Ron discusses innovation and personal branding. He begins by pointing out that "organizations don't change; people do." He explains that it's the individual decisions made by people in an organization that lead to innovation. He continues by saying that being innovative and creative "is not an issue of ability at all. It's an issue of branding."
Ron goes on to compare the brands of Apple and Polaroid. He says that "Apple, as a brand, continued to believe what it stood for, and continued to change, and continued to innovate." Polaroid, on the other hand, "forgot what they were about. Polaroid was really about making memories, not about taking disposable pictures." He concludes that the digital camera industry "snuck up on Polaroid" because "Polaroid did not adapt. Polaroid did not innovate."
Keynote Speech