* Please note that while this speaker's specific speaking fee falls within the range posted above (for Continental U.S. based events), fees are subject to change. For current fee information or international event fees (which are generally 50-75% more than U.S based event fees), please contact us.
Top25 Speaker Voting

Robin Sieger needs 5 vote(s) to make it into the Top 25 speakers on Speaking.com!
Speaker Booking Tip
"Tip: speakers bureaus provide added value that you cannot get by booking speakers directly. "
For Event Planners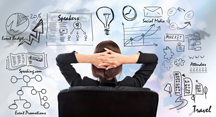 • Keynote Speaker Booking Toolkit.
• Booking a Celebrity Speaker.
• How to Find and Book the Right Speaker.
• Google+ Event Planning Forum.
• Tips for International Clients Booking U.S. Based Speakers.
Similar Speakers
Steve Garvey

Aside from having an enviable career on the field, baseball legend turned businessman, Steve Garvey is a sought out speaker known for his skill, story…

Mallory Weggemann

Mallory Weggemann is an American Paralympic swimmer who became a paraplegic following a routine epidural to treat her back pain in 2008. Less than four…

Kyle Maynard

Two-time ESPN Espy winner, Kyle Maynard did not let a birth defect deter him from becoming a gifted athlete. The Mixed Martial Arts competitor, who…

Everyone at your speakers agency were professional and helpful throughout the process, making it easy to book, communicate, and prepare for our event.
Hewlett Packard
About SPEAKING.com
Established in 1994, we are exclusive agents for some of the world's leading experts, celebrities and professional speakers.
We offer event planners a fully staffed speaker logistics planning team, plus a personal SPEAKING.com Account Executive – a knowledgeable and trustworthy partner. We guarantee your satisfaction with your speaker and a smooth booking process.
Contact us today to book your favorite speaker.

We have had amazing feedback from everyone including the CEO who said Robin was the best speaker he has ever seen. As well as being very funny his points were clear and most importantly absolutely relevant. Not only did I find his presentation really useful, he was a delight to work with, and made my job easier on the day.
GIST

Thank you for the fantastic talk you gave at the HSBC conference, the audience were captivated and for 1500 delegates at the end of a long day, was an achievement in itself.
HSBC

Thank you for delivering such a dynamic and motivating presentation. I can honestly tell you that I have heard specific points you made in your speech recited many times since then.
McDonald's

The sheer challenge of engaging 350 skeptical and cynical senior executives from multiple cultural backgrounds and varied business functions is a daunting assignment. It's Mission Impossible. How to connect? How to get their attention? Without pretence, Robin Sieger knows how to keep an audience on the edge of their seats without clichés, by using humor and an unmatched story-telling-tempo that takes you on a roller coaster of inner-reflection, inner-conviction, and inner resolution and leaves you feeling courageous – and even a bit euphoric – about winning. You might believe almost anyone could walk in front of a room and capture the hearts and minds of the audience. In reality we know this just doesn't happen. Yet I saw the audience break out with pens take notes, and later listened to conversations around the water cooler about the presentation you gave, and their take away.
GM

Your 90 minute presentation 'Inspirational Thinking for Success' far exceeded our expectation and left a lasting impression and a tangible result. Your contribution created buzz and excitement in the discussions between participants afterwards.
Coca-Cola

To say that I was impressed with Robin would be a huge understatement, without exception the best I have seen. Your talk at our global conference in Las Vegas was the highlight of the week for me there were excellent messages delivered in a very meaningful manner. How you keep 6500 people from 44 different countries engaged and laughing is something I will never forget
IBM
Golf′s Moment of Truth: How to Play Under Pressure and Conquer the Choke Point
Whether amateur or Tour professional, every golfer will experience that crucial moment when victory hinges on just one shot. Make it, they win; blow it and they will re-live the memory on the golf course for years to come. They have arrived at their personal ′moment of truth′. The question is: can they do it? The follow-up to his successful Silent Mind Golf, and second in a major new four-book series, this new title sees Robin Sieger explore the concept of ′choking′ and apply his easy-to-grasp mental conditioning techniques to help golfers at all levels perform under pressure. Using examples taken from the careers of the game′s greatest players, as well as case studies drawn from other sports and walks of life, Robin demystifies the psychological secrets of how to perform well at critical moments, and demonstrates how understanding the ′choke point′ enables us to conquer it.
Order Here

You Can Change Your Life... Any Time You Want
Robin Sieger is an inspirational speaker who speaks all over the world to professional and corporate groups. He has created a personal program for people who want to change themselves and their lives but can't see how to get there.
Order Here




42 Days to Wealth, Health and Happiness: How to Take Control and Transform Your Life Forever
Motivational speaker, Robin Sieger, presents a unique approach to overcoming those lifelong limiting beliefs that are so hard to overcome, and the consequences of which cause much needless suffering and unhappiness.
Order Here




Natural Born Winners
"Sometimes life can seem so unfair. You work hard, you do your best - but nothing seems to change. And yet there are others who, with the effortless ease of angels, always seem to get what they want. Why?" We are all Natural Born Winners - but although we′re born with the ability to succeed, it can often be lost in early childhood. Robin Sieger shows how that ability can be rediscovered with ease, and immediately put to use in the pursuit of both personal and professional goals. The principles governing success are constant - and you can learn them.

Thousands of people have been spurred on to greater success through the inspiring principles of Natural Born Winners, published around the world in five languages. With this remarkable and inspiring book as your guide, you can share in their success, and rediscover the Natural Born Winner in you.
Order Here





KEYNOTE SPEECHES & TOPICS

Robin is committed to enabling the creation of success cultures within organizations. Robin is an international bestselling author and acknowledged world class authority on change, human capital and success. His presentations focus on:


* Achievement
* Business and personal success
* Inspiration
* Leadership
* Motivation
* Overcoming adversity
* Personal growth and fulfillment
* Relationship management