* Please note that while this speaker's specific speaking fee falls within the range posted above (for Continental U.S. based events), fees are subject to change. For current fee information or international event fees (which are generally 50-75% more than U.S based event fees), please contact us.
Top25 Speaker Voting

Roberta Bondar needs 5 vote(s) to make it into the Top 25 speakers on Speaking.com!
Speaker Booking Tip
"Tip: speakers bureaus can provide: speaker fee negotiation, insurance, smooth logistics and value add-ons such as extra sessions. "
For Event Planners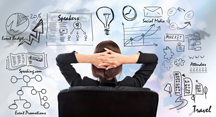 • Keynote Speaker Booking Toolkit.
• Booking a Celebrity Speaker.
• How to Find and Book the Right Speaker.
• Google+ Event Planning Forum.
• Tips for International Clients Booking U.S. Based Speakers.
Similar Speakers
Robert Kriegel

An in-demand business innovator, Dr. Robert Kriegel helps organizations get enviable performance results by working smarter – not harder. He is the author of two…

Ruben Gonzalez

When Houston resident Ruben Gonzalez decided to try out luging, he had never even touched snow. Over 30 years later, he is the only winter…

Warren Macdonald

A catastrophic moment redefined Warren Macdonald's life in April 1997 when a one-ton boulder fell on him during an excursion on a remote Australian island.…
It was an extreme pleasure to work with our account rep. She was friendly, flexible, and knowledgeable about all their speakers. She made the process simple. I cannot begin to put into words the impact that our speaker had on our audience. People are still taking about his presentation and his program set a standard on all diversity programs.
FDIC: Federal Deposit Insurance Corporation
About SPEAKING.com
Established in 1994, we are exclusive agents for some of the world's leading experts, celebrities and professional speakers.
We offer event planners a fully staffed speaker logistics planning team, plus a personal SPEAKING.com Account Executive – a knowledgeable and trustworthy partner. We guarantee your satisfaction with your speaker and a smooth booking process.
Contact us today to book your favorite speaker.

"First of all, I want to take this opportunity to thank you for all your assistance with Dr.Roberta Bondar's visit. We all enjoyed her presentation. The students were very impressed and they were very happy with all the books she brought for them. Dr. Roberta Bondar had the opportunity to meet with former high school classmates who are from this community and who attended schools in her home town of Sault Ste. Marie. It was indeed a happy moment for them, they never would have dreamed of seeing Dr. Roberta Bondar in their community. As you can see, it was an exciting day for everyone!"
Cree School (booking organized by Speaking.com)
"A wonderful speaker... exuding intelligence, great warmth and compassion.."
Yale University
"... inspirational, humourous and enlightening."
Federal Bureau of Investigation
"... an enthusiastic delivery and fascinating speech... certainly the highlight of our two-day conference."
MAUREEN KEMPSTON DARKES, GROUP VP, GENERAL MOTORS, PRESIDENT GM LATIN AMERICA, AFRICA and MIDDLE EAST
"... a standing ovation... and in return a standing ovation for us for including her as part of our agenda.... A great finishing touch to the day!"
GEORGE MITROVSKI, BANK OF MONTREAL
"... Absolutely fantastic... captured the audience with your first words and kept us mesmerized until the end."
GARY L. MILES, CEO, RADIO, ROGERS MEDIA
Lessons in Life and Personal Motivation from Roberta Bondar
Drawing on her pioneering role as Canada's first female astronaut, and on some fascinating anecdotes, she explores issues of goal setting, teamwork, and personal discovery.
The Challenge of Change
Each of us is on a journey that is uncharted. We need skill sets and opportunity so we're not constrained just by the known. We need to embrace change and the unknown.
Touching the Earth... a lifelong relationship
Touching the Earth is an amazing visual and spoken testament to the beauty and variety of our planet. Dr. Bondar contrasts her two views of "home", with photographs from space and her early photography from its surface, accompanied by the words of her journey and reflections on our environment.
Other Topics Include:
Dream Building, Vision Planning
Energy for Critical Thinkers
Journey Through Space
Understanding the Present—Launching the Future (For Educators)
Roberta Bondar: TedX Waterloo
Dr. Roberta Bondar explores the concepts of change for a TEDx audience. She explains, "It's easy to talk about people having to change, and we usually get it by different mechanisms. Quite often we are pushed into change, or pulled, and this is something that makes us take stuttering steps."
Drawing on her own personal experience, she says, "As a physician I've quite often seen people who are drawn into sudden change in their medical status, or in their loved one's medical status, and that has pushed them into someplace they never thought they would be."
Explaining how change can become a positive force, she says, "The best way, I think, is to actually choose to do it. By choosing to change, and choosing to accept challenges, and actually trying to find them, we can actually find out who we really are."
Commencement Address
Roberta Bondar: Introduction