* Please note that while this speaker's specific speaking fee falls within the range posted above (for Continental U.S. based events), fees are subject to change. For current fee information or international event fees (which are generally 50-75% more than U.S based event fees), please contact us.
Top25 Speaker Voting

Robert Stephens needs 15 vote(s) to make it into the Top 25 speakers on Speaking.com!
Speaker Booking Tip
"Tip: speakers bureaus can provide: speaker fee negotiation, insurance, smooth logistics and value add-ons such as extra sessions. "
For Event Planners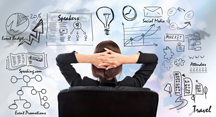 • Keynote Speaker Booking Toolkit.
• Booking a Celebrity Speaker.
• How to Find and Book the Right Speaker.
• Google+ Event Planning Forum.
• Tips for International Clients Booking U.S. Based Speakers.
Similar Speakers
Vivek Wadhwa

In a recent Washington Post article, avid futurist Vivek Wadhwa recalls his thoughts as a child about the future of technology and how he saw…

Robin Chase

"Everyday, create the world you want to live in." That has been visionary Robin Chase's approach to addressing the greatest dilemmas of the 21st century.…

Howard Anderson

Recently selected by Network World as one of the 25 most important people in communications, Howard Anderson has more than forty years of experience in…

Finding the appropriate speaker for an event is a challenge. Your stellar speakers agency made the process extremely easy. I would recommend your agency to anyone.
Mercury University
About SPEAKING.com
Established in 1994, we are exclusive agents for some of the world's leading experts, celebrities and professional speakers.
We offer event planners a fully staffed speaker logistics planning team, plus a personal SPEAKING.com Account Executive – a knowledgeable and trustworthy partner. We guarantee your satisfaction with your speaker and a smooth booking process.
Contact us today to book your favorite speaker.

Let me first say that I thought your presentation was the best. It was empowering, energetic and certainly entertaining. I thought that your casual style of presenting was connecting well with the audience and that it gave us a good picture of the process of launching and growing the Geek Squad.
As you may or may not know, Jason Keyz, the Studio speaker that was just before you is a member of one of my Chief Executive Groups. His presentation was a great lead in to your presentation and the two fit kind of perfect. Your presentation was the best of the day. It really showed how culture can be created and how one can step out-of-the-box and successfully hit the target. Great job and thanks for asking for the feedback.
Chair, Vistage LA
"We greatly appreciated your participation in our event last week – we have received numerous positive comments and feedback about your remarks in both sessions. We are doing formal follow-up surveys with attendees now however I have no doubt the results will show you were a star of the program!"
Cruise Lines International Association
"Lively and enlightening insights from a 21st Century pioneer. I wouldn't pass up a chance to hear Robert Stephens, ever."
Learning Resources Network (LERN)
Beyond Social Media: The Sharing Economy
Stephens offers fascinating insight on upcoming developments on and off the web, and reveals why he predicts that the biggest trend of the coming decade will be the "Sharing Economy," outlining what that means for society and business and why he is betting on it.
The Geek Squad Saves the World
What do you get when you take $200, a crazy idea and passion for all things technical? Learn how Stephens transformed the boring world of computer support and made it exciting and glamorous. This is a can't-miss presentation, full of inspiring entrepreneurial spirit and valuable business tips, starring one Chief Inspector, 12,000 Double Agents and Geekmobiles, The Rolling Stones, The CIA, The Oscar Mayer Weinermobile and more than 5,000,000 messed up computers.
Marketing is a Tax You Pay for Being Unremarkable
The best thing to happen to Geek Squad founder Robert Stephens is that he had no money or resources when he started his business. He explains why this was so valuable, touching on the origins of Geek Squad, the purposeful choice of a non-technical brand for a technology company, and all of the detailed decisions that made the company successful. From the cars, to the messaging, to the culture, he provides entertaining and encouraging insight on how starting out with nothing was the catalyst for creating his successful and unique brand.
Bigger Than Social Networking: The On-Demand Economy
Before Uber, there was another service that let you push a button, and summon a person to your home or office for service: The Geek Squad. Robert will discuss his bet on the biggest trend of the coming decade: The Sharing Economy, also known as Collaborative Consumption. He'll argue that Groupon, AirBnB, OpenTable, ZipCar, Uber, and many others are all the same type of company and how it will disrupt every business and create new opportunities.
Emerging trends
This next decade will witness change 100 times greater than anything we have seen thus far, mainly due to mobile computing and wireless sensors. Every company is in the service business now. Operations are not enough: companies must design experiences if they are going to stand out. Technology and software will be key to building those services. Every company needs a unique brand and culture, especially if it is going to innovate.
The Geek Squad Story
What do you get when you take $200, a crazy idea, and love for all things technical? Learn how Robert Stephens took the boring world of computer support and made it famous. Starring 1 Chief Inspector, 25,000 Double Agents and Geekmobiles, The Rolling Stones, The CIA, The Oscar Mayer Weinermobile and over 50,000,000 messed up computers. Don't miss it.
Conversational Commerce: The newest trend in business
Why did Facebook pay over $20 Billion for mobile-only text chatting app WhatsApp? How is it that consumers in Asia do most of their banking, food ordering, and taxi hailing in a single app? Why are some predicting that soon we will text businesses instead of calling them? Learn the single trend behind all of these events - and why you should be paying attention.

Robert Stephens at UnitedHealth Group's Innovation Day: Part 1
Robert Stephens, Chief Technology Officer of Best Buy and founder of The Geek Squad, shares his insights with 1,500 UnitedHealth Group employees and senior leaders during the company's first ever Innovation Day.
In his speech for the UnitedHealth Group, Robert talks about innovation and the special importance of Apple Founder Steve Jobs to the technical world. He encourages the audience to reflect on their life and figure out their best skill set. Then, use these skills to create a better workplace and personal life.
Stephens also attempts to demystify computers. "You are in control and can learn about computers, you control them they don't control you". By taking the initiative to learn all you can about technology, you can become your own boss and create your own future.
Robert Stephens at UnitedHealth Group's Innovation Day: Part 2
Keynote: Robert Stephens