* Please note that while this speaker's specific speaking fee falls within the range posted above (for Continental U.S. based events), fees are subject to change. For current fee information or international event fees (which are generally 50-75% more than U.S based event fees), please contact us.
Top25 Speaker Voting

Raleigh Pinskey needs 5 vote(s) to make it into the Top 25 speakers on Speaking.com!
Speaker Booking Tip
"Tip: some speakers might provide one of their popular book titles as a free gift to your audience. "
For Event Planners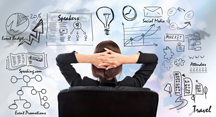 • Keynote Speaker Booking Toolkit.
• Booking a Celebrity Speaker.
• How to Find and Book the Right Speaker.
• Google+ Event Planning Forum.
• Tips for International Clients Booking U.S. Based Speakers.
Similar Speakers
Ira Blumenthal

A visionary business development expert, Ira Blumenthal has been invited to open for speakers like President George H. W. Bush, General Colin Powell, Bob Dole,…

Marjorie Brody

Marjorie Brody has gained a reputation as one of the best speakers for professional development in the USA. Her clients from the Fortune 100 and…

Jack Sims

"It′s not how much you want, but how much you want it!" – Jack Sims Jack Sims – Founder and CEO of America′s largest marketing…
It was an extreme pleasure to work with our account rep. She was friendly, flexible, and knowledgeable about all their speakers. She made the process simple. I cannot begin to put into words the impact that our speaker had on our audience. People are still taking about his presentation and his program set a standard on all diversity programs.
FDIC: Federal Deposit Insurance Corporation
About SPEAKING.com
Established in 1994, we are exclusive agents for some of the world's leading experts, celebrities and professional speakers.
We offer event planners a fully staffed speaker logistics planning team, plus a personal SPEAKING.com Account Executive – a knowledgeable and trustworthy partner. We guarantee your satisfaction with your speaker and a smooth booking process.
Contact us today to book your favorite speaker.

"Informative, insightful session. You helped us generate new ideas and refocus old issues."
-Ann Bouchard, Former Executive Director, National Association State Chartered Credit Unions

"Once again you did it! Highest evaluation of all speakers!"
-Chuck Fuller, Former Workshop Director Entrepreneur Magazine Small Bus Expo

"We loved your style, we loved your high content and we′d love to have you again."
-Dunham Gooding, Former President Outdoor Recreation Coalition of America

"You were certainly successful at drawing your audience in, providing them with the business solutions they were looking for, and maintaining their undivided attention throughout the 180 minutes of your presentation. Thank you again for your outstanding conference seminar. I hope we are able to work together again in the future."
- Diane M. Stakoe, Former Conference Producer, INC. World / Strictly Business Conference & Expo

"I saw Raleigh R. Pinskey give an amazing presentation on the power of public relations and what it can do for you. She was the most interesting and captivating speaker there. When you need PR - Raleigh R. Pinskey will work her magic for you!"
- Joseph Zarek, CDE, HE, SA

Audience Evaluation Comments

"Very practical. No fluff, just useful facts."
"Great presentation. Kept me interested and that′s not easy."
"I liked her sense of humor. It kept the information from being dull."
"Wasn′t impressed until I was fortunate enough to hear Raleigh."
"I came again. I saw her last year too. Lots of good stuff again."
"A true mentor."

Partial Client/Appearance List:

International Gathering, Dubai
Speaker Training University, Abu Dhabi
Leaders Enterprises, Kuwait
CKG International Consulting For Realtors
Women′s Council Of Realtors
Coldwell Banker National Elite Retreat
National Association of State Chartered Credit Unions (NASCCU)
Dallas Market Center Gift Source West
Women's Apparel Vegas
American Craft Expo
Apple Specialist Marketing Co-op
Atlanta SCORE Sales Training Summit
Bakersfield Women′s Conference
Ft. Worth Women′s Business Conference
Maryland-National Capital Park & Planning Commission
Parker College of Chiropractic
Tampa Inspiring Women′s Success Conference
Wisconsin Governor′s Conference On Tourism
Diving Equipment and Marketing Association (DEMA)
National Association of Recreational Sports (NAR)
World Wide Pet Supply Association (WWPSA)
Ralston Purina
Society of Government Meeting Professionals
American Women′s Economic Development Conference (AWED)
Entrepreneur Magazine′s Small Business Expo
Home Office Computing SOHO Expo
Randy Gage′s Network Maketing Seminars
Jack Canfield's Self-Esteem Seminars
Business Branding Topics:

Marketing Your Differential: Maximize Your Biz-Ability thru Viz-Ability – How To Effectively Get Your Message and Brand in Front of Your Target Market
Joint Venture with the Media for Profit and Prestige - Results Producing Media Releases, Get on Talk Shows, On & Off Line
Building Strategic Relationships – Way Beyond Networking 101
The New Era of Marketing – Blogs, Podcasting, Teleseminars, Audio/Video, E-mails, and more

Business Motivation & Inspiration Topics

Howz Your Gladitude Quotient? – A Humorous Look at Growing Positive Attitudes
Did You Have a Good Day Dear? – A Humorous Look at What Make Us Tick
Leadership is an Inside Job – 9 Questions That Help You Lead More Effectively
Business Motivation – 11 Keys to the Kingdom of Success

Leadership Topics

Leadership is an Inside Job –
9 Questions That Help You Lead More Effectively So Your Team Can Be More Productive
Did You Have a Good Day Dear? – A Humorous Look at Thoughts and Situations That Make Us Tick
Building Strategic Relationships – Way Beyond Networking 101
Business Motivation – 11 Keys to the Kingdom of Success

Additional Topics:

How to Market Your Message to the Media
Making Strategic Alliances Work for You
101 Ways to Promote Yourself
Building Your Brand
Joint Venturing with The Media for Fame and Fortune – Power and Prestige
How to Produce Profitable TeleSeminars
Creating an Information Empire with Information Products
Book Promotion Made Easy
Demo Video
Attitude
Book Tour Media Clips
Public Relations / Marketing
New Rules for Public Relations