* Please note that while this speaker's specific speaking fee falls within the range posted above (for Continental U.S. based events), fees are subject to change. For current fee information or international event fees (which are generally 50-75% more than U.S based event fees), please contact us.
Top25 Speaker Voting

Peter Vidmar needs 4 vote(s) to make it into the Top 25 speakers on Speaking.com!
Speaker Booking Tip
"Tip: speakers bureaus provide added value that you cannot get by booking speakers directly. "
For Event Planners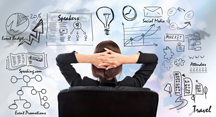 • Keynote Speaker Booking Toolkit.
• Booking a Celebrity Speaker.
• How to Find and Book the Right Speaker.
• Google+ Event Planning Forum.
• Tips for International Clients Booking U.S. Based Speakers.
Similar Speakers
Rulon Gardner

In the 2000 Olympics, Rulon Gardner triumphed in what has become one of the most inspirational sports stories ever. The 29-year-old amateur wrestler from a…

Roger Crawford

Former athlete, Roger Crawford has been teaching audiences all around the world how to achieve the impossible and redefine what's possible through his personal success…

Ross Bernstein

If you want your company to really knock it out of the park, then bestselling author, sports expert and leadership guru Ross Bernstein is the…

Working with your speakers bureau has been a pleasure. Everyone on your team was extremely responsive and informative, and really helped us to customize our event. I will be sure to reach out to your agency again in the future with any speaker needs that I may have.
The Advisory Board Company
About SPEAKING.com
Established in 1994, we are exclusive agents for some of the world's leading experts, celebrities and professional speakers.
We offer event planners a fully staffed speaker logistics planning team, plus a personal SPEAKING.com Account Executive – a knowledgeable and trustworthy partner. We guarantee your satisfaction with your speaker and a smooth booking process.
Contact us today to book your favorite speaker.

"I've worked with many professional speakers during the past 15 years, but never has one been so concerned about his clients as Peter Vidmar was."
Sprint
"We felt Peter Vidmar's presentation was extremely relevant and was enthusiastically received. He has set a standard that will be difficult to improve upon in future meetings."
Xerox
"Peter could not have done a better job closing out our series of events. His insights, anecdotes, wisdom and wit will long resonate with my colleagues."
Disney
"Clearly, Peter's ability to educate people about the demands of gymnastics and draw a correlation to the business world was creative, informative, and certainly kept everyone's attention."
Maritz Travel
"Peter's presence and attention to our guests helped make the 1996 Olympic Games a memorable and special experience."
Delta Airlines
"It sounds so simple—Risk, Originality and Virtuosity. Yet the application of those three simple words and the resulting action we take will either make or break our organization."
Information Resources
"The message Peter gave was clear and he delivered it in an interesting, informative, and entertaining way. The audience reaction was tremendous-he scored a perfect 10!"
Entrepreneur Of The Year Institute
"I have never seen or enjoyed a program as much as Peter's. His message is relevant and useful for all organizations and groups in business as well as personal life."
Texas Credit Union League
"Peter gave much more than asked for by staying with the group and sharing ideas outside of his formal presentation. I guess that's typical of the commitment to excellence which won him the Gold."
SmithKline Beecham

"Peter has developed an excellent presentation style with the pommel horse demonstration which, combined with his upbeat and entertaining delivery, makes for one of the best motivational speaking presentations that I have seen."

Clients Include:
General Motors
Motorola
IBM
Disney
UPS
Federal Express
MCI
Marriott
Merrill Lynch
Coca-Cola
M&M Mars
John Hancock
New York Life
MONY
PaineWebber
Pontiac
Sir Speedy
Mobil
BMW
Arthur Andersen
US West
Jazzercise
Rainbird
Toro
TV Guide
American Express
Visa
Xerox
Coldwell Banker
General Mills
Bristol Meyers
AT&T
Toshiba
Franklin Quest
US Air Force
US Marine Corps
Cigna
DuPont
Texaco
Ralph's Grocers
Honeywell
Prudential Realty
Mattel
Uncle Ben's
Hewlett Packard
Apple
Blue Cross
Century 21
Amway
Sun Microsystems
Delta Airlines
3M
American Suzuki
Squibb
UCLA
K-Mart
Miller's Outpost
Aetna
Bank of America
US Ski Team
Red Roof Inns
Thrifty Car Rental
Nestle
Novell
Kaiser Permanente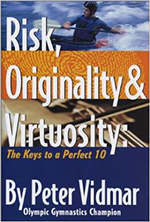 Risk, Originality & Virtuosity: The Keys to a Perfect 10
To succeed in business, like sports, we must not just do a technically correct performance. Rather we need to put forth an extra effort or needed improvements to reach the degree of success we desire. Olympic Gold medallist Peter Vidmar says those principle are embodied by ROV?. The ROV? principles are simple, yet the underlying messages are profound. Risk means you're willing to do something daring. Originality allows you to quit copying the other guy and accomplish something that causes others to try and copy you. Virtuosity involves taking a certain skill and doing it better than anyone else. When applied together, these principles can help change lives.
When Peter Vidmar captained the US Men′s Gymnastics Team to its Olympic Gold Medal in 1984, exceptional performances were judged using three criteria - Risk, Originality and Virtuosity (ROV). A technically correct performance could only receive a 9.4 at best. In order to achieve a perfect 10, the gymnast had to show Risk, Originality and Virtuosity. An additional 0.2 points could be earned in each of these categories.
ROV has important applications in the business world and in life, especially if someone wants to go from "good" to "great." People often give a "technically correct" performance, but they are unable to achieve the degree of success they desire. Frequently, the additional effort or needed improvements are embodied in ROV.
The ROV principles are simple, yet the underlying messages are profound. Risk means you′re willing to do something daring. Originality allows you to quit copying others and accomplish something that causes others to try and copy you. And Virtuosity involves performing an ordinary skill in an extraordinary way. When applied together, these principles can produce outstanding results.
Motivation — ROV... Risk, Originality and Virtuosity
In his powerful keynote presentation, Peter converts Olympic Gold into corporate wisdom. With a live demonstration on the pommel horse, artfully blended into his speech, Peter uses the ROV principles to vividly describe requirements for a perfect 10 in business and in life. Audiences gain fresh perspectives on reaching higher levels of performance, using their creativity to separate them from the competition, and perfecting their needed skills on a daily basis. As Peter says, "If you want to be at your best when it really matters, you′ve got to be at your best when it doesn't matter." Humor, relevance to his audience, high energy, drama and standing ovations are all characteristic of this presentation.
Overcoming the Odds - World Class Performance in any Environment
You don't need to tell Olympians that some things don't always go according to plan. Every athlete has had to deal with setbacks and changing conditions. If organizations and individuals are going to thrive in any environment, they will need to take calculated risks, continually innovate, and take their products or service to entirely new levels of performance. This process never ends. Using his effective ROV principles, Peter vividly describes the lessons learned from setbacks and mistakes, how to fuel the creative process, and how to achieve world class performance, even when circumstances are less than desirable. Peter's personal experiences, as well as those of recent Olympic athletes help to reinforce the message that with proper planning and focused drive, we can overcome hardships and achieve results that elevate us above the rest of our competitors.
Teamwork — Getting your Team on the Podium
Gymnastics, while a team sport, is based entirely on a collection of individual performances for it′s outcome. At the Olympic Games, while he was competing with his teammates, Peter was simultaneously competing against them for individual medals. So how did these individual athletes work together on a daily basis for the benefit of the team? Using the ROV principles, Peter answers this important question, describing the tools you and your team can use, every day, to reach the top of your Olympic Podium.
Innovation — Pushing The Envelope
One of the reasons gymnastics is the most watched event of the Olympic Games is that the viewer can always expect something new and different from the athletes. Gymnasts are masters at pushing the envelope, as they constantly try to reinvent their athletic art form. Innovation also involves some risk, and Peter shows how ROV: Risk, Originality, and Virtuosity, can become a mandate for constant change in his sport and in your business. In describing how we need to stop playing "catch up" with the competition, Peter says, "A perfect 10 just a few years ago may only score an 8.5 today. If you don′t innovate, you'll be left behind very quickly!"

Peter Vidmar: On Innovation
In this speech, Peter discusses originality, which he describes as doing "something new," or something that "nobody else has ever done before." He demonstrates by explaining one of his pommel horse routines from the 1984 Olympic Games. He says he tried a new sequence that no other gymnast had tried in order to surprise the judges. "My score went up two tenths of a point," he says.
Peter goes on to explain that the "key to originality" is to "stop watching the other guy." He says that while it's important to know "who the competition is and what they do," the goal is to "get to the point where everyone is watching me, where I'm the standard of excellence." He explains that one of the reasons his team won the gold medal in 1984 was because "every member of our team stopped playing catch up and did things on our own that were unique and original."
Peter Vidmar: Overcoming Setbacks
Peter Vidmar: Motivation