* Please note that while this speaker's specific speaking fee falls within the range posted above (for Continental U.S. based events), fees are subject to change. For current fee information or international event fees (which are generally 50-75% more than U.S based event fees), please contact us.
Top25 Speaker Voting

Paul Tiffany needs 21 vote(s) to make it into the Top 25 speakers on Speaking.com!
Speaker Booking Tip
"Tip: find a speaker in your local area to save on travel costs. Most speakers will also reduce their keynote fee for local events. "
For Event Planners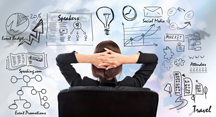 • Keynote Speaker Booking Toolkit.
• Booking a Celebrity Speaker.
• How to Find and Book the Right Speaker.
• Google+ Event Planning Forum.
• Tips for International Clients Booking U.S. Based Speakers.
Similar Speakers
Michelle Stacy

Michelle Stacy has been the driving force behind the international multi-million dollar growth of Proctor & Gamble, Gillette, and Keurig. An influential leader in product…

Peter M. Ricchiuti

Two-time winner of the Tulane University Freeman School of Business top Professor award, Peter Richutti combines penetrating insight into the financial markets with a fine…

Uri Gneezy

Uri Gneezy's early work on when and why incentives can backfire has become the cornerstone in a compelling line of research that explores when traditional…

Everyone at your speakers agency were professional and helpful throughout the process, making it easy to book, communicate, and prepare for our event.
Hewlett Packard
About SPEAKING.com
Established in 1994, we are exclusive agents for some of the world's leading experts, celebrities and professional speakers.
We offer event planners a fully staffed speaker logistics planning team, plus a personal SPEAKING.com Account Executive – a knowledgeable and trustworthy partner. We guarantee your satisfaction with your speaker and a smooth booking process.
Contact us today to book your favorite speaker.

"Paul could not have been better - he was terrific! Last speaker on Saturday and he went over his time and lost no one – here′s just one of the many positive comments we received from audience members: ′if he had gone 3 hours I would have stayed′"
Security Traders Association
(Event booked by Speakers Platform)

Business Plans For Dummies


Are you an entrepreneur, executive, or a manager charged with creating a business plan, but don′t know where to begin? Don′t worry! With Business Plans For Dummies as your handy reference, you′ll find quick, easy solutions to all of your planning dilemmas. Equipped with tips, techniques, and expert advice, you′ll develop a dynamite business plan like a pro in no time!

Inside, you′ll discover how to

Assess your company′s goals and objectives
Create a mission statement that clearly positions and identifies your business
Identify and understand the needs of your customers and clients
Scope out the competition and differentiate your business from the crowd
Understand the financial stuff -- from number crunching to budgets to forecasting
Develop a plan conducive to marketplace changes and advancements
Shape your organization and invest in your company′s people
Most Popular Programs Include:
The Evolving Global Economy: What Comes Next?
The "BRICs" and Their Impact on the 21st Century Political Economy
The Rise of China: Implications for America and the World
America in the 21st Century: Why the USA Will Continue to Dominate The
Development of the American Economy
Globalization and its Discontents
Service Excellence for the Financial Services
Firm Global Strategy: Convergence vs. Divergence Strategy Formulation and Execution: Key Variables for Success
Managing the Modern Health Care Provider Organization: Focus on the "Customer"
The Pursuit of Business Innovation: Issues in Organizational Structure and Behavior Change Management
Paul Tiffany / Strategic Planning
In this interview with CEDIM, Professor Tiffany discusses his strategic planning course. He explains that the course is part of the school's "MBI" or "Masters of Business Innovation" program. He says that students are required to create a strategic business plan for an entrepreneurial venture. He goes on to say that the world is changing, and he is helping students to understand "dynamic capabilities."
He states that the strategy taught at business schools today "is failing; it doesn't work." He says that 2/3 to ¾ of all business strategies fail, and the reason is that while "the formulation of the strategy got better, they forgot the academics to talk about how you execute the strategy." He explains that his new strategy is "all about the customer." He tries to communicate to students "that whatever they're doing, the have got to focus on customers."
UC Berkeley Speech
Entrepreneur Lecture at UC Berkeley
Paul Tiffany Interview