* Please note that while this speaker's specific speaking fee falls within the range posted above (for Continental U.S. based events), fees are subject to change. For current fee information or international event fees (which are generally 50-75% more than U.S based event fees), please contact us.
Top25 Speaker Voting

Pamela Jett Aal needs 5 vote(s) to make it into the Top 25 speakers on Speaking.com!
Speaker Booking Tip
"Tip: some speakers might provide one of their popular book titles as a free gift to your audience. "
For Event Planners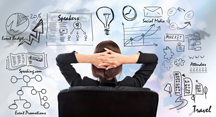 • Keynote Speaker Booking Toolkit.
• Booking a Celebrity Speaker.
• How to Find and Book the Right Speaker.
• Google+ Event Planning Forum.
• Tips for International Clients Booking U.S. Based Speakers.
Similar Speakers
Sarita Maybin

Communications guru, Sarita Maybin has been helping people work together better for over 20 years. The international speaker shows audiences how they can resolve conflicts,…

Liz Berney

For more than two decades Berney Associates, which specializes in organization development and management training, has been working with blue-chip companies and prestigious organizations to…

Jordan Goodman

Jordan Goodman, is known as America's 'Money Answers Man' for a good reason. He has been answering America's questions about personal finance for over 35…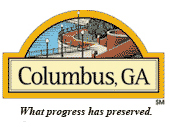 I so appreciated my representative for his responsiveness and for the ease with which I could communicate with him. This was my first time having to secure the talent for our program myself, and I could not have asked for a better experience with your speakers agency.
Mayor's Commission on Unity, Diversity and Prosperity for Columbus, GA
About SPEAKING.com
Established in 1994, we are exclusive agents for some of the world's leading experts, celebrities and professional speakers.
We offer event planners a fully staffed speaker logistics planning team, plus a personal SPEAKING.com Account Executive – a knowledgeable and trustworthy partner. We guarantee your satisfaction with your speaker and a smooth booking process.
Contact us today to book your favorite speaker.

Pamela Jett Aal has given well over 800 presentations to over 135,000 people in seven countries and counts among her satisfied client′s organizations such as:

United Space Alliance (NASA)
The Credit Union National Association
The California Credit Union League
The Texas Credit Union League
The Montana Credit Union Network
Grossmont Schools Federal Credit Union
The HRD Network
Patelco Credit Union
Ameriprise Financial Services
The Bakersfield Women′s Business Conference, Options Unlimited
The Fresno Women′s Conference
Sony
Allstate Insurance
Lockheed Martin
The United Way
AT&T Business Services
Lennox Industries
The Mayo Clinic
ChevronTexaco
Wal-Mart
Lockheed Martin
Your speaker evaluations were off the wall! According to 3,000 attendees, your marks were excellent – probably the best speaker evaluations we have ever had!
–Susan Forrester, Central CA Women′s Conference

Our off-site was the very best ever! Your presentation was a large part of the success. You made an effort to understand our group's unique needs and you tailored a session that was just what I was looking for!
–Phil Marquis, Ameriprise Financial

It has been a delight and extremely productive to partner with Pamela to improve communication and overall team spirit. Her insight and practical tools are invaluable. We highly recommend her speaking and coaching services!
–Teresa Shafer, Travis Credit Union

Pamela was absolutely wonderful and well received by all! She started the conference on such a positive note - and a sure way to guarantee its success. As I anticipated, her educational session was standing room only. Speaking personally, the information I took away from both her presentations was worth its weight in gold! And more importantly, her advice and suggestions are realistic.
–Linda Berkerian, NAACO

It was wonderful to hear attendees using the techniques you taught just moments after the session concluded!
–Vickie Billingsly, Hendricks & Partners

Pamela exceeded my expectations. She has inspired me to be more organized! I can't wait to go back to work and start applying the methods. I can see success in my future!
–Chris, Weyerhaeuser

You did a terrific job. Many attendees were talking about your presentations long after you left. Thank you for making an impact.
–Gary Yost, HR VP, TruWest Credit Union

Your program was exactly what we wanted. You provided our members and guests with wonderful communication tools that I am confident will assist them in their various careers. You also inspired us, made us laugh, and, in general, were a delight!
–Teri Pasley, NAWIC

I attended Pamela's closing presentation. I absolutely loved it. Pamela, you not only coached us; you told us what we can actually say and how to change behavior!
–Attendee, CUNA Experience Learning Live

Attendees left each session with tools they can actually use. After each session there was terrific hallway buzz and I know employees who attended both sessions were thrilled to be there because powerful and unique ideas were presented in each.
–S. Booher, Sr. Training Specialist, City of Irving

I just finished attending your presentation - WOW!!! It was just what one would hope for on Administrative Professionals Day. It wasn′t just time away from work – it was valuable time away from work!
–B. Blackburn, Sr. Staff Assistant, OSU

Your opening keynote was exactly what we were looking for. Your humor, real-world stories and examples, and your genuine positive energy were a perfect fit for our event. As expected, the feedback from the 1080 attendees was overwhelmingly positive!
–Vivian Komori, Antelope Valley Women′s Conference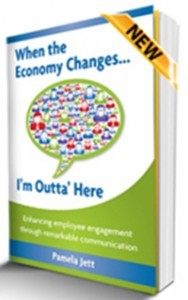 When the Economy Changes... I'm Outta' Here!
Enhancing Employee Engagement Through Remarkable Communication
Employees who are engaged are emotionally committed to their work. They show up to work and give their best. They offer up new ideas and suggestions. They are positive and energized. The are interested in their organizations' success. Enhancing employee engagement is everyone's job.
In this insightful book discover:
Why engaging communication matters and how to incorporate it into day-to-day interactions.
How to make small changes that positively impact key drivers of employee engagement.
Easy ways to engage in performance management conversations.
The secrets of powerful praise.
Ways professionals unwittingly sabotage engagement and what to say instead.
How to "ditch the don't" and other engaging communication choices.
Clever tactics for helping people feel respected and valued.
And much more!
Keynote Presentations (up to 90 minutes)
Communicate to Keep 'Em: Enhancing Employee Engagement Through Remarkable Communication
Leaders and employees alike must have communication tools to keep people engaged. By mastering simple language patterns and by making a few easy tweaks in day-to-day communication, professionals can reap the rewards of engaging communication. It takes no more time or energy to choose the best engaging words as opposed to defeating and deflating words. This program ignites engaging communication by discovering the words to choose and the words to lose. Fast-paced, interactive, and solution-rich, this program will enhance employee engagement at every level.
Words Matter: Remarkable Communication Skills for Remarkable Results
Have you ever been at a loss for words? How often do you find yourself saying "I wish I knew how to communicate with more confidence"? Do you frequently wonder what to say—especially when you feel pressured? If so, be among the professionals who dare to communicate better!
Using her unique blend of humor and real-world application, communication skills expert Pamela Jett will share what everybody ought to know about remarkable communication for remarkable results.
Discover startling facts about how most professionals are sabotaging their communication success and reap the rewards of learning remarkable communication techniques proven to better relationships at work and at home.
Benefits of this keynote presentation include:
Discovering how easy it is to build professional relationships with one great question.
Uncovering self-sabotage & retraining your brain to think & communicate positively.
Acquiring remarkable words and phrases to communicate with even the most difficult people and to put an end to toxic relationships.
This is not the same tired communication advice you′ve heard before. We will turn some traditional notions about "good communication" upside down so you can take advantage of remarkable communication techniques that will, flat out, make work (and home life) easier, more productive and more rewarding.
Success is an Attitude: A Words Matter Motivational Experience
Top performers have a blueprint for success—one everyone can model. This wildly popular program can ignite everyone, from team leaders to team members, to reach their peak performance potential.
This program makes a terrific opening keynote, luncheon keynote or closing keynote. In this innovative and practical program, Pamela Jett inspires, educates and provides remarkable tools everyone can use when they want to stay positive, productive and promotable—even under pressure!
Attendees of this keynote will:
Master successful people′s #1 secret to reach goals and achieve personal and professional objectives.
Learn to avoid "victim thinking" (and acting) by changing internal dialogue.
Discover how to jump-start attitudes and increase productivity.
Reap the rewards of increased emotional intelligence and maturity.
Acquire remarkable techniques to control toxic thoughts, toxic people & toxic events.
Answer the most meaningful question in order to achieve success.
Craft individual action plans and remove roadblocks to success.
No one is immune to challenges and changes that inevitably happen. Projects don′t go as planned. Other people can be difficult. It is how we respond to these challenges that will determine our level of success. Our responses are determined by the attitude we take to every event. Top performers take an attitude that is positive, proactive, productive and professional because they know "Success is an Attitude"!
Workshops (half-day, full-day, or multi-day)
Snipers, Steamrollers and Chronic Complainers: Remarkable Communication Tools for Dealing with Difficult People
Get past the drama of difficult people and on with the business of being productive. Imagine how you and your organization would profit—literally—if team members could deal productively with difficult people and utilize more effective communication in conflict and confrontation.
Participants will benefit from this interactive workshop by discovering:
Remarkable tools to stay calm, cool and productive in emotionally charged situations.
The #1 reason difficult people are difficult and what to do about it.
Specifically what to do and say to counteract typical tactics difficult people use.
Powerful communication techniques to diffuse anger and calm people down.
Individual ability to resolve conflict and manage confrontation.
Why "goat hiding" is a must-have skill set and how to use it for success.
The most powerful and productive things to say —and what not to say— when others lose their cool.
Language patterns for "tough conversations" and how to turn fear of conflict and confrontation into confidence.
Pamela Jett′s remarkable communication tools give you the power to deal with even the most difficult people with tact and finesse.
Say it With Backbone… Not Bite: Assertive Communication Skills
Assertive communication is the hallmark of a true professional. In this powerful, skill building program you will learn to communicate assertively in a variety of challenging situations so you can serve as a positive role model for those you work with and for.
In this interactive session, you will learn:
What assertiveness is and what it is not.
How to avoid the perils and pitfalls of passive-aggressiveness.
Clever tactics to deal with the passive-aggressiveness of others.
New strategies for handling difficult conversations and conflict.
How to assertively say "no"—and not feel guilty.
Surprising words to avoid and powerful words to choose instead.
Proven language patterns to deal with requests for your time.
How to use assertive communication to maintain control of your day and productivity.
The best kept secrets superstars use to assertively communicate to leadership.
How to build inner victory for outer communication success.
Powerful, assertive communication skills yield better relationships, increase productivity, improve team involvement and decrease tension. No one wins when issues are ignored or tensions are stockpiled. Gain remarkable tools and learn the "words that matter" to communicate confidently in today's challenging workplace. And the real payoff comes when you discover how easy it is to say it with backbone not bite and make work easier.
Communicate, Lead, Succeed
Can you really afford to learn communication and leadership skills through trial and error? Proven solutions and solid skills are needed to become a strong, confident leader. In this intensive program you will master remarkable communication techniques that establish your credibility and unite a high performance team. This event will help you gain essential leadership and communication skills for understanding, relating to, leading and working more effectively with all types of people... even the most difficult!
In this interactive workshop participants will discover:
The difference between leadership and management and how to be a leader in all areas of life.
How easy it is to take the "high road" as a leader once you understand the crucial difference between being "right" and being "effective."
Language patterns & templates to use to control emotions in difficult situations.
Powerful words & phrases to use to build relationships & pump up productivity.
The root causes of communication challenges and how to overcome them.
Remarkable communication tools to help you work more effectively with people of diverse personality types and communication styles.
A powerful system for handling difficult conversations without igniting defensiveness in others.
Why a "wrinkly brain" is essential for success.
Research is very clear: Dissatisfaction with working relationships is one of the top contributors to employee turnover. Now more than ever, leaders need remarkable communication skills to get the results they want from their team. Experience the benefits of enhanced productivity, increased employee retention, decreased conflict, and increased employee satisfaction that come when you learn to communicate, lead and succeed!
Sometimes You're the Bug … Sometimes You're the Windshield: Communication Skills to Decrease Stress
Anxiety, fatigue, forgetfulness, an inability to relax and "outbursts"are all signs that stress is reducing productivity and damaging relationships. Demanding lives will always have some stress. Some stress can fuel creativity, energize and motivate, and ignite personal bests. However, too much stress or stress that is poorly managed can create distress. Learn to balance and work within optimal stress levels and protect against the dangers of overstress by mastering remarkable communication skills.
This interactive workshop leads participants to:
Discover what stress is and what stress is not.
Identify the warning signs that stress is reducing productivity and what to do about it.
Discover real world time management techniques to lessen the pressure and learn to communicate powerful choices to those around.
Create positive responses to challenging events and stress by mastering self-talk.
Learn powerful communication techniques to manage anger (yours and others).
Communicate assertively to improve relationships, productivity and satisfaction.
Use remarkable communication techniques to diffuse potentially stressful situations.
Acquire new stress busters based on personal values, beliefs and priorities in order to nip people-pleasing over commitment in the bud.
Let′s face it, stress is inevitable. How we manage and communicate through stress often spells the difference between failure and success. By making powerful communication choices, we can reap the rewards of less stress and more productivity.

Pamela Jett Aal: Demo Video
Communications expert Pamela Jett explains the reasons why happy people are happy–"And it's not Prozac!" In her speech, "Success is an Attitude," she tells her audience that to be happy you have to make a positive decision to be so.
With her trademark passion and humor, Pamela explains just why communication skills are so vitally important in the workplace: "Communication is like the string that runs through a pearl necklace; it's invisible, but without it everything would fall apart." Revealing just how you can introduce good communication into your workplace, Pamela offers the perfect example of effective good communication even as she teaches it to others.
Pamela Jett Aal's Communication Tip: How to Handle a "Steamroller"
Pamela Jett Aal: How to Deliver Praise and Enhance Employee Engagement