* Please note that while this speaker's specific speaking fee falls within the range posted above (for Continental U.S. based events), fees are subject to change. For current fee information or international event fees (which are generally 50-75% more than U.S based event fees), please contact us.
Top25 Speaker Voting

Neil deGrasse Tyson needs 5 vote(s) to make it into the Top 25 speakers on Speaking.com!
Speaker Booking Tip
"Tip: find a speaker in your local area to save on travel costs. Most speakers will also reduce their keynote fee for local events. "
For Event Planners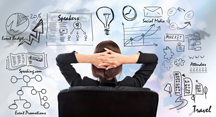 • Keynote Speaker Booking Toolkit.
• Booking a Celebrity Speaker.
• How to Find and Book the Right Speaker.
• Google+ Event Planning Forum.
• Tips for International Clients Booking U.S. Based Speakers.
Similar Speakers
John Maxwell

Named the #1 Leadership and Management Expert in the World" by both Inc. magazine and Business Insider, John Maxwell has made it his life's passion…

Michael Strahan

SuperBowl Champion Michael Strahan recently signed with Fox Sports to serve as a studio analyst on the Fox NFL Sunday Pregame Show. Michael retired from…

Muhammad Yunus

Professor Muhammad Yunus was awarded the Nobel Peace Prize in 2006 for his revolutionary work in establishing the Grameen Movement; this movement, based on micro-finance…

Our Account Executive was a pleasure to work with to arrange our keynote presenter for the Sustainable Brands Sydney Conference. He was swift to respond and his communication was always clear. If I am looking for international speakers, I will think of SPEAKING.com in future.
Sustainable Brands
About SPEAKING.com
Established in 1994, we are exclusive agents for some of the world's leading experts, celebrities and professional speakers.
We offer event planners a fully staffed speaker logistics planning team, plus a personal SPEAKING.com Account Executive – a knowledgeable and trustworthy partner. We guarantee your satisfaction with your speaker and a smooth booking process.
Contact us today to book your favorite speaker.

"It's very evident he cares about and relates well to youth... very clear that his presentation wasn't his "job" but his passion. He inspired them, without a doubt."
Harmony Institute
"Our Board of Trustees insists that we bring in the most remarkable leaders we can find in any field. Dr. Tyson's address exceeded our expectations in every regard."
Brigham Young University
"Dr. Tyson was a rock star! He was definitely the most well-received speaker at this conference."
James Randi Foundation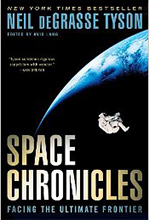 Space Chronicles
"A compelling appeal, at just the right time, for continuing to look up."—Air & Space
America's space program is at a turning point. After decades of global primacy, NASA has ended the space-shuttle program, cutting off its access to space. No astronauts will be launched in an American craft, from American soil, until the 2020s, and NASA may soon find itself eclipsed by other countries' space programs.
With his signature wit and thought-provoking insights, Neil deGrasse Tyson—one of our foremost thinkers on all things space—illuminates the past, present, and future of space exploration and brilliantly reminds us why NASA matters now as much as ever. As Tyson reveals, exploring the space frontier can profoundly enrich many aspects of our daily lives, from education systems and the economy to national security and morale. For America to maintain its status as a global leader and a technological innovator, he explains, we must regain our enthusiasm and curiosity about what lies beyond our world.
Provocative, humorous, and wonderfully readable, Space Chronicles represents the best of Tyson's recent commentary, including a must-read prologue on NASA and partisan politics. Reflecting on topics that range from scientific literacy to space-travel missteps, Tyson gives us an urgent, clear-eyed, and ultimately inspiring vision for the future.
The Pluto Files
The New York Times bestseller: "You gotta read this. It is the most exciting book about Pluto you will ever read in your life."—Jon Stewart
When the Rose Center for Earth and Space at the American Museum of Natural History reclassified Pluto as an icy comet, the New York Times proclaimed on page one, "Pluto Not a Planet? Only in New York." Immediately, the public, professionals, and press were choosing sides over Pluto's planethood. Pluto is entrenched in our cultural and emotional view of the cosmos, and Neil deGrasse Tyson, award-winning author and director of the Rose Center, is on a quest to discover why. He stood at the heart of the controversy over Pluto's demotion, and consequently Plutophiles have freely shared their opinions with him, including endless hate mail from third-graders. With his inimitable wit, Tyson delivers a minihistory of planets, describes the oversized characters of the people who study them, and recounts how America's favorite planet was ousted from the cosmic hub. color throughout
A Conversation with Dr. Neil deGrasse Tyson: SxSW Interactive
In his presentation at SXSW in 2014, Tyson discusses the premiere of his FOX television series, Cosmos, which he says is "the largest rollout of a television series in the history of television." He says that very high expectations have been placed on the show, which is being distributed globally by National Geographic.
Tyson explains that Cosmos is not "your typical documentary." He says that Cosmos "has always been more than that. It's managed to take the science that's out there, put a thread from that science through you and onto elements of the universe that show you why that science matters to you." He says that by the end of a show, and by the end of the series, he hopes to have "woven a tapestry through that thread," so that viewers say, "now I know my place in the universe." He adds that he wants viewers to "feel the knowledge" and "take ownership of that knowledge."
Faster Than the Speed of Light Hosted by Neil deGrasse Tyson
Cosmos Promo: Hosted by Neil deGrasse Tyson