* Please note that while this speaker's specific speaking fee falls within the range posted above (for Continental U.S. based events), fees are subject to change. For current fee information or international event fees (which are generally 50-75% more than U.S based event fees), please contact us.
Top25 Speaker Voting

Nan Crawford needs 14 vote(s) to make it into the Top 25 speakers on Speaking.com!
Speaker Booking Tip
"Tip: find a speaker in your local area to save on travel costs. Most speakers will also reduce their keynote fee for local events. "
For Event Planners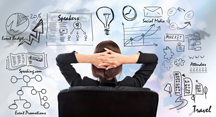 • Keynote Speaker Booking Toolkit.
• Booking a Celebrity Speaker.
• How to Find and Book the Right Speaker.
• Google+ Event Planning Forum.
• Tips for International Clients Booking U.S. Based Speakers.
Similar Speakers
Bill Capodagli

With over three decades of dominion cogitating (aka management consulting), Bill Capodagli (pronounced Cap o die) has opined with many of the largest corporate kingdoms…

Dr. Allan Hamilton

Dr. Allan J. Hamilton is a highly sought after speaker in the field of health, spirituality and wellness. A Harvard trained brain surgeon and author,…

Craig Karges

The "Extraordinist" Craig Karges is an award-winning entertainer, author, and speaker, who has made over four thousand appearances across four continents, seventeen countries and all…

Working with your speakers agency on our training projects during the year proved to be a great business choice. I felt that my account reps were always around when I needed them, willing to help and listen. They showed flexibility when it was required and were reliable and dependable.
KPMG, Europe
About SPEAKING.com
Established in 1994, we are exclusive agents for some of the world's leading experts, celebrities and professional speakers.
We offer event planners a fully staffed speaker logistics planning team, plus a personal SPEAKING.com Account Executive – a knowledgeable and trustworthy partner. We guarantee your satisfaction with your speaker and a smooth booking process.
Contact us today to book your favorite speaker.

Nan Crawford creates magic with an audience, allowing them to experience and communicate on multiple levels. More than a facilitator, she captures and echoes the experience, emotions, and intellectual playfulness within a group. Her sessions leave one feeling connected, upbeat, and feeling truly alive."
— Richard L. Barksdale Senior Consultant Ernst & Young LLP
"Nan has the natural ability to balance her refreshing and warm leadership style with a focused and insightful wisdom that often draws people more deeply into the material. She has helped me develop a more friendly and spontaneous leadership and presentation."
— Richard Matthew Software Manager Verilink Corporation
Nan Crawford's presentations are invigorating and inspiring experiences that leave audiences eager to take on the challenges before them. Topics include…
From Inspiration to Action: How to Make the Change You Want to See in the World
Wrap up your event with an energizing closing keynote, where Nan Crawford will lead the call to think strategically, connect creatively and act decisively. Nan will engage your audience in a dynamic interactive session to celebrate conference highlights, integrate themes and transform insight into action. Rather than seeking closure, Nan will help participants create openings as they go forth. Learn what's possible when you embrace the maxim: "Commitment is sexy".
Fueling the Creative Fire: Discover Key Tools Leaders Need for Creativity to Thrive
The creative force lives within each of us. Discover what holds us back and what feeds our innate Creativity and how as leaders we can fuel the creative fire in our organizations, our colleagues and our communities. Nan creates a highly experiential exploration, combined with opportunities for reflection and application. In this engaging session Nan will inspire your audience to transform the inner critic, cultivate a creative mind-set, spark the imagination, gain confidence and improve performance.
How to Increase Your Influence: With Powerful Presentations
Nan Crawford will help your audience learn how to shine in the spotlight. She offers key strategies to more powerfully command the stage and deliver a focused message with clarity, creativity and courage. When your people improve their pitching and presentation skills, more deals are closed, decisions get made faster, and your organization can make a bigger impact.

Nan Crawford Workshop Description
Nan Crawford challenges us to restructure our thinking, illustrating that something is a "failure" only if we choose to label it that way.
She cites her experience work shopping with Boston Philharmonic conductor, Ben Zander. "His frame on this very same exercise is that when we take risks and something doesn't go the way we thought it would, and we make a mistake, what some people might consider 'failure,' that we throw our hands up in the air and say, 'How fascinating!'" She dramatizes. "'How fascinating. That is not what I expected!' But the thing about the circus bow, the thing about 'how fascinating' is that it shifts us from a place, that there is no such thing as failure, there is only feedback."