* Please note that while this speaker's specific speaking fee falls within the range posted above (for Continental U.S. based events), fees are subject to change. For current fee information or international event fees (which are generally 50-75% more than U.S based event fees), please contact us.
Top25 Speaker Voting

Molly Cox needs 2 vote(s) to make it into the Top 25 speakers on Speaking.com!
Speaker Booking Tip
"Tip: some speakers might provide one of their popular book titles as a free gift to your audience. "
For Event Planners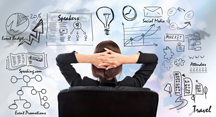 • Keynote Speaker Booking Toolkit.
• How to Find and Book the Right Speaker.
• Google+ Event Planning Forum.
• Tips for Booking International Speakers.
Similar Speakers
Garrison Wynn

Garrison Wynn helps people learn how to make the jump from being great at what they do to understanding and developing the qualities it takes to be chosen for the job. He gets them to understand why their products, services, or leadership styles— or those of their competitors — are selected. As he says, "If the world agreed on what's best, everybody would choose the best and nothing else would…

Linda Tarrant

The President of TOC Consulting Inc., Linda has over 25 years of experience delivering innovative and thought-provoking programs to both public and private sector organizations across North America. She holds advanced degrees in Psychology, Sociology, Education and Counselling. She is an author, change leader, strategist and master facilitator. She is the first woman to be inducted into the Canadian Speaking Hall of Fame and the past President of the Canadian…

Jones Loflin

Involve yourself in a presentation by Jones Loflin and you will quickly learn why he has become one of the most respected names in helping individuals and organizations achieve greater success. His gift of communication combined with his wit and enthusiasm make for dynamic programs that are illuminating and unforgettable. Clients are drawn to Jones because of his unique ability to develop and deliver practical programs that specifically address the…
"We had a wonderful event! Molly is INCREDIBLE! This was the highlight of the year!"
GE Money

"Molly has worked with us for five years! She′s written keynote speeches, presented customized keynotes and workshops, written, performed and produced sketch comedy and a hysterical film to kick—off our annual sales meeting… and she′s easy and fun to work with. I would highly recommend her speaking and services."
Life Touch Photography

"Thank you for being our head-line, top-notch, big-dog speaker at our Working Women′s Summit. This was our eighth annual event and NEVER before have I heard such positive feedback about a speaker.Was it the speaker? The opening comedic sketch or the fact that you used real life stories to make us laugh? Thank you!"
Bismarck Tribune

"We cried until we laughed and then laughed until we cried – your standing ovation said it all. You are one funny lady!"
National Cancer Society
Improvise This!
Businesses are sending their top managers to improvisational classes to learn how to give presentations, how to talk to clients, and how to finesse difficult situations. But those same skills can be mastered with the help of the simple and fun exercises found in this book. The authors explain how improvisation comes into play in our daily lives, and the rewards of taking risks in those situations. Improvise This! is filled with true-to-life business scenarios and offers methods for not only surviving but triumphing in those situations, making this a valuable and entertaining resource.
Keynotes

You've Got to Be Kidding—the secret to survival in a hectic, stressful world.
The spirit in which we do anything determines the outcome—positive or negative. Molly blends her care giving, customer service and corporate experience into a dynamic presentation that will inspire connection, and a positive attitude. This program is filled with ideas and techniques that will bring out a positive outlook of every attendee and motivate them to do their best. Molly will entertain with stories, teach with examples, and pepper it throughout with her unique observational humor. Participants will understand how attitude, taking time to be in the moment and inner action, can melt stress and replace it with joy and accomplishment.

Lighten Up and Laugh!
We now know through scientific study-- that laughter reduces stress, improves relationships and adds years to our lives. This interactive and humor packed presentation will help participants to understand the importance of humor and how it can actually improve productivity. A mixture of research, stories and specific ways to incorporate laughter and joy into each day, make this program a consistent conference highlight.

Improvise This!
This may possibly be the most fun, interactive and interesting program in the meetings industry. Based on her book, "Improvise This! How to Think on Your Feet so You Don't Fall on Your Face," (twice on the CEO READ top 25 list) Molly engages her audience with razor-sharp observations, spot-on humor and improvisation exercises all sprinkled with stories and how-to ideas! Attendees will leave with a dramatic improvement in energy, out-look, enthusiasm and creativity! From as few as 15 to a room to as many as 2,500, Molly will tailor this program to fit the group's venue and goals. General Session Keynote. Sales. Service. Teambuilding.

Meeting Openers, Closers, and Everything in Between


Man on the Street Short Comedic Film
Molly will head to the street, your organization and anywhere else she needs to in order to capture hilarious commentary on your industry. She will mix it with customized written material and a comedic actor or two to produce a five to seven minute film that will bring the house down. Just ask LifeTouch, The Assistant Country Club Managers (2008 conference) or Bremmer Bank.

Customized Sketch Comedy and Improvisation
Need to get a point across? The audience connected? A new product launched? Molly enhanced her speaking career by taking improv and sketch comedy classes, she then founded a company and wrote a book to help others apply the principles of improvisation to their work and personal life. Let Molly and her creative team write and perform at your meeting. From the script to music to performers, she's got it covered.

Meeting Energizers/Emcee
Bring Molly in to jump- start a meeting, charge an atmosphere with energy or get creative energy flowing.

Improvisation Classes and Break Out Sessions
Unlike most corporate learning, improvisation is fun, engaging and relevant to everyone. The principles of improvisation can be applied to business and personal life to enhance creativity, flexibility, sense of play and quick thinking.