* Please note that while this speaker's specific speaking fee falls within the range posted above (for Continental U.S. based events), fees are subject to change. For current fee information or international event fees (which are generally 50-75% more than U.S based event fees), please contact us.
Top25 Speaker Voting

Mark Zandi needs 4 vote(s) to make it into the Top 25 speakers on Speaking.com!
Speaker Booking Tip
"Tip: speakers bureaus can provide: speaker fee negotiation, insurance, smooth logistics and value add-ons such as extra sessions. "
For Event Planners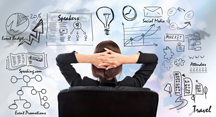 • Keynote Speaker Booking Toolkit.
• Booking a Celebrity Speaker.
• How to Find and Book the Right Speaker.
• Google+ Event Planning Forum.
• Tips for International Clients Booking U.S. Based Speakers.
Similar Speakers
Jim Cramer

Financial expert Jim Cramer's mission is "not to tell you what to think, but to teach you how to think about the market like a…

Chris Zook

Chris Zook, a partner at Bain & Company, leads the firm′s Global Strategy Practice. During his more than 20 years at Bain, Mr. Zook′s work…

Pippa Malmgren

An internationally regarded financial authority and trend spotter, Dr. Pippa Malmgren takes on economics through a unique holistic lens, showing companies and individuals how they…

Working with your speakers agency on our training projects during the year proved to be a great business choice. I felt that my account reps were always around when I needed them, willing to help and listen. They showed flexibility when it was required and were reliable and dependable.
KPMG, Europe
About SPEAKING.com
Established in 1994, we are exclusive agents for some of the world's leading experts, celebrities and professional speakers.
We offer event planners a fully staffed speaker logistics planning team, plus a personal SPEAKING.com Account Executive – a knowledgeable and trustworthy partner. We guarantee your satisfaction with your speaker and a smooth booking process.
Contact us today to book your favorite speaker.

Praise for Dr. Zandi and his book Financial Shock:

"In Financial Shock, Mr. Zandi provides a concise and lucid account of the economic, political, and regulatory forces behind this binge."
The Wall Street Journal

"The obvious place to start is the financial crisis, and the clearest guide to it that I've read is Financial Shock by Mark Zandi.... It is an impressively lucid guide to the big issues."
David Leonhardt,
The New York Times

"If you wonder how it could be possible for a subprime mortgage loan to bring the global financial system and the U.S. economy to its knees, you should read this book. No one is better qualified to provide this insight and advice than Mark Zandi."
Larry Kudlow,
Host,
CNBC's Kudlow & Company

"Mark Zandi provides insightful analysis, thoughtful recommendations, and a comprehensible explanation of the financial crisis that is accessible to the general public and extremely useful to those who specialize in the area."
Barney Frank,
Chairman,
House Financial Services Committee
Financial Shock: Global Panic and Government Bailouts--How We Got Here and What Must Be Done to Fix It (Updated Edition)
The Definitive Financial Meltdown Exposé:

Now completely updated to include discussions of the Obama administration's many policy initiatives and proposed solutions.

Includes expanded coverage of the market meltdown, the bailout bill and stimulus plans, the bank rescue plan, and the foreclosure mitigation plan
Sifting the wreckage, fixing the blame: the roles of mortgage lenders, investment bankers, speculators, the real estate industry, regulators, the Fed, and homebuyers
Tomorrow's emerging financial shocks—and how to prevent them


Order Here





The Great Recession: A Changed Landscape
Everything about the economic downturn that began in December 2007 has been out of the ordinary. The same will be true of the recovery. The excesses that led to the worst U.S. recession since the Great Depression mean that markets as well as the regulatory environment will emerge substantially altered. Consumer spending, saving habits, credit markets, the composition of the labor force, global trade dynamics—all have been deeply rattled by global financial and economic developments.

How and when will the U.S. fully recover from this downturn? And what will the economic landscape look like when it does?

Already, the downturn is no longer intensifying. Even though some 25 million workers—more than 15% of the workforce—are either unemployed or underemployed, a number of positive—or rather, less negative—reports on the economy are giving solace to stock and bond investors: Although almost one-half of home sales are now foreclosure or short sales, they have stabilized.

Consumers remain cautious, but retail sales have firmed. And although manufacturers and retailers will need to cut even more jobs, the worst of the layoffs is behind us. An increase in long-term interest rates poses a new threat, but it is not too soon to consider the character of the subsequent economic recovery. History shows that severe downturns yield strong recoveries, but history may not be so reliable a guide this time.

Dr. Zandi shares with audiences his insights on:


The factors that made this downturn the Great Recession.
The timeline for a full economic recovery.
The outlook for a changed economic landscape.

Financial Shock: Could It Happen Again?
How could a once-obscure lending category unleash the worst financial crisis since the Great Depression? How did the effects of the U.S. subprime mortgage crisis spread around the globe? Faulty reasoning and greed created an environment that led up to the crisis, and laxity allowed it to spread.

To avoid a recurrence, homeowners, investors and policymakers would do well to examine not only specific missteps, but also the deeper forces behind the crisis, including homeowner psychology, antiregulatory sentiment, and the technology that facilitates complex global lending.

Based on his highly regarded book that exposed the roots of the subprime crisis, Financial Shock: Global Panic and Government Bailouts—How We Got Here and What Must Be Done to Fix It, Dr. Zandi helps audiences understand more deeply:


How mortgage lenders, investment bankers, builders, regulators, and the Federal Reserve caused this global disaster.
How homeowners and investors can protect themselves from financial shocks already on the horizon.
What policymakers need to do now to prevent a recurrence.
Mark Zandi presents "New Fundamentals of Urban and Real Estate Economics" - Georgetown University
Mark Zandi Speech
Keynote Speech