* Please note that while this speaker's specific speaking fee falls within the range posted above (for Continental U.S. based events), fees are subject to change. For current fee information or international event fees (which are generally 50-75% more than U.S based event fees), please contact us.
Top25 Speaker Voting

Marilyn King needs 5 vote(s) to make it into the Top 25 speakers on Speaking.com!
Speaker Booking Tip
"Tip: find a speaker in your local area to save on travel costs. Most speakers will also reduce their keynote fee for local events. "
For Event Planners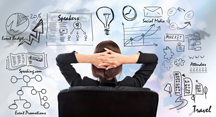 • Keynote Speaker Booking Toolkit.
• Booking a Celebrity Speaker.
• How to Find and Book the Right Speaker.
• Google+ Event Planning Forum.
• Tips for International Clients Booking U.S. Based Speakers.
Similar Speakers
Debra Peppers

National Speakers Association National Teachers′ Hall of Fame Radio & Television Talk Show Host 25 Year Professional Speaker / Trainer Author & Humorist Dr. Debra…

Richard Paul Evans

New York number one best-selling author, Richard Paul Evans became an international inspiration when The Christmas Box, a story he wrote as an expression of…

Jimmy Cabrera

Raised in a segregated Latino community, Jimmy Cabrera made his way out of prejudice and racism to become one of the most successful inspirational speakers…
It was an extreme pleasure to work with our account rep. She was friendly, flexible, and knowledgeable about all their speakers. She made the process simple. I cannot begin to put into words the impact that our speaker had on our audience. People are still taking about his presentation and his program set a standard on all diversity programs.
FDIC: Federal Deposit Insurance Corporation
About SPEAKING.com
Established in 1994, we are exclusive agents for some of the world's leading experts, celebrities and professional speakers.
We offer event planners a fully staffed speaker logistics planning team, plus a personal SPEAKING.com Account Executive – a knowledgeable and trustworthy partner. We guarantee your satisfaction with your speaker and a smooth booking process.
Contact us today to book your favorite speaker.

"My goal for this year′s symposium was to educate and motivate some of our best and brightest leaders. Your session on Olympian Thinking clearly accomplished this goal as you shared your accomplishments and the role that Vision, Passion and Action play in successful people′s lives."
— Scott A. Dougall, Vice President, IBM Technical Support

"Marilyn, you were a true partner with us. The specific tools provided in your workshops were put to immediate use to fan the flames of the learning revolution."
— Chris Turner, Xerox Business Services

"What can I say except ′Wow!′? Your graciousness, professionalism, and inspirational message truly resonated with everyone at the conference. Your message has had a lasting impact. Thank you for making this year′s conference such a success!"
— Financial Women International

"Thank you for your participation in the Sun Microsystems Finance and Legal Affairs Group (FLAG) Conference. This years conference was the most successful by all accounts. Very much in part due to your assistance in the design phase as well as a presenter. Fantastic feedback from your keynote speech at dinner was received from everyone. Congratulations!"
— Kevin Walsh, Vice President, WWOPS Finance and Planning Sun Microsystems

"I know that this was not your first experience with Hewlett-Packard, and your reputation is well deserved as both keynote and workshop presenter. Your message has been an inspiration to those who have had the fortune to be in your audience."
— Judy Allen, Hewlett-Packard

"What an inspiration you are! My staff and I came back with renewed spirits and the will to work on building a stronger team bond…thanks to your ability to motivate and inspire. Needless to say I was again awestruck by your talk, just as I was when I heard you at the Women in Leadership Summit in San Francisco."
— Barbara Whittacker, Exectuive Director, Worldwide Purchasing- Metallic General Motors
Most Requested Programs:
It′s Time To Make Our Dreams Come True
How Ordinary People Do Extraordinary Things
The Key Ingredient In Challenging Times
Living Like An Olympian
The Olympian Edge
Change Masters
Awaken The Olympian In You
Keynote Speech
Marilyn King speaks about her program "Olympian Thinking" and what it means to think like a champion.
"What I'm suggesting is that we're in a place right now in human history where we can very quickly shift people from 'Homo Sapiens' which is "one who thinks," to what our true genus species name which is 'Homo Sapiens Sapiens': one who thinks about their thinking. We can learn to direct our thinking in ways that produce the kinds of results we want to produce."
"Passion, power, vision guided, action oriented. That's the message. I would say it's simple, but it isn't easy. It's really a profound act of courage to engage how we are naturally wired in order to produce exceptional human performance."
Interview
Quotes from Marilyn's interview: "My event [in the Olympics] was the Pentathlon— 5 track and field events— and when I was training for my third Olympic team, my car was hit by a truck and I was injured and couldn't physically train for, I thought, a couple of weeks. It kept going on for weeks and weeks, and I said I have to do something, so I got films of all of the record holders in all five of my events. I began watching them for two or three hours every day, thinking 'I'll train again next week.' That went on for seven months. So I would go and stand out at the track for three or four hours, and just imagine my hurdles or my starts. "
"Seven months have gone by, it's time for the Olympic Trials and I have not physically trained for them, I don't know what to do so I had them give me an injection in my back and I placed second at the Trials for my third Olympic Team. That's the power of Olympian Thinking."