Top25 Speaker Voting

Lon Safko needs 5 vote(s) to make it into the Top 25 speakers on Speaking.com!
Speaker Booking Tip
"Tip: some speakers might provide one of their popular book titles as a free gift to your audience. "
For Event Planners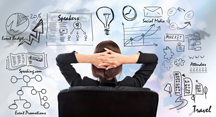 • Keynote Speaker Booking Toolkit.
• Booking a Celebrity Speaker.
• How to Find and Book the Right Speaker.
• Google+ Event Planning Forum.
• Tips for International Clients Booking U.S. Based Speakers.
Similar Speakers
Nan Crawford

Influential leaders, well-known authors, and speakers from multiple disciplines have called her their "secret weapon." She is the great presenter behind great presenters. Nan Crawford…

Quentin Hardy

A Silicon Valley insider, Quentin Hardy keeps readers up to date on the latest developments in technology, global business, and their implications for our lives.…

Jeff Tobe

Jeff Tobe is a Certified Speaking Professional with a background as an award-winning sales and marketing entrepreneur. He is the author of the popular book,…

Our event was what I would call 'over the top'... The survey results were at 92% very favorable. The speakers formed such a good relationship with myself and others at the conference. I am confident we will bring them back to do more. I will definitely contact you when we are in need of additional services. You have been the best!
American Express
About SPEAKING.com
Established in 1994, we are exclusive agents for some of the world's leading experts, celebrities and professional speakers.
We offer event planners a fully staffed speaker logistics planning team, plus a personal SPEAKING.com Account Executive – a knowledgeable and trustworthy partner. We guarantee your satisfaction with your speaker and a smooth booking process.
Contact us today to book your favorite speaker.

Piedmont Natural Gas
It was indeed a pleasure to meet Lon Safko. His presentation was outstanding and everyone loved him. Again, he did an outstanding job and we were very fortunate to have had the opportunity to book him for this event! Thanks so much!
Sara

Teledyne
Anaheim, CA
Very entertaining and informative – a lot of material covered and very well presented.
Brad

Alcoa
Pittsburg, PA
Exciting and well presented!
Lisa

Raytheon Professional Services
Southfield, MI
Lon Safko was enthusiastic, knowledgeable and interesting. Great Conference Thanks!
Richard

Malibu Shirts
Anaheim, CA
Superior quality information presented in a manner that gets you excited to get back to work and implement what you've learned.
Sarah

San Diego International Airport
San Diego, CA
Lon Safko is a gold mine of information and inspiration. His ability to pack a lifetime of experience into an innovative day of learning is truly a gift. His unique professional style power-packs a wealth of fresh cutting-edge knowledge, savvy human, and insightful interpersonal skills that delivers 1,000%!!!
Heather

NACCO Materials Hdlg Group
Raleigh, NC
Most valuable conference I've ever attended! Well worth the I440 beltline traffic!
Shannon

Orlando Sentinel
Orlando, FL
Lon Safko is engaging, informative, an expert in his field, organized and an effective speaker.
Frank

Taylor Woodrow
Austin, TX
I'm excited about my upcoming email campaign now that I have new ideas!
Leslie

Raytheon Professional Services
Southfield, MI
Very informative and interesting.
Kristine

US Postal Service
Grand Rapids, MI
The Lon Safko was very inspiring and motivational.
Cheryl

Michigan State University
East Lansing, MI
Conference was very, very helpful and informative. Lon was very good!
Amy

Goodyear Rubber Products
Tampa, FL
I learned a lot!
Eric

Goodrich
Jacksonville, FL
I was able to learn about several tools that my company can utilize to improve our search engine ranking to obtain quality leads.
Rachel

Samuels Jewelers
Austin, TX
Great value in this conference Lon broke it down clearly and easy to understand, plus an incredible amount of information was given. Seminar greatly exceeded my expectations.
Raquel

VSP
Rancho Cordova, CA
Excellent. Entertaining. Practical. Would highly recommend it!
Jeff

Mackie Ins. Brokerage
Fresno, CA
Serious advertising and marketing intell that must be experienced by entrepreneurs and corporate managers and consultants for knock down information
Teresa

MPI
Kansas City, MO
This class was brilliant! Lon is very knowledgeable and experienced. You are lucky to have him. Best and most valuable class I have ever been to.
Erik

Curtis Trailers
Portland, OR
Lon had some great real life examples of what he's explaining. The training reinforced much of my prior research and also gave me some new ideas and perspectives.
Marietta

Curtis Trailers
Seattle, WA
I felt that Lon was one of the best conference speakers I have ever heard. He was very knowledgeable about the material and provided great examples, which made the two days very interesting and informative.
Pat

Fine Motels Corporation
Boston, MA
Exceeded my expectations!
Steve

College of the Mainland
Texas City, TX
Opened a new frontier of thought!
Josephine

GBRA
San Antonio, TX
Very useful and informative. Eye opening.
Sharon

FMU Opinions
Anaheim, CA
Lon was a captivating and entertaining speaker. This conference was full of information that I can actually use!
Judy

Baumann Auto Group
Fremont, CA
Fabulous! Lon was superb! Very intelligent. I learned a lot. Thanks!
Adrienne

Potestivo and Associates
Detroit, MI
Lon inspired my creativity. The materials are very comprehensive and easy to read quickly. I hope to be able to refer to them regularly to keep my creative ideas coming.
Kittrell

Entertainment Publications, Inc.
Southfield, IN
Lon is simply awesome! His technical knowledge is superb and his speaking style holds the audiences captivated! He's by far the best speaker I've heard in many many seminars! He comes across as more of an educator than just a salesman. Thoroughly enjoyable!
Liz

Davis Dental Lab
Grand Rapids, MI
The entire day went by in what seemed like only a couple of hours and after a week vacation, the course motivated me back into business.
Stephanie

Alfa VA Mutual Insurance
Richmond, VA
Beyond my expectations for the conference.
Susan

Capital Buick Pontiac GMC
Richmond, VA
That is exactly what our business needed to keep up with today's market!
Corbin

Vamal Inc.
Richmond, VA
Very motivational and helpful!
Joanie

NCDOT
Raleigh, NC
Very dynamic. Well-presented and interesting.
Vernadine

Henry Wurst Inc.
Raleigh, NC
Loved it! Very useful. Gave strategic ways to immediately impact the bottom line. Like "free" advertising tips.
Tom

Alliance Hospitality
Raleigh, NC
Lon Safko is an amazingly informative speaker – and he makes it fun too!
Tom

Services Marketing
Goldshores, NC
Absolute Perfection!
Adrial

Sinclair Institute
Chapel Hill, NC
It was refreshing and helped me to look at my business from a new and simple perspective.
Danielle

Shell World
Raleigh, NC
Fantastic – wealth of information – very approachable
Charlene

L & E Research
Raleigh, NC
Lon Safko was amazing. The knowledge and personal experience he brings to the seminar is above and beyond what I expected. It was usable and priceless.
Cordelia

Hinrichs Flanagan Financial
Charlotte, NC
Absolutely Superb!
Juan

Capital Conversions
Charlotte, NC
Dynamic!
Paula

American Red Cross Southwestern Pennsylvania
Pittsburg, PA
Very Informative and Inspirational!
Marc

Edgar Snyder & Associates
Pittsburg, PA
Lon is a charismatic and engaging presenter who knows his stuff. He shares a wealth of knowledge and experience.
Julie

Villa Maria Community Center
Pittsburg, PA
One of the best two day conference I have ever attended.
Robyn

First American Title Insurance
Cleveland, OH
This was the best conference I've attended in 25 years. Great material – presentation was understandable and professional.
Tiffany

Arrow Distributing
Beachwood, OH
Lon is a great speaker with a wonderful personality who is eager to share his knowledge.
Jennifer

Sandusky Distributing
Beachwood, OH
It was an amazing two days! I wish I would have learned it sooner.
Ernest

Sandusky Distrbuting
Beachwood, OH
Excellent. Superior to most conference of this type I have participated in.
Andrew

Tiffin Metal Products
Beachwood, OH
Lon was great!
Helen

Torque Transmission
Beachwood, OH
Lon was the best speaker I have had in a conference! Informative and creative. Used resources to back up information.
Doug

American Freight Companies
Clearwater, FL
Great and knowledgeable speaker.
Wil

Coast to Coast International
Tampa, FL
Best two day conference I've ever attended. Never felt lost or bored!
Anne

Impulse Point
Tampa, FL
Excellent, Innovative, Organized and Vibrant.
Jane

ASB
Orlando, FL
Lon Safko is fantastic! Great Content, great depth of experience and great value.
Ernie

Nest Family Entertainment
Austin, TX
Lon did an excellent job of mixing theory with life experiences — kept our interest the entire seminar.
Byron

Best Class Rings
Salt Lake City, UT
A great eye opener and motivator.
Keri

First American Exchange
Salt Lake City, UT
Lon was so informative and the information I learned is going to help our company so much. I can't wait to get started!
Tom

Synergy Company
Salt Lake City, UT
Lon is a terrific speaker who brought us passion, superior knowledge, respect and excitement.
Joel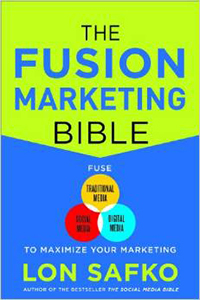 The Fusion Marketing Bible — It's What's Next!
Traditional Marketing + Digital Marketing + Social Media Marketing = Fusion Marketing
If you are still calling yourself a "Social Media Expert" then you're announcing to the world that you have been left behind. If you're an expert in Facebook and Twitter, then you're trying to build a house restricted to using only two tools. Social media is an amazing marketing tool set that's been for the past 5+ years, take it from me, I wrote the book on it! If you're still stuck looking at social media as a stand alone technology, then you've been left behind.
The Fusion Marketing Bible is the next step that brings our 6,000 years of traditional marketing, the exciting digital marketing tools of the Internet, and social media and fully integrates them into one seamless tool set that will accomplish every goal you set!
The Fusion Marketing Bible isn't just about integration; it's about a totally new concept of "Interconnecting" all of your traditional and digital tools. The Fusion Marketing Bible is about looking at all of your tools, campaigns, and conversion strategies first in two-dimensions, then taking your entire marketing strategies into the world of three-dimensions. This allows you to look at everything you do in marketing in a completely different way... Three-D!
Learn more about The Fusion Marketing Bible from the Fusion Profit, Lon Safko, the author of the internationally best selling book; The Social Media Bible, which hit #1 on Amazon.
The Social Media Bible: Tactics, Tools, and Strategies for Business Success
The Ultimate Guide To Social Media Marketing
The Social Media Bible will show you how to build or transform your business into a social media—enabled enterprise where customers, employees, and prospects connect, collaborate, and champion your products, your services, and your way of doing business.
Using the systematic approach presented in this comprehensive guide, you′ll learn how to:
Increase your company and brand value by engaging people in new forms of communication, collaboration, education, and entertainment

Determine which social media tactics you should be using with your customers and employees

Evaluate and categorize the tools and applications that constitute the rapidly evolving social media ecosystem

Make social media tools like Facebook, MySpace, YouTube, Twitter, blogging, podcasting, and hundreds of others a part of your business strategy

Do a social media analysis inside your company to improve internal operations and outside your company to create and monetize relationships with customers and prospects

Implement social media micro- and macrostrategies to give your business the competitive edge it needs to survive and thrive
Virtually every business can use social media to increase sales and profits, and The Social Media Bible will show you how. Part One introduces you to social media, and gives you a helpful framework, and presents practical and tactical tips for using some of these tools. Part Two introduces you to over 100 social media tools and applications in fifteen different categories, giving you a quick rundown of the features and functions of thetools that should become part of your social media strategy. Part Three offers mini exercises and assessments to help you conduct a social media audit of your company, your competition, and your customers, so you can craft the perfect strategy for your business.
If you want to grow your business, you have to stay connected to your stakeholders- whether you′re a big corporation, a small business, or even a nonprofit. The Social Media Bible will show you how to harness the collective wisdom and viral value of your stakeholders and stay ahead of your competition.
FUSION — A Totally New Concept, Fusing Traditional Media, Social Media, Digital Media. Into TraDigital Media!
If you are still calling yourself a "Social Media Expert" then you're announcing to the world that you have been left behind. If you're an expert in Facebook and Twitter, then you're trying to build a house restricted to using only two tools. Social media is an amazing marketing tool set that's been for the past 5+ years, take it from me, I wrote the book on it! If you're still stuck looking at social media as a stand alone technology, then you've been left behind. Fusion Media Marketing is the next step that brings our 6,000 years of traditional marketing, the exciting digital marketing tools of the Internet, and social media and fully integrates them into one seamless tool set that will accomplish every goal you set!
Fusion Media Marketing isn't just about integration; it's about a totally new concept of "Interconnecting" all of your traditional and digital tools. Fusion Media Marketing is about looking at all of your tools, campaigns, and conversion strategies first in two-dimensions, then taking your entire marketing strategies into the world of three dimensions. This allows you to look at everything you do in marketing in a completely different way... In Three-D!
Learn more about Fusion Media Marketing from Lon Safko, the author of the best selling book; The Social Media Bible, which hit #1 on Amazon.
SOCIAL MEDIA, THE BIG PICTURE

The effects of Social Media are touching everyone. Social Media is changing the way you communicate with your employees, customers, prospects, and with the groups and communities that are being built by others who are like-minded. Social Media has already changed the way we do business in our community, nationally and internationally. It has already affected organizations around the globe and has affected you and yours.
Lon can help you understand what people are already saying about you and your organization, because knowing when and how to respond is critical. Lon will show you how to develop an open dialog between you and your internal and external customers. Make no mistake about Social Media; it's here whether you resist it or not. The faster you embrace this brave new world the faster you will benefit.
ACHIEVING EXECUTIVE SUPPORT TOP 20 EXCUSES FOR NOT DOING SOCIAL MEDIA

Do your executives tweet? Chances are if they do, your company is actively involved in developing a cutting edge social CRM strategy. Like any emerging technology based innovation, integration and adoption can only move forward with active executive support. However, achieving executive support for your organization's foray into social CRM is not always as simple as getting a board of directors to micro-blog. With the ever increasing variety of social networks and technologies available to consumers — and tools which can effectively enable organizations to communicate and measure what's being said — it's imperative that executives remain at the forefront of the social CRM evolution:
How to evaluate whether your executives fully understand social CRM.
First steps to effectively educating executives on the benefits of social CRM.
Strategies to manage executive objections and resistance towards social CRM adoption.
Q&A — ANSWERS TO EVERY DIGITAL MARKETING QUESTION YOU'VE EVER HAD

Everyone has questions about the latest P.R., Customer Service, and Sales marketing craze. "how long should a vide be?" "What about privacy?", "How do I control the message?", "What if someone says something bad?", "Where do I find the resources?", "Should I even be doing social media marketing?", "How much should I spend on social media?".
"Hit Lon With Your Best Questions! — Come Prepared!" In this is a fascinating "face-to-face" with the country's leading expert on digital media marketing. With this presentation everyone walks away with every question they ever had about social media and digital marketing answered for the maximum take-aways possible!
INNOVATIVE THINKING – THE ACTUAL PROCESS!
This presentation explores the process of Innovation and the spontaneous creation of Innovative ideas. I will share personal experiences that confirm the old adage that inspiration is truly only 10% of the process while perspiration remains the 90% hurdle most entrepreneurs fail to conquer. I discuss my copyrighted method of Innovation, the "5-W's of Innovation" method that provides the tools to think more Innovatively every time to consistently solve your toughest problems, whether they're systemic, intrinsic, extrinsic, product development, sales, new markets, e-commerce, of staff related.
This presentation isn't just for engineering & development. Doesn't your company deserve a more Innovative Thinking Marketing Department, a more Innovative Sales Department, and even a more Innovative "C" Suite? Innovation starts at the top, in the "C" Suite and permeates an entire organization.
It's Innovation that gives you new products, new ways to sell existing products, new markets to see into, and ultimately that competitive edge, and adds to your bottom line.
Learn from someone who has actually done it!
Lon Safko is a proven Innovative Thinker with 18 of his inventions in the Smithsonian Institution's permanent collection along with more than 30,000 corporate documents in the Lemelson Center For Innovation in Washington, D.C. Lon also has 14 of his inventions in the collection of the Computer History Museum in Mountainview, California. His inventions include everything from the first CAD (Computer Aided Design), to V-E-Tailing (Virtual Electronic Retailing), to Three-Dimensional Internet Advertising (3DGTA), to the "First Computer To Save A Human Life"!
Lon take you through the process of identifying why we can't be creative because of conditioning, perceptual, emotional, cultural, stereotyping, and environmental barriers. Lon also discusses how to isolate a problem by breaking it down into it simplest components where it can easily solved. He also discusses the important to chaos tolerance, and helps his audience understand why change is a good thing to being more creative. And, Lon also discussed left brain / right brain thinking and how to maximize the two.
Lon gives real world examples on how to be a more Innovative Thinker by taking the audience step-by-step through the inspiration and eventual patenting of his most recent ideas. Lon will also discuss his Twenty Truths of Innovation and what it takes to be an entrepreneur and Innovator.
So whether you are in sales, marketing, public relations, communication, sales, the "C" Suite, entrepreneur or intrapreneur you need learn from someone who has done it and how to become and profit from Innovative Thinking!
SOCIAL MEDIA, THE IMPACT ON YOUR BOTTOM LINE
Whether you call it Social Media, Web 2.0, Building Community, User Generated Content, the Intelligence of the Masses, it's all about the same thing, combining and utilizing old and new Internet technologies to communicate better. This is a gross oversimplification of the immense power of Social Media. Its affect is already being felt by individuals and how they communicate with each other, corporations and how they communicate with their employees and customers, and how groups or communities are being built around communication with others with similar interests.
This is only part of the importance of Social Media. The real importance is that Social Media is going to change the way we do business in our neighborhood, our communality, nationally, and internationally. Social media has already affected businesses around the globe, and with most new technologies, the affect can be beneficial and it can be disastrous to you and your business.
What is being written about you, your product, and your company as you are reading this? How would you respond to misnomers and misunderstandings to these masses? What affect would not responding have on your bottom line? Would you like that opportunity to respond and open a dialog between you and your customers?
Make no mistake about Social Media, it's coming whether you resist it or not and those who embrace this brave new world the fastest will benefit the most. Those who choose to ignore this phenomenon will be left in its wake. Social Media has already begun to affect us in ways we could never imagine. It will have as much impact on our personal and professional lives as the Internet itself. Social Media is about two-way communication between your friends, you colleagues, your customers, and often your enemies!
What is Social Media?
Social media is the combination of user-generated content with "new media" distribution technologies. It can range from information about your products and services to opinions about your political views. Social Media takes many forms including text, images, video and audio. Popular Social Media mediums include message boards, blogs, vlogs, podcast, and wikis. Social Media is about how all of these existing free technologies link and work together to create one world-wide communication system for your company!

Why Social Media Marketing?
Social Media Marketing works! It's changing traditional public relations, sales, and marketing strategies. Implementing a social media marketing strategy campaign will increase your audience reach and significantly reduce your marketing and public relations campaign expenses. Companies are starting to set aside portions if not all their marketing dollars to invest in this type of non-traditional marketing tactic due to the overwhelming success of this strategy. Some of the benefits of Social Media marketing include:

Viral marketing – Viral P.R.,
Free marketing and publicity,
Linkability (Reputable External Links),
Search engine optimization and marketing,
Rapid community building,
Really Simple Syndication (RSS) of information,
Instantaneous results,
Influence media before their stories break,
Significantly reduce public relations and marketing cost,
Rapid response and communication with your customers,
Interact with customers and respond to issues and concerns quickly on your own and other network communities.
Stop Communicating To Your Customers and… Start Communicating WITH Your Customers!
BUILDING INNOVATIVE TEAMS – INNOVATION LEADS TO PROFIT
This presentation is about being a team player, thinking like a unit and meeting expectations with others and through others.
Participants will master crucial leadership and organizational work teams are an aspect of total quality management and a functional requirement for organizational success. Participants will learn how to make team work and how to "play" on the teams currently in place. Getting people together to work on a common task for a specified length of time should be easy. Getting consensus on what should be done to meet a project deadline within cost and design specification should be little problem. Making sure that everyone has a great place to work with a strong sense of cooperation should be no hassle for an organization… But is it?
Quality business goals slip and ideas of total quality management looms like an albatross around the neck of everyone if there is battle over turf and territory or destructive conflict. No one wants poor quality or conflict and certainly no one want to have excess cost or waste of time, but getting everyone to work together is often a challenge and takes a great deal of skill and expertise. This seminar brings those benefits to managers. The skill and techniques necessary to have effective work teams are brought to you in a way that can be applied to your everyday challenges.
Benefits of this Presentation:
You'll learn strategies and techniques that will enable you to:

Make giant leaps in team performance by identifying and overcoming team obstacles and problems.
Capitalize on team strengths and shore up challenges.
Build and maintain productive, energized work teams.
Keep everyone on the team up to speed and focused on what is important.
Learn how to work through team conflict and disagreement.

Competencies Learned:

Leadership
Team building
Decision making
Motivation

Presentation Objectives:

The Audience will be able to:

Understand the team process and team dynamics, and synthesize their efforts into the work of others.
Build team communication skills.
Apply effective strategies with the uncooperative team member.
Create equal status among team members that is a mandate for organizational work teams.
Develop a personal action plan for maintain effective work teams.

Work Teams…Who's in Charge Here?
This begins with empowerment and the realities of moving decisions, policies and procedures lower in the organizational chart.

Building "Team Player" Thinking
Organizational work teams succeed because of a deliberate style of leadership that promotes team thinking.
Team Meetings
I explore quality meetings, how to make them work, and how to keep a team motivated through every team meeting.
Fusing Individual Talent into Your Team Structure
Every potential team member carries experiences, both positive and negative, into team meetings and work projects.
Problem Solving – Decision Making in a Team Setting
Conflict and difficulty are common occurrences of organizational work teams.
Designing Your Work Teams
Every participant should not only gain an increased awareness of organizational work teams, they should also be able to do something with that knowledge when they return to their job.
SEARCH ENGINE INNOVATIVE MARKETING
This is an intensive presentation will guide to through understanding & using search engine optimization and pay-per-click techniques to maximize your web presence and position your web site on top of every search engine list… and in front of more potential customers than you ever believed possible… with proven, plain, English strategies.
10 Benefits:
1. Maximize your site for different search engines.
2. Understand the difference between organic & paid searches & what it means to you.
3. Select the right keywords and page links to get your pages seen.
4. Use organic and paid searches together to you smart your competition.
5. Get ranked higher on search engines.
6. Identify the costs involved in SEM and how much you should really be spending.
7. Set up proper site architecture that won't sabotage your on-line marketing efforts.
8. Determine if affiliate marketing will work for you.
9. Answer the age-old question: In-house or use a constant?
10. Measure and monitor results.

SUCCESS STRATEGIES FOR INNOVATIVE E-MAIL MARKETING
This is an intensive presentation on interactive marketing, features Best-Practice Tactics and results-building web techniques. use interactive marketing methods to build your business and grow your profits.
Understand the importance of being "White Listed," Segmenting, the 1.54 Second & 5 Second Rules Of Marketing, achieve 10x the open rate of Direct Mail, and how if affects tour bottom line!
10 Benefits:

1. Learn How to Grow Your own e-Mail House file.
2. Learn About Retention E-mail and Customer Monetization.
3. Discover How To Create Revenue Opportuties.
4. Should You Send In-House or Use a Supplier?
5. How To Find the Right Supplier.
6. What Factors Should You Consider When Evaluating an E-mail Solution.
7. Learn About Tracking and Segmentation.
8. Discover Advanced E-mail Techniques for Personalization and Segmentation.
9. Learn The ROI on Optimization and Timing.
10. Discover the Value of Integrated Multi-Channel Marketing.

CREATIVE MARKETING
Big, New Ideas Don't Come From Thinking The Same Old Way… They Come From Letting Your Creativity Run Wild!
10 Benefits:
1. Steal killer strategies from the biggest marketing success stories on the planet.
2. Jolt your right brain into action – and jump-start the flow of creative ideas you can implement right away.
3. Get in on a dozen "down-and-dirty" creative tricks the pros swear by – for phenomenal results!
4. Combine fun with functionality for a guaranteed boost in your online marketing success.
5. Be the Marketing Idea Hamster. You know, the one who always has an idea generator running.
6. Get in touch with your "inner marketing child" to regain that playful mindset that removes mental barriers – and leads to inspiration.
7. Discover imaginative new ways to target your audience and get them to buy, buy, buy.
8. Blast through "creative block" with an arsenal of "creative blockbusters."
9. Leave with your cranium crammed full of innovative marketing ideas you can't wait to put into action.
10. Spend the day picking the brain of a very creative type – and have more fun at a conference than humans should be allowed!


Lon Safko Speaks On Social Media And The Importance Of Twitter
In this video, Lon discusses his "Safko Wheel" of fusion marketing, which he says is "a system for performing amazing marketing where one form of marketing actually enhances all of the others." He explains that the Safko wheel is designed to "increase your ability to reach your customers… you have a responsibility to connect with those customers, build trust and convert that trusted relationship into revenue."
He explains that the first step to using the Safko Wheel is to "work with the traditional." He describes the traditional as things like business cards, door hangers, presentations, coupons, print ads, TV, radio and tradeshows. "You start with this because not only you, your team, your company, your clients can better understand the progression, because you're starting with something that everyone understands." He continues by explaining how the Safko Wheel's 20 cards work, and how to use them to achieve fusion marketing success.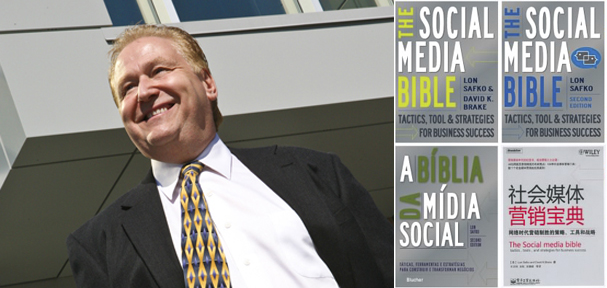 Lon Sakfo is an author of remarkable breadth, having written five innovative books. His books have shown corporations how to train managers to think creatively, detailed the secrets of launching a successful on-line business, offered advice to new home owners on reducing building costs, and related stories about the serendipity of life. His book The ... more