Top25 Speaker Voting

Lisa Bodell has been currently voted into the Top25 speakers on Speaking.com, congratulations! To help keep Lisa Bodell in the Top25, vote below:
Speaker Booking Tip
"Tip: speakers bureaus provide added value that you cannot get by booking speakers directly. "
For Event Planners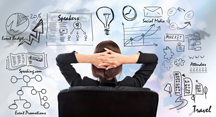 • Keynote Speaker Booking Toolkit.
• Booking a Celebrity Speaker.
• How to Find and Book the Right Speaker.
• Google+ Event Planning Forum.
• Tips for International Clients Booking U.S. Based Speakers.
Similar Speakers
Jeffrey Hayzlett

Expert in leadership, change management and communication, Jeffrey Hayzlett is a bestselling author whose creativity and entrepreneurial skills make him much in demand as a…

Erik Wahl

Erik Wahl is an entrepreneur, philanthropist, best selling author and graffiti artist. Wahl has also been described as the Picasso of Productivity, the Warhol of…

Robert Kiyosaki

Robert Kiyoski, the author of Rich Dad Poor Dad, USA Today's No. 1 Money Book and a runaway international bestseller, is also an investor, entrepreneur…

Everyone at your speakers bureau was incredibly attentive and easy to work with; you have been a conference organizer's dream!
ABS Capital Partners
About SPEAKING.com
Established in 1994, we are exclusive agents for some of the world's leading experts, celebrities and professional speakers.
We offer event planners a fully staffed speaker logistics planning team, plus a personal SPEAKING.com Account Executive – a knowledgeable and trustworthy partner. We guarantee your satisfaction with your speaker and a smooth booking process.
Contact us today to book your favorite speaker.

"Lisa has the winning combination you look for in a keynote speaker – she is insightful, engaging and energetic. She was the top rated speaker at two Google events and inspired our audience to start an innovation revolution."
Meredith Cherwony, Marketing Manager of Think Events at Google
"Lisa Bodell is one of the most outstanding presenters I have ever seen. She passionately delivers well articulated messages that engage the audience and encourage action on the part of the listener. Something tells me that many of her insights will become essential elements of our culture."
Duncan Niederauer, CEO, NYSE Euronext
"Lisa Bodell is one of the most dynamic and powerful keynote speakers our association has ever had. Her delivery, style, and expert content completely energized an audience of 500 and a breakout session of 50. Across the board, she was rated among the most superior keynote speakers we've ever had at our annual top executives' conference. She is incredibly successful at sizing up an audience and totally tailors her speech to address the needs and concerns of an industry."
Libby Taylor, VP-Director of Event Planning, National Association of Confectionary Dealers
"Lisa Bodell's presentation included excellent examples and energizing exercises that brought innovation to life. She got us to look at our business with new eyes."
Joan P. Lawrence-Ross, Chief Learning Officer, AXA Equitable
"Over the years, I've tried many innovation 'gurus' to educate my leadership team. Lisa is the real thing – she's an expert that also knows how to use both presentation and learning principles to hold an audience's attention."
David Owens, Director of Learning & Development, Bausch & Lomb
"Bodell made my leadership team think in new ways and helped us develop winning business ideas right in the room. My team now embraces innovation rather than fearing it."
Mary Fennoglio, Managing Director, Citigroup Corporate Investment Bank
"Lisa Bodell did an outstanding job in designing and facilitating an innovation workshop for our senior leaders, many of whom regarded this as the best innovation workshop they have ever been a part of. I would recommend her to any organization that is looking for clear and actionable pathways to innovation."
Wayne Pethrick, Director, Marketing and Consumer Insights, Pitney Bowes
"Ms. Bodell was the top presenter at our conference in terms of both content and presentation delivery. I've been organizing and attending events for many years and I have to say, this was the best presentation I've ever seen. People were inspired and couldn't get enough of what she had to say."
Byron Myers, Vice President, eXL Pharma
"Ms. Bodell's session received a 3.8 out of 4 at our Annual Meeting this year: the highest rating I've seen for annual meeting speakers in my 30+ year tenure with the association."
Jerry Van de Water, President, Paperboard Packaging Council
Selected Clients:
Bosch
Pitney Bowes
Novartis Pharmaceutical
Government of Dubai
Boehringer Ingelheim
Reed Elsevier
McGraw-Hill Companies
Citigroup
GE Commercial Finance
3M
MasterCard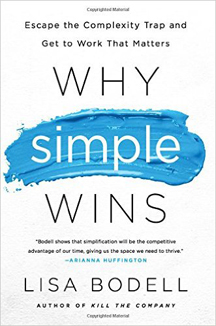 Why Simple Wins: Escape the Complexity Trap and Get to Work That Matters
Complexity is killing companies' ability to innovate and adapt, and simplicity is fast becoming the competitive advantage of our time. Why Simple Wins helps leaders and their teams move beyond the feelings of frustration and futility that come with so much unproductive work in today's corporate world to create a corporate culture where valuable, essential, meaningful work is the norm. By learning how to eliminate redundancies, communicate with clarity, and make simplification a habit, individuals and companies can begin to recognize which activities are time-sucks and which create lasting value.
Kill the Company: End the Status Quo, Start an Innovation Revolution
In the ever-changing world of business, we′ve arrived at a point where process has trumped culture, where the race toward efficiency has made us complacent and unable to reach our potential. Stuck in the land of status quo, we′ve forgotten how to think. And the very structures put in place to help businesses grow are now holding them back. It′s time to Kill the Company.
This book is a call to arms: to start a revolution in how we think and work. But instead of more one-size-fits-all change initiatives forced upon employees, we need to embrace smaller, positive behavioral changes that create ripple effects throughout the organization. Thinking can no longer be exclusive to the creative team or lead strategists. Rather, a culture of curiosity must be fostered among the ranks to shake up our standard practices, from unproductive meetings to go-nowhere strategic planning. This revolution can and will awaken our ability to think, and ultimately, to innovate and grow.
In Kill the Company, innovation specialist Lisa Bodell urges companies to shift the mindset from business as usual to the company of the future, to move from what she calls "Zombies, Inc." to "Think, Inc." This involves both risk and trust: to allow all employees the opportunity and environment to be curious and inquisitive—even challenging and provocative when the situation calls for it. Too often, this type of behavior is seen as threatening, says Bodell, who has actually been told by CEOs that they discourage employees from thinking. In step with the call to Kill the Company, is a plea to kill fear, complacency, and the all-too-familiar answer from our leaders: "I can′t be bothered with your (perhaps brilliant) idea."
Bodell also looks at how we got to Zombies, Inc., exploring how our educational system contributes to the lack of inquiry and problem-solving skills, showing how conformity is rewarded early on. She also draws from the work of such education luminaries as Sir Ken Robinson and the groundbreaking Blue School (founded by members of the Blue Man Group).
In the end, readers of Kill the Company will have a full sense of how much riskier it is to stay here in the status quo than to break out and think.
Bodell's Interactive Keynote Presentations are designed to spark the imagination and address the unique needs of your audience. Topics include:
Why SIMPLE Wins: Escape the Complexity Trap and Get to Work That Matters
Imagine what you could do with the time you spend sitting in meetings and writing emails every day.
Complexity is killing companies' ability to innovate and adapt, and simplicity is fast becoming the competitive advantage of our time. Drawing on her work with global organizations and themes from her latest book, Why Simple Wins, Bodell inspires leaders and their teams to proactively move beyond the feelings of frustration and futility that come with so much unproductive work in today's corporate world.
Bodell shares tools and takeaways on how organizations and individuals can eradicate complexity, and allow Simplicity to be their new operating system and North Star towards an innovative workplace culture.
Kill the Company: End the Status Quo, Start an Innovation Revolution
Winning innovators embrace change—do you? What holds you back from better innovating, every day?
In too many organizations, we're stuck in the land of status quo. We've forgotten how to think differently, and lack the simple tools to solve problems creatively. The very structures put in place to help organizations grow are now holding us back. So, it's time to Kill the Company! This keynote is an inspirational call to arms: to start a revolution in how we think and how we work.
The key lesson of this Keynote: if we want people to approach change differently, we have to change our approach. You will learn how simplification lets us achieve more and better innovate. This can reignite critical aptitudes such as curiosity, inquiry, creative problem solving, and more.
The Keynote will bring to life the concepts presented in Bodell's book, Kill the Company:
Everyone is a change agent.
Change involves a toolkit, not a process.
Little changes can create big impact.
Bodell will introduce tangible ways to ignite innovation through the dynamic yet simple exercises in the Kill the Company Toolkit, including Kill a Stupid Rule, Killer Queries, Impossible to Possible, and many more. You will leave this Keynote with ways to eliminate needless complexity with simple, inspiring ways to make innovation happen now!
Little BIGS®: How Small Changes Create BIG Impact
Dismiss the notion that innovation requires large corporate overhauls and change initiatives. Extensive and expensive initiatives rarely work and tend to exhaust—not inspire—employees. To get people to approach change differently, we must change our approach. Instead of top-down mandates, it's the small things—the "Little BIGS"—that ignite powerful behavior change.
The Chocolate-on-the-Pillow approach—"Little BIGS"—uses action-based tactics. When individuals and teams start leading by example, they create opportunities for people to witness and embrace positive behaviors and change firsthand. Using examples of small changes with huge ripple effects, this keynote walks participants through the bite-sized approach to revolution.
Bodell inspires audiences through real-life examples, such as the large financial services organization that created a new breed of employee and helped reset the corporate culture. Little BIGS will come to life through concepts like Kill a Stupid Rule; Outside In; Do the Unexpected; Empowerment Rules; and Get Out.
Participants will take away tangible and actionable steps to shake up their organization's standard practices—from unproductive meetings to go-nowhere strategic planning—and result in a powerful boost to innovation. They will gain understanding of the Little BIGS that will reinvent their own organization; awaken their ability to think; and ultimately, to reinvent the future.
Speech Excerpts
Lisa Bodell: Knowledge@Wharton
In this interview, Lisa Bodell talks about the focus of her book "Kill the Company," which encourages companies to have an "out-of-company" experience and view their companies from an outsider's perspective, find its strengths and weaknesses, and identify ways to stay ahead of the market. She discusses how corporate culture and leadership affect whether a company can effect change and embrace innovation effectively. She discusses the basic tenets for making change stick within an organization: change has to come from the middle out rather than from the down, change is not a process - it's a tool kit, and big mandates aren't effective - little changes open the door for big changes.
Speech Excerpt
Lisa Bodell: Making an Environment for Creative Thinking
Full TEDx Speech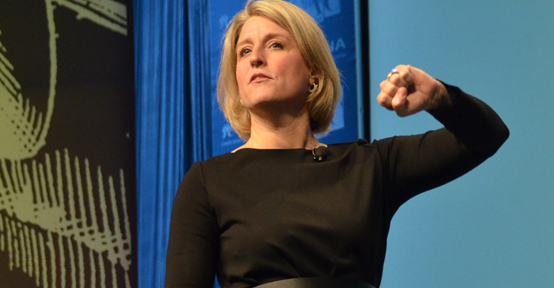 Founder & CEO of innovation firm futurethink Lisa Bodell is the bestselling author of Kill the Company, and her latest Why Simple Wins. A leader on simplifying innovation and change management, Lisa is often called upon by global companies to help them eradicate workplace complexity that is killing their ability to innovate and adapt. Simplicity ... more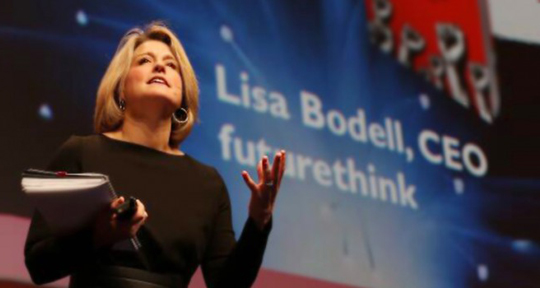 Founder & CEO of innovation firm futurethink Lisa Bodell is the bestselling author of Kill the Company, and her latest Why Simple Wins. A leader on simplifying innovation and change management, Lisa is often called upon by global companies to help them eradicate workplace complexity that is killing their ability to innovate and adapt. Simplicity ... more