* Please note that while this speaker's specific speaking fee falls within the range posted above (for Continental U.S. based events), fees are subject to change. For current fee information or international event fees (which are generally 50-75% more than U.S based event fees), please contact us.
Top25 Speaker Voting

Julie Morgenstern needs 13 vote(s) to make it into the Top 25 speakers on Speaking.com!
Speaker Booking Tip
"Tip: find a speaker in your local area to save on travel costs. Most speakers will also reduce their keynote fee for local events. "
For Event Planners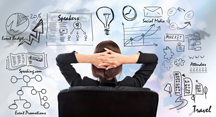 • Keynote Speaker Booking Toolkit.
• Booking a Celebrity Speaker.
• How to Find and Book the Right Speaker.
• Google+ Event Planning Forum.
• Tips for International Clients Booking U.S. Based Speakers.
Similar Speakers
Lisa Nichols

LISA NICHOLS is CEO of Motivating the Masses, one of the top training and development companies in the world, a best-selling author of six books…

John Izzo

Leading business expert and adviser, Dr. John Izzo is driving a purpose revolution, helping organizations boost their performance when it comes to sustainability, social responsibility,…

Dan Thurmon

Dan Thurmon is the president of Motivation Works, Inc., where he has helped hundreds of organizations and individuals to implement action plans and move confidently…

Our event was what I would call 'over the top'... The survey results were at 92% very favorable. The speakers formed such a good relationship with myself and others at the conference. I am confident we will bring them back to do more. I will definitely contact you when we are in need of additional services. You have been the best!
American Express
About SPEAKING.com
Established in 1994, we are exclusive agents for some of the world's leading experts, celebrities and professional speakers.
We offer event planners a fully staffed speaker logistics planning team, plus a personal SPEAKING.com Account Executive – a knowledgeable and trustworthy partner. We guarantee your satisfaction with your speaker and a smooth booking process.
Contact us today to book your favorite speaker.

"The Mid-Atlantic Microsoft Sales Team loved your presentation! They thought you were an excellent speaker, they loved the interactivity and are looking forward to implementing the ideas from your book. Everyone has been vying for the extra copies of the Making Work Work Books. Your prenstation kicked off a very successful day of partner and customer meetings as well. Thanks for making me look so good!"
~ Lisa Malone, Microsoft

"Your upbeat, engaging style made 'organizing' fun. The tips and strategies you presented, in just 60 minutes, had an impact on everyone lucky enough to attend. We are all more efficient, productive, indeed organized, thanks to you."
~ Lisa Grossman, Viacom

"I recently had Julie speak at one of my seminars to a group of 230 people. The response I had immediately after Julie's presentation was incredible, but more importantly one week later I am hearing amazing stories of success and personal change from my seminar attendees resulting from what Julie said."
~ Sam Beckford, Successful Studio Strategies

"Thank you a million times over for your workshop! The Oregon Downtown Development Association is grateful to you for the help and insight you have given us. We hope to continue our relationship, as we continue to look for ways to reduce stress and manage our time in our work and personal lives."
~ Heidi Henry, Oregon Downtown Development Association
Making Work Work: New Strategies for Surviving and Thriving at the Office
Maintaining control in today′s hectic workplace is a challenge — everything is lean, competitive, and uncertain. What does it take to survive? Must you sign away your life in blood? Live in fear of being fired? Quit your job and move to the countryside? Not at all.

Through the mastery of nine essential skills, Morgenstern shows how small changes in your thinking and behavior will help you achieve the seemingly impossible — boost your value, increase your job security, and afford you the time to still have a life. Morgenstern has helped clients of all levels take control of their work lives in every industry imaginable. This book mirrors the individual consulting services she provides by showing you how to start with yourself and then tackle the more complex external issues of working relationships and the job.

With insight and warmth, Morgenstern gives fresh "grab-and-go" strategies such as:

Avoid e-mail for the first hour of the day. It′s addictive and steals your most productive time.
Trust your truth. Never undervalue your unique self, skills, and point of view.
Beware multitasking. Scattering your efforts makes for a longer day.
"Dance close to the revenue line." Making and saving money is where your greatest value lies.
"Crunch the container." Shorten your workday by thirty minutes and you will get more done.

Making Work Work transcends industries, job titles, and even economic climates. With the process taught in this book, you will feel less trapped and more in charge — you′ll able to make a bad situation better, restore a formerly good situation, or search for a job that′s a better fit for who you are.

With Morgenstern′s guidance you can find a way to make work work.
Order Here




SHED Your Stuff, Change Your Life: A Four-Step Guide to Getting Unstuck
Now in paperback, organizing guru Julie morgenstern shows how to get rid of the physical, mental, and time clutter that's keeping you from the life you want.

Julie Morgenstern has made a career out of helping her clients get organized. But in the process, she discovered something surprising: for many of her clients, organizing isn't enough. For those who are eager to make a change in their lives—a new job, a new relationship, a new stage in life— they need to get rid of the old before they can organize the new. They need to SHED their stuff before they can change their lives! So Julie created the SHED process—a four-step plan to get rid of the physical, mental, and schedule clutter that holds back so many of us. But SHEDing isn't just about throwing things away! Julie teaches that its just as important to focus on what comes before and after you heave the clutter, so that the changes you make really stick in the long term. Learn about:

Separating the treasures (figuring out what really matters)
Heaving the rest (undertaking the tough work of eliminating excess)
Embracing your true identity (figuring out who you really want to be)
Driving yourself forward (achieving real change now that the past isn't holding you back any longer)

Whether you're facing a move, a promotion, an empty nest, a marriage, divorce, or retirement, SHED Your Stuff, Change Your Life provides a practical, transformative plan for positively managing change in every aspect of your life.
Order Here




Organizing from the inside Out: The Foolproof System for Organizing Your Home, Your Office and Your Life
A completely revised and expanded edition of the New York Times bestselling guide to putting things in order

Getting organized is a skill that anyone can learn, and there′s no better teacher than America′s organizing queen, Julie Morgenstern, as hundreds of thousands of readers have learned. Drawing on her years of experience as a professional organizer, Morgenstern outlines a simple organizing plan that starts with understanding your individual goals, natural habits, and psychological needs, so that you can work with your priorities and personality rather than against them. The basic steps-Analyze, Strategize, Attack-can be applied to any space or situation.

In this thoroughly revised edition, Morgenstern has incorporated new information in response to feedback from her clients and audiences. These changes include:

new chapters on living or working with someone who is disorganized
new chapters on organizing photographs, handbags, briefcases, and travel bags
an expanded program for organizing your kitchen
a new guide to getting started
a fully updated resource guide


Order Here








With humor, compassion, and insight Julie and her team give audiences critical skills for today's busy world … How to get and stay organized. The results? Program attendees laugh, learn and leave with practical tools and strategies they can apply immediately, along with the motivation to take action right away.

Clutter Control: Skills for Life
Ready to get organized but don't know where to start? Don't give up … beneath those piles there lurks a foolproof system for tackling any space! Learn to convert your favorite disaster area into a laboratory for mastering universal organizing skills – forever turning chaos into order! Identify what's holding you back, design your system on the unique way you think, arrange your space for convenience, stretch storage, and avoid the most common pitfalls in getting organized.

Filing is for Retrieval: Keys to an Organized Office
The average executive wastes six weeks per year searching for information in messy desks and files, according to the Wall Street Journal. Boost your productivity, speed your response to information requests, and prevent loss of opportunities by conquering office clutter. Discover the secrets of a user-friendly filing system that "speaks" to you; liberate limited storage space by archiving or tossing irrelevant materials; organize your desktop for easy paper flow, and create an easy maintenance plan.

The Great Juggling Act: Creating Balance in Our Lives
Too much to do, and not enough time? Do you ever feel off, by just a step? Create and sustain the balance you crave with innovative tools that will keep you on track. Develop a brand new perception of time, discover the #1 gateway skill to good time management, connect daily activities to big picture goals, work with your natural style instead of against it, and master the 4 D's for creating a manageable to-do list. Complete everyday with a sense of accomplishment and satisfaction.

Making Work, Work: Thriving in the New Reality
Demanding workloads, a hyper-speed pace, and constantly changing responsibilities create a challenging work environment. Brand new, counterintuitive skills are required to boost your value and increase job security without sacrificing your personal life. Learn to prioritize your to-do list with confidence, create the time to concentrate in a highly distractible environment, outsmart email and interruptions, optimize your time off to ensure peak performance, and work fewer hours while getting more done. Small changes in your behavior will put you instantly back in control.

*NOTE: All topics can be customized for your group.
Demo Video
Time Management Magazine Interview With Julie Morgenstern