* Please note that while this speaker's specific speaking fee falls within the range posted above (for Continental U.S. based events), fees are subject to change. For current fee information or international event fees (which are generally 50-75% more than U.S based event fees), please contact us.
Top25 Speaker Voting

James McLurkin needs 14 vote(s) to make it into the Top 25 speakers on Speaking.com!
Speaker Booking Tip
"Tip: ask your speaker to do a book signing or attend a VIP meal with your guests. "
For Event Planners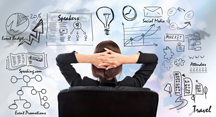 • Keynote Speaker Booking Toolkit.
• Booking a Celebrity Speaker.
• How to Find and Book the Right Speaker.
• Google+ Event Planning Forum.
• Tips for International Clients Booking U.S. Based Speakers.
Similar Speakers
John Izzo

Leading business expert and adviser, Dr. John Izzo is driving a purpose revolution, helping organizations boost their performance when it comes to sustainability, social responsibility,…

Kimberly Bryant

Kimberly Bryant is engineering a solution to the lack of diversity in the tech industry through her non-profit organization Black Girls CODE. A seasoned leader…

Rudy Ruettiger

Rudy Ruettiger's life story was immortalized in the eponymous 1993 film, Rudy. An internationally-known celebrity, acclaimed motivational speaker, distinguished author and humanitarian, Rudy rose to…

Your speakers bureau was a tremendous resource for the NHL as we planned and executed our NHL Club Business Meetings. Their assistance with securing our keynote was invaluable. They provided detailed information in a timely manner which was crucial to the success of the event. The execution was seamless!
National Hockey League
About SPEAKING.com
Established in 1994, we are exclusive agents for some of the world's leading experts, celebrities and professional speakers.
We offer event planners a fully staffed speaker logistics planning team, plus a personal SPEAKING.com Account Executive – a knowledgeable and trustworthy partner. We guarantee your satisfaction with your speaker and a smooth booking process.
Contact us today to book your favorite speaker.

"I am continually receiving feedback on how much people enjoyed meeting you and watching your presentation. Here are only a few comments from the survey we handed out:
Keep bringing people like James
James is worth having back
James was a perfect example of creativity
McLurkinʹs presentation was great. His view of engineering being similar to what an artist does was an interesting concept
Awesome presentation
Mr. McLurkinʹs presentation was one of the best thus far!
James McLurkin was great ‐ please bring in more speakers like him!!
I loved Jamesʹ presentation ‐ it was relatable, but also pushed me to think in different ways and be excited to do more cool stuff"
Jennifer Dahlgren, Organization Development, Honda R&D Americas, Inc.

"Thanks a million for doing such an dynamite job on Saturday night. What a terrific send‐off for our InvenTeams!! Those kids were completely riveted to your remarks from start to finish. Actually, so were all the adults; one parent remarked that you connected with every single person in the room (and itʹs hard to do that following two days of presentations). Your energy, passion, wit, savvy and off‐beat advice were a perfect mix for our audience."
Kristin Finn, Executive Director, Lemelson‐MIT Program, Massachusetts Institute of Technology

"I just wanted to thank you for such a wonderful presentation to the STARBASE ROBINS robotics academy. I knew since the first time that I heard your presentation that you have the gift of relating to kids. It is a gift that many think they have but that few truly possess. The work that you are doing with robotics is very interesting and will lead us into the future."
Wesley Fondal, Jr., STARBASE ROBINS, Director, Warner Robins, Georgia
McLurkin presents on a wide variety of topics in robotics, swarms, and the creative design process. The topics below are representative examples, all presentations are tailored to individual audiences. Most presentations include a robot demo, and the robot presentations usually include a Swarm School interactive demo (see "Swarm School lecture topics" below).

All presentations require a laptop projector, and the robot demos require a minimum floor space of 10' x 10'. If the robots are to be demoed on a stage, then a one‐inch high barrier must be placed around the boundaries of the demonstration area to prevent robots from plummeting to their doom.

Dances with Robots: The Story of One Engineer, 112 Little Robots, and the Toys, Insects, and Star Wars Movies that Made it all Possible
The presentation starts with a lighthearted look at societyʹs views on robots, Hollywoodʹs portrayal of them, the current state of the art, and the future of the technology. Philosophical questions about the nature of intelligence are discussed, as they pose serious problems for the creation of artificially intelligent devices. The final conclusion? Robots are phenomenally stupid and we should be more concerned about global warming than a robotic rebellion. In spite of their limitations, robots are still useful, and swarms are the future of robotics. McLurkin motivates the need for swarms of robots, and explains the technology required to produce group behaviors on one hundred robots. Fundamental multi‐robot distributed algorithms are demystified using video clips, live robot demonstrations, and audience participation and to punctuate the main points. The presentation concludes with an autobiographical sketch that traces the events, ideas, and toys that have influenced McLurkinʹs career, from cardboard boxes and tape, to LEGO bricks and video games.

Extreme Lesson Plans: Adventures in Technical Education
James McLurkinʹs teaching style can be summarized as follows: ʺWhat can I bring to class that will be so interesting that they wonʹt even taste the science?ʺ
This classic technique of bait‐and‐switch teaching can be especially helpful when introducing technical concepts in science and mathematics. The trick lies is in finding the right demonstration, real‐ world application, or story to motivate the theory. This presentation pulls from McLurkinʹs lectures in physics, engineering, and computer science. The highlights of the presentation are on‐stage demonstrations of BMX physics, a radio‐controlled helicopter, and a small swarm of 15 robots. This presentation also has a mini‐session of ʺSwarm Schoolʺ, to illustrate how complex concepts in distributed algorithms for multi‐robot systems can be explained to high school students.

Extreme Lesson Plans Workshop: Bringing More of You to Your Classroom
This workshop covers more of McLurkinʹs lesson plans in detail, featuring hovercraft piloting lessons, and a hands‐on robot programming exercise. The focus of the workshop will be to develop Extreme Lesson Plans for as many of the participants as possible. Participants are encouraged to bring small demos or other artifacts representing their hobbies or interests.

The End of the World and Other Misconceptions: The Truth About Robotics
A lighthearted look at societyʹs views on robots, Hollywoodʹs portrayal of them, the current state of the art, and the future of the technology. Famous movie robots are used as examples of dream systems. Biological systems provide examples of "robotic" systems that we are just beginning to understand, but cannot hope to duplicate. Philosophical questions about the nature of intelligence are discussed, as they pose serious problems for the creation of Artificial Intelligence. The end result: Robots are phenomenally stupid and we should be more concerned about the next asteroid strike than a robotic rebellion.

The Future of Robotics and Swarm Robot Applications
Swarms are the future of robotics. This presentation motivates the need for swarms of robots, and explains the technology required to produce group behaviors. It usually includes robot demos and audience participation with one of the Swarm School lecture topics below.

"Engineering Creativity": Exercises for the Right Brain
McLurkin's unconventional approach to the creative design process is an inspiration to professionals of all disciplines. This presentation starts with examples from the far‐reaching passions that have shaped McLurkin's career, including insects, LEGO, trains, and Star Wars. It continues with a tour through a gallery of brilliant design, sources of inspiration, and examples of exceptional creative thought, often found in the most common places. The conclusion looks at the "logistics of creativity" and leaves participants with ideas on how to structure their environment and plan their activities to enhance creative thought.

"Lifting as You Climb" and Other Every Day Responsibilities of the Minority Professional
Gilbert Young's painting, "He Ain't Heavy", perfectly embodies the sentiment of this presentation – you didn't get where you are by yourself, and it's your responsibility to reach back to the next generation. Not later, after you've made your millions, but right now, even during the struggle to forge ahead. While true for all, it is especially critical for minority professionals and students to support the next generation of scholars, professionals, and of course, engineers. "We underestimate our power to influence the next generation. Having a grand plan to educate and uplift is not necessary. You already embody a powerful existential proof of success, an illumination of the path not taken, and a map to a destination never conceived. All that is required is acceptance of the job of role model and mentor".

Raising an Engineer: Not Your Typical Childcare Guide
Are things being disassembled in your house? Has your protégé discovered the magical properties of duct tape? Is the TiVo connected to the iPod, which is connected to the computer with a wireless ethernet data link? If you answered yes to any of these questions, you might be living with a young engineer. Fear not, this presentation will help explain the inner workings of a growing engineer's mind, and provide useful educational advice, toy suggestions, and other resources to help you raise this alien creature in comfort and (relative) safety.

Playing Engineer: The Toys of the Trade
Invention and Play often go hand‐in‐hand. During this presentation McLurkin takes the audience through an inside look at the kind of play that has shaped his inventiveness, from kindergarten to the present day.

How Do Robots Work?
Using his SwarmBots as a case study, this is a guided tour through the sensor systems, processing, and output effectors common to all robotic platforms. Students list the components they think the robots have, then look for these parts as McLurkin disassembles one of the robots. This presentation is designed for middle school and high school students, but is appropriate for college students when coupled with another topic and a Swarm School lecture.

What Do Robots Do?
This presentation is specially designed for the youngest audiences, grades 3‐6. It introduces the concept of practical robotics by starting from Hollywood robots, then moving to real systems. A brief discussion of multi‐robot swarms follows, with a demonstration of the Swarm's basic behaviors. The presentation concludes with a look at some of the toys that have helped guide McLurkin towards a career in engineering.

ROBOT DEMONSTRATIONS

Most presentations include one or two robot demos of 15‐30 robots. The "Swarm 101" and Swarm Choir demonstrations work well for large groups, while the interactive demos are the ultimate in hands‐ on experience – participants get to drive the robots via remote control and even reprogram them to solve puzzles! For this reason, they are only effective in groups of approximately twenty participants. The robot demos require a minimum floor space of 10' x 10'. If the robots are to be demoed on a stage, then a one inch high barrier must be placed around the boundaries of the demonstration area to prevent robots from driving off the stage to certain demise.

Swarm 101: Basic Behaviors
The Swarm is programmed by combining many simple group behaviors to form more complicated programs. These basic behaviors include follow‐the‐leader, clustering, dispersing, orbiting, navigation, clustering into groups, and flocking.

Swarm Choir
This demo is a simple version of a robotic Swarm Marching Band. It uses distributed algorithms to elect one robot to be the conductor, synchronize all the robots to the same downbeat, and divide the robots into instrument sections. These sections play music together, with their combined output producing the complete composition. If your organization has a musical request in the MIDI file format, the Swarm can probably play it!

"SWARM SCHOOL" WORKSHOPS
The "Swarm School" series of mini-lectures are designed to introduce key concepts of robotics and distributed algorithms to audiences of all ages. Each lecture is an interactive demo, with the participants playing the part of the robots and trying to solve the problem presented to them. Solutions require creative problem-solving and out-of-the-box thinking. Once the humans think they have solved the problem, the robots demonstrate their solution to the same problem.

Be the Robot
When students are forced to act like robots, they can fully understand why robots are so profoundly stupid. Two different styles of robot control software are demonstrated, planning-based control and behavior-based control. A "robot" is made by having three blindfolded students link arms and pretend to be three key robotic systems: sensors, processors, and output effectors. The class ends with a discussion of the current state and future of robotics.

Message Passing
This is the most basic program the robots run, and is the foundation for many other behaviors. One participant in the source for a piece of information. Structured local communications are used to spread information across the entire group, in a process similar to the game of telephone. As the message spreads, it creates structure within the group that can be used to estimate the number of participants, to navigate, and to elect a group leader.

Leader Election (Prerequisite: Message Passing)
Swarms often need to elect one robot to be a leader. But when all the robots are the same, it can be surprisingly hard to develop a procedure that can accomplish this simple task reliably and efficiently. Participants are challenged to develop a procedure to accomplish this task using their knowledge of message passing.

Distributed Navigation (Prerequisite: Message Passing)
Can robots navigate without a map of their environment? Yes, as long as they act as landmarks for each other. Participants work together to develop an algorithm to direct one brave (blindfolded, if very brave) volunteer to the source of the message, using only neighboring "robots" as landmarks.

Averaging (Advanced Topic – limited to eight participants)
The ability to compute global averages is useful in robotics swarms and honeybee colonies. Armed with simple calculators, participants are challenged to compute the average of eight numbers, but without adding them together. If honeybees can do it, it can't be that hard, right?

Counting (Advanced Topic – Prerequisite: Message Passing)
Message passing can be used to estimate the number of participants, but what if the number needs to be known exactly? This lecture demonstrates a standard distribution algorithm for counting. It introduces the computer science topic of "trees," and is best suited for grades 7 and up.

Lemmings Programming Workshop
Help program a band of adorable, but cerebrally challenged, robots to escape from a maze to freedom. Inspired by the 1980s video game of the same name, this activity introduces behavior-based programming and swarm group behaviors. Participants use magnetic programming pieces to develop software for the robots, type it in, and test their designs ton the real swarm. Initial environments are simple to solve, but McLurkin has many challenging maze designs up his sleeve, including the dreaded double-constrictor-super-twister…
James McLurkin: Swarm Robotics: Invasion of the Robot Ants
PBS Nova ScienceNOW Profile James McLurkin
Robots for everyone. Rice's low-cost swarm robots are equally at home in lab, K-12 classes
Roboticist James McLurkin deploys his fleet at SolidWorks World