* Please note that while this speaker's specific speaking fee falls within the range posted above (for Continental U.S. based events), fees are subject to change. For current fee information or international event fees (which are generally 50-75% more than U.S based event fees), please contact us.
Top25 Speaker Voting

George Walther needs 4 vote(s) to make it into the Top 25 speakers on Speaking.com!
Speaker Booking Tip
"Tip: speakers bureaus provide added value that you cannot get by booking speakers directly. "
For Event Planners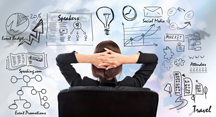 • Keynote Speaker Booking Toolkit.
• Booking a Celebrity Speaker.
• How to Find and Book the Right Speaker.
• Google+ Event Planning Forum.
• Tips for International Clients Booking U.S. Based Speakers.
Similar Speakers
Susan Scott

Best-selling author and visionary leadership development architect, Susan Scott, has enabled top executives worldwide to engage in vibrant dialogue with one another, with their employees…

David Stillman

Succession, leadership, talent management, diversity, social media - name a hot topic in business today and you better bet generational gaps are getting in the…

Erica Dhawan

Business strategist, motivational speaker, and innovation expert Erica Dhawan helps businesses decrease friction and increase freedom. A pioneer researcher in the field of "connectional intelligence,"…

Our client rep was a pleasure to work with. He was well organized and kept me updated every step of the way. The level of professionalism and the quality of the materials received were excellent. I will be in touch for future speakers!
Mattel
About SPEAKING.com
Established in 1994, we are exclusive agents for some of the world's leading experts, celebrities and professional speakers.
We offer event planners a fully staffed speaker logistics planning team, plus a personal SPEAKING.com Account Executive – a knowledgeable and trustworthy partner. We guarantee your satisfaction with your speaker and a smooth booking process.
Contact us today to book your favorite speaker.

"The content provided excellent take home value for everyone, in any type of career. I commend your research, analysis, technique, and content of your presentation. You have it down to a science... it was great!"
Education Chair, Young President's Organization

"The energy you exhibited in reviewing material, catalogs, etc. and your ability to work with the management team in understanding the business environment and the needs of the team made your material right on target."
Training Manager, Hewlett-Packard Company

"The messages were direct hits-the style was right for us. Your in depth analysis and follow-up has rewarded you with a solid understanding of Microsoft culture and core challenges ahead."
Manager, Enterprise Customer Unit, Microsoft

"I feel your talk was a great value for the money. I feel, for the money, I could not have bought the good will with my referring offices that your talk generated."
Director, Two Rivers Study Club

"You were listed as a speaker, however, the emotional and intellectual interactions that took place were amazing. You brought the audience to a level of understanding on the subject of communication that will not only undoubtedly help them in their lives and their careers, but also immediately raised the level of intensity of the group to the appropriate level.
V.P. of Clinical Affairs, Philips Oral Healthcare

"Your attention to detail helped overcome the most skeptical individuals to let them know that you understand our business and most importantly share the same objectives."
Sr. V.P. Quality, Customer Satisfaction, Ford Financial
What You Say Is What You Get : How to Master Power Talking, the Language of Success (Paperback)
Every time you open your mouth, you may be sabotaging yourself without even knowing it!

In every conversation business or personal; telephone or face-to-face what you say (and how you say it) determines what youll get. To project a more positive image, gain more cooperation from others, and give yourself a constant motivational boost, you must read this book!

Just released, What You Say Is What You Get shows you how to stop shooting yourself in the foot, and instead, put your best foot forward. Acclaimed author George Walther has been teaching audiences and readers around the world how they can make simple word and phrase transformations that make all the difference in their personal success outcomes. This newly re-published volume is an update of his earlier book Power Talking: 50 Ways to Say What You Mean and Get What You Want, popular world-wide and published in many different languages.

With our complicated lives and information overwhelm these days, wouldnt it be nice to find an easy-to-read guide that reveals a simple, uncomplicated system for getting more of the results you want? This is it.

Whether youre phoning a prospective client, heading off to a social engagement with friends, calming an upset customer, or negotiating a pay raise with your boss, you will get more of what you want by using the Power Talking system.

This books style makes it easy to read a short chapter, immediately glean actionable tips, see how the new phrasing works in realistic day-to-day applications, and immediately change what you say. When you change what you say, you change what you get.
Order Here


Heat Up Your Cold Calls: How to Get Prospects to Listen, Respond, and Buy (Paperback)
Learn the New Way to Cold Call—Effectively, Ethically … and Legally Salespeople hate making cold calls. Now, you don't have to. As a sales professional, you need to find and approach a steady stream of qualified prospects. But the legal landscape and new technologies, along with the explosion of competing solicitations, have numbed the decision makers you've been targeting, making old-fashioned cold calling ineffective, frustrating and, as result of the National Do-Not-Call Registry, often illegal. With Heat Up Your Cold Calls, you'll discover author George Walther's new model for pursuing prospects and making contact by phone. Walther will teach you how to convert obstacles like voice mail, overzealous assistants, and skeptical prospects into powerful allies that help you ""warm up"" prospects and achieve better sales results.
Order Here


Phone Power: How to Make the Telephone Your Most Profitable Business Tool (Paperback)
Do you sometimes feel you′re caught in an endless game of "telephone tag?" Do you always manage to call when an important person is "in a meeting?" Have you ever felt like ripping the phone out of the wall in frustration? Then this books is for you! There′s more to using the telephone than dialing the right number. The phone is your link to clients, associates, vendors, and customers - start making the most of it. - Short-circuit those endless games of "telephone tag." - Penetrate tangled bureaucracies to reach virtually anyone. - Project a more powerful image using "Power Talking" phrases. - Stop wasting time and accomplish more with your phone. - Sell, negotiate, collect past-due bills, adn upgrade PR efficiently.
Order Here

LIFE IS FAR TOO SHORT— WHAT ARE WE WAITING FOR?
How to Live and Work with Passion and Adventure - Now, While You're Alive
What's stopping you and those with whom you work from getting the most out of life? What is blocking you from fast-forwarding your business and career? … from nurturing deeply satisfying personal relationships? … from leading an extraordinarily effective team? … from fostering fierce loyalty among your customers?
Time's a-wastin'! This presentation will inspire you to seize every day as an invitation to leap over your obstacles. Whether you're launching a new marketing initiative, spurring your work team to the pinnacle of productivity, or infusing your personal relationships with renewed passion, this program delivers what you need.
As you will learn, maximizing your professional results and creating a life you love living requires the same three crucial skills. Your success in approaching business challenges or facing personal crises hinges upon your ability to speak up and send your message, cultivate an adventuresome spirit, and, of course, nurture your relationships.
Delivered by a renowned business expert, this presentation combines global adventure stories with frontline tales from the jungles of commerce. The result? A practical action plan you'll begin implementing even before you leave the room.
Client benefits and audience takeaways:
The next roadblock you encounter will be transformed. It'll become an invitation to discover creative ways to unravel what you thought was a tangled mess.
You'll quickly develop rapport and open, productive communication channels—even with confounding co-workers and cranky customers.
Everyone you share your life with will feel uplifted and will in turn uplift you.
You'll identify the obstacles that have prevented you from making your dreams come true and learn to blast right through them.
You'll leave the room with an action plan and a commitment to take specific steps forward— NOW— toward attaining your professional and personal goals.
---
UPSIDE-DOWN MARKETING
How to Make Customers Want to Buy from You Forever
The three vital jobs in building profitable customer relationships are normally undertaken in exactly the wrong order. This program shows why and how it's much more profitable to shore-up and salvage at-risk accounts than to hunt for new ones.
Client benefits and audience takeaways:
Master a simple, surefire system for defusing conflicts, whether they involve customers or colleagues. Transform your most hostile or unhappy customers into your biggest fans using the H-E-A-T formula.
Learn inexpensive, constructive techniques for building customer loyalty.
Realign your sales resources in accordance with your most leveraged profit opportunities; turn priorities "upside-down" to attain maximum profits.
---
GUT-LEVEL LEADERSHIP
Go With Your Gut
-
Make Better Decisions and Communicate Your Charisma
Great leaders seem to innately reach gut-level conclusions with uncanny accuracy. Recent scientific breakthroughs, though, reveal that these luminaries have actually learned to hone their sixth senses and reach sound deductions that go well beyond what the facts tell them. Surprisingly, anybody can learn to hear and perfect those signals, creating delighted customers and more productive teams. This presentation includes step-by-step processes for developing, tapping, and capitalizing on intuitive wisdom.
Client benefits and audience takeaways:
Make better decisions— with conviction— when you've learned to scientifically verify the wisdom of your own judgment.
Accelerate your analyses to capitalize on opportunities quickly, while others are still wavering indecisively.
Project a more confident image for yourself, and for those you lead, as well as encouraging intuitive thinking that stimulates creative problem solving.
---
WHAT YOU SAY IS WHAT YOU GET
How to Master "Power Talking" — The Language of Success
Most people acknowledge the power of positive thinking. Few, though, translate positive thoughts into verbal action. It's what you say, and how you say it, that gets you ahead in life.
Recent scientific studies have shown that the way you speak dramatically influences your success in business—and at home. Nothing is more important than superb communication skills when it comes to advancing your career, winning and keeping customers, negotiating agreements, strengthening personal relationships, and resolving disputes.
Power Talking is a system of using common words to create uncommonly positive outcomes. We now know that "power talkers" sell more, live longer, healthier lives, and achieve their career and personal goals faster. In this program, participants learn to identify powerless, self-sabotaging phrases in their everyday conversations and discover powerful replacements that generate superior results.
The Action Plan focuses on nine Power Talking principles to implement daily. This "language of success" helps all people who talk! Senior management, supervisors, admin staff, sales and service personnel, and spouses—everyone can improve their communication effectiveness using George's tactics.
Client benefits and audience takeaways:
More positive, productive communication that ensures you say what you mean and get what you want
Smoother conflict resolution, higher sales, better cooperation with subordinates and peers
Enhanced self-image that results in projecting far more favorable first—and ongoing—impressions
This topic has widespread impact both on and off the job, so position Power Talking for maximum exposure. It is an ideal general session or opening program, especially when paired with a follow-up seminar as a breakout session for sales or customer service personnel, or for your leadership team.
PHONE POWER:
How to Make the Telephone Your Most Powerful Business Tool
With its highly packed content, this presentation offers dozens of practical strategies and techniques, ranging from reducing voice-mail frustrations, to projecting better vocal impressions, to adopting specific phrasing for everyday phone encounters that will get you the best results.
Client benefits and audience takeaways:
You'll become more efficient with every phone call— saving you time, eliminating frustrating "phone tag" games, and making much better use of voice mail.
You'll also become more effective at getting your point across, quickly developing rapport, negotiating, and projecting a positive image for yourself and your organization.
Every contact with colleagues and customers will forge stronger, longer-lasting and more profitable relationships. You'll immediately embrace simple techniques that enhance the outcomes of every call.

Demo Video
In the first part of this video, George Walther begins his presentation by running to answer a ringing alarm clock. After turning it off, he says, "Sometimes wake up calls come just when you don't want them."
He talks about his own wake up call. It was after he had just earned his private pilot's license. In his excitement, he donated a flight to the charity auction The Starlight Foundation, an organization that helps critically ill children. A man who won asked George to help him propose to his girlfriend.
On the way to the location for the planned proposal, an unexpected situation happened during the landing. Although George, the man, and the man's girlfriend were okay, George remembers the event as his wake up call to pay attention to the gut feelings that guide him.
In the next part of this video, George talks about the advantages of allowing the brain to form new neural pathways, by slightly changing our daily routine. He uses the kind of music we tend to favor as an example: "When you leave this convocation today, it will be so tempting to turn on the radio and go to the same station you listen to all the time." He urges the audience to use the seek button on their radios to find other types of music. "When you subject your brain to music that it's not accustomed to, it gets to work!" he says to the audience.
For the last part of the video, George goes over The Three "Voice Lessons."
1. Send your message. Don't hold back. "Speak with passion," George urges the audience.
2. Seek your adventures. Shift your perspective by thinking in fresh and different ways.
3. Savor your relationships. As George reminds us: "Life is much too short."
George concludes his presentation by asking the audience, "What do you need—a wake up call?"
Keynote Speech Clip
Workshop