* Please note that while this speaker's specific speaking fee falls within the range posted above (for Continental U.S. based events), fees are subject to change. For current fee information or international event fees (which are generally 50-75% more than U.S based event fees), please contact us.
Top25 Speaker Voting

Garrett Sutton needs 4 vote(s) to make it into the Top 25 speakers on Speaking.com!
Speaker Booking Tip
"Tip: speakers bureaus provide added value that you cannot get by booking speakers directly. "
For Event Planners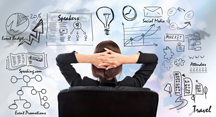 • Keynote Speaker Booking Toolkit.
• Booking a Celebrity Speaker.
• How to Find and Book the Right Speaker.
• Google+ Event Planning Forum.
• Tips for International Clients Booking U.S. Based Speakers.
Similar Speakers
Dr. Farrah Gray

Entrepreneur and social activist Dr. Farrah Gray went from public assistance to self-made millionaire by the age of fourteen. Dr. Gray dispels fallacies about success…

Dave Horsager

David has worked to develop trusted leaders and organizations on five continents, with clients ranging everywhere from Wells Fargo and the New York Yankees to…

Karen Post

The Branding Diva®: A branding enthusiast, entrepreneur, and resilient businesswoman For more than 29 years, Karen Post has been developing solutions and implementing methods that…

Your speakers bureau was a tremendous resource for the NHL as we planned and executed our NHL Club Business Meetings. Their assistance with securing our keynote was invaluable. They provided detailed information in a timely manner which was crucial to the success of the event. The execution was seamless!
National Hockey League
About SPEAKING.com
Established in 1994, we are exclusive agents for some of the world's leading experts, celebrities and professional speakers.
We offer event planners a fully staffed speaker logistics planning team, plus a personal SPEAKING.com Account Executive – a knowledgeable and trustworthy partner. We guarantee your satisfaction with your speaker and a smooth booking process.
Contact us today to book your favorite speaker.

"Garrett Sutton is my corporate advisor for asset protection and privacy strategies. I highly recommend the services he and his staff at Corporate Direct provide. My Rich Dad always said to control everything while owning nothing. Garrett and his team will professionally assist you in accomplishing this important wealth protection objective."
Robert Kiyosaki,
Best Selling Author of Rich Dad Poor Dad

"Sutton Law Center made it so easy for me during a stressful time. You took care of all the paperwork and filing and all I had to do is sit back and wait for my corporation papers to come in the mail. I would not know the first thing to do to set up my corporation or where to file. You made it so easy to get my business license in California. Now I know I have the security of owning a company with all the right papers and was also able to set up my new bank account without a problem. I will always use your services. Thank you again."
Johnathan Flores,
President,
Flores Group Publications, Inc.

"The nature of the work that we will be doing will involve helping others to do what we have done and this network is a valuable resource for helping them to do that. Once again, thank you for putting this network together and we look forward to a long and profitable relationship for both ourselves and your network."
Steven Rice,
Hamilton, Montana

"I just wanted to say that I am halfway through How to Buy and Sell a Business and I can′t emphasize enough how much of a great resource this is. One can hear the voice of experience in your writing, and I can see very vividly the kind of pitfalls I am learning how to avoid. It′s amazing how a book that cost less than twenty dollars can save an aspiring entrepeneur from utter financial ruin."
Marli A. Creese,
Student

"Mr. Sutton, thank you so much for writing ABC′s of Getting Out of Debt! My wife and I have been struggling with finances for some time and need a reliable and honest way of getting out of debt. Your book outlined many great ways to fix and rebuild our credit. Within 5 years we will be out of debt, own our home, and will hopefully own and operate our own daycare. Thank you for your advice, and I look forward to reading more of your books."
Brandon Giddings,
Province, CO

"I am looking to do business online. I need a business name and tax ID to deal with the wholesale suppliers. I am also looking to acquire a property for cash flow. I want to protect this asset. I have read a few of Mr. Garrett Sutton′s books from the Rich Dad′s series: Own Your Own Corporation, The ABC′s of Getting Out of Debt, and Real Estate Advantages. I also listen to his audio CD, The Power of Owning Your Own Corporation, at least once a week. Excellent information!"
Giles Mirkovic,
Fort Lee, NJ

"As a Real Estate Broker/Owner of a large Coldwell Banker Office in San Jose, one would assume I would be aware of many of the topics that you covered in your informative seminar. Assuming gets many of us in trouble. The information made me aware of how vulnerable we are, no matter what our business is. I am a real estate professional, not an asset protection professional. Now I know where to go and how to cover my assets. I am thankful your seminar finally got me to see the light. When you gave examples of where "attack #1" will come from, followed by where "attack #2" will take place, I finally got the picture loud and clear. I highly recommend your seminar to all business professionals, especially those in real estate because we tend to think we don't need protection. After all, we have E&O protection. How scary is that thought? I am going to recommend to the Santa Clara County Association of Realtors to invite you every year to educate our members on the importance of asset protection from ′attacks.′"
Jerry Sato,
Broker,
Coldwell Banker,
The Professional Group Member: Broker Outreach Committee,
Santa Clara Association Of Realtors

"Like many, who have gotten off track for various reasons/excuses, it takes an action plan, and discipline to get on track. I′m a single mom, with a great job-elem. teacher, great kids, great physical health, living day to day and not making a dent into my credit card debt. Sure, I make all payments, even get them auto. withdrawn monthly and pay more than the minimum, but still find myself staring a dark tunnel. After checking your book out yesterday from the library, and voraciously reading and taking notes, the solution is all crystal clear. I devised the plan in paying off my 3 credit cards; a plan that finally makes sense, and I should be debt-free (20,000.00- so nauseating!) in exactly 1 year from now. So, a simple thank you, for writing such a no nonsense book, and not making the reader feel like they′ve failed."
Melanie from Michigan
Rich Dad′s Advisors: The ABC′s of Writing Winning Business Plans: How to Prepare a Business Plan That Others Will Want to Read
Written by Garrett Sutton, Esq., Rich Dad′s Advisor and author of the bestseller Own Your Own Corporation, The ABC′s of Writing Winning Business Plans illustrates how to:

Focus your vision for the business
Format your plan to impress
Use your business plan as a tool
Deal with competition
Attract the funding you need
Identify strengths and weaknesses
Draft a plan for real estate
Understand your financials


Order Here




Rich Dad′s Real Estate Advantages: Tax and Legal Secrets of Successful Real Estate Investors
There are currently seven books in the Rich Dad′s Advisors series, with over one million copies in print. Three in the series, Real Estate Riches, Loopholes of the Rich, and Real Estate Loopholes, became Wall Street Journal bestsellers.

Garrett Sutton is an attorney with over 20 years of experience in assisting individuals and businesses to determine their appropriate corporate structure, limit their liability, protect their assets, and advance their personal and financial goals.

Each Rich Dad′s Advisors ABC′s book features a foreword by Robert T. Kiyosaki, bestselling author of Rich Dad Poor Dad.
Order Here




Own Your Own Corporation: Why the Rich Own Their Own Companies and Everyone Else Works for Them
Own Your Own Corporation reveals how private citizens can take advantage of incorporating themselves and their business to save thousands of dollars in taxes and protect themselves against financial disaster.
Order Here





Garrett Sutton has over twenty-five years experience assisting and advising entrepreneurs, families and businesses in selecting the appropriate corporate structures to limit their liability, protect their assets and advance their personal and financial goals through real estate investments and other means of wealth creation.

An author, speaker and a member of an elite group of "Rich Dad′s Advisors" hand selected by author Robert Kiyosaki, Garrett speaks to investors and entrepreneurs on a variety of topics including:

Liability limitation
Wealth creation
Asset protection strategies
Asset protection planning
Nevada Incorporation
Wyoming Incorporation
California Incorporation
Nevada LLC
Wyoming LLC
California LLC
LLC Formation
Operating Agreements
Buying Real Estate
Buy-Sell Agreements
Articles of Incorporation
Business Incorporations
Asset Protection Trusts
Asset Protection Corporations
Asset Protection service
Registered and Resident Agent Services
Mail Forwarding
Office Packages
Various other business and real estate issues
Interview