* Please note that while this speaker's specific speaking fee falls within the range posted above (for Continental U.S. based events), fees are subject to change. For current fee information or international event fees (which are generally 50-75% more than U.S based event fees), please contact us.
Top25 Speaker Voting

Frans Johansson needs 4 vote(s) to make it into the Top 25 speakers on Speaking.com!
Speaker Booking Tip
"Tip: speakers bureaus provide added value that you cannot get by booking speakers directly. "
For Event Planners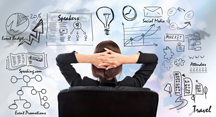 • Keynote Speaker Booking Toolkit.
• Booking a Celebrity Speaker.
• How to Find and Book the Right Speaker.
• Google+ Event Planning Forum.
• Tips for International Clients Booking U.S. Based Speakers.
Similar Speakers
Tal Ben-Shahar

Teaching to over 1400 Harvard University students, Tal Ben-Shahar's course on "Positive Psychology" was the most popular in the University, while another course, "The Psychology…

Nido Qubein

Dr. Nido Qubein came to the United States as a teenager with little knowledge of English, no contacts and only $50 in his pocket. His…

Inder Sidhu

Inder Sidhu is senior vice president of Strategy and Planning for Worldwide Operations at Cisco, the $40 billion worldwide leader in networking for the Internet.…

The retreat was extraordinary, professional, and personable. Everyone is still raving about it. They said it was the best experience of their lifetime. And, I would have to agree. I most certainly hope we have the opportunity to work together in the future.
YPO: Young Presidents' Organization
About SPEAKING.com
Established in 1994, we are exclusive agents for some of the world's leading experts, celebrities and professional speakers.
We offer event planners a fully staffed speaker logistics planning team, plus a personal SPEAKING.com Account Executive – a knowledgeable and trustworthy partner. We guarantee your satisfaction with your speaker and a smooth booking process.
Contact us today to book your favorite speaker.

"Captured the tremendous business value of cultural diversity and its impact on innovation—in a very fun way! Frans' presentation was one of the highlights of our conference."
Sam Palmisano, former Chairman and CEO, IBM
"Frans' talk was clearly among the finest I have seen on campus in my 7 years at Purdue and my 18 years in and around the Purdue media community."
Phillip Fiorini, Purdue University
"@Frans_Johansson You inspired and motivated us tonight to find emerging patterns, engage our passion and network outside our comfort zone."
@WHSRowe
"Frans was phenomenal! He delivered a powerful message on diversity and innovation that has our partners still talking weeks later. His energy was palpable, and everybody loved him."
Angela Wilkes, Owens & Minor
"Engaging, inspiring and very thoughtful!"
Stefan Johnsson, SVP and CFO, Volvo
"Just had @Frans_Johansson bring my entire world into alignment..."
@iunlearn
"The creative spark that Frans started still burns hot today... six months later."
Jay Lenstrom, CEO, The Radiate Group
"Excellent #gartner keynote by the impossibly energetic @Frans_Johansson on embrace unexpected outcomes and failing quickly and often."
@thommeread
"A superb job. The evaluations are in... We have never received a 100%, on speaker evaluations. You are awesome!"
Texanna Reeves, Vice President, Sodexho
"If you ever have the ability to listen to @Frans_Johansson, I strongly encourage u to do so. Greatest talk of the week2me."
@AlexanderKrenn1
"Seen a lot of keynotes over the years, but Frans Johansson's presentation this morning goes to the top of my list! Fantastic!"
@tqmock
"One of the best speakers I've ever heard. Inspiring innovation in all we do."
@SmealMBA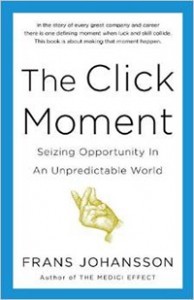 The Click Moment
In today's market, the rules are changing so fast that formulas for success are disintegrating, and multi million-dollar insights can strike anybody, anywhere, at any time.
In short, randomness is taking over.
The Click Moment is the first in-depth study of how randomness, serendipity and, yes, luck are the new normal. More than that, it is a compendium of 100% actionable information for how smart entrepreneurs, innovators and business leaders can set "bait" for their own click moments, notice them when they happen and harness their vast potential immediately.
If a good idea is a light bulb going off over your head, a true click moment is a supernova exploding at 100 billion degrees. Frans deciphers these miniature miracles, showing that success is random but randomness is ours to control.
The Medici Effect: What Elephants and Epidemics Can Teach Us About Innovation
Why do so many world-changing insights come from people with little or no related experience? Charles Darwin was a geologist when he proposed the theory of evolution. And it was an astronomer who finally explained what happened to the dinosaurs.
Frans Johansson's The Medici Effect shows how breakthrough ideas most often occur when we bring concepts from one field into a new, unfamiliar territory, and offers examples how we can turn the ideas we discover into path-breaking innovations.
The Rise of the New Intersectional Leader
Extraordinary leaders are proven in uncertain times, and today's new normal&emdash;of market volatility, policy shifts and complex forces&emdash;is challenging leaders at every level. In this talk, Frans Johansson makes the case for why tomorrow's most successful leaders need to be Intersectional Leaders who can tear down organizational silos, work across diverse and divergent perspectives, and execute with agility in face of uncertainty. The audience will discover how they can develop their leadership abilities to inspire and lead change, quickly create and develop diverse teams that drive high performance, and impact growth, even when the answer is not so obvious.
Seizing Opportunity in an Unpredictable World
In today's fast-changing and unpredictable world, the rules are changing so fast that the tried-and-true formulas for success are disintegrating. Based on the ideas in his provocative new book, THE CLICK MOMENT, Frans Johansson obliterates some of the most recognized successes as post-constructions that ignore the unexpected forces—click moments—that changed the game. Johansson makes a compelling case for why embracing unpredictability is the key to standing apart, and outlines eye-opening steps that every organization, team and individual can use to find, create and leverage click moments into a winning strategy.
Groundbreaking Innovation at The Intersection
In this talk, based on THE MEDICI EFFECT, Frans Johansson challenges the world where expertise is rewarded, walls are raised every day to divide and exclude, and comfort zones are commonly untested. He urges individuals to step into the Intersection, allowing ideas and concepts from different fields, disciplines and cultures to converge. The result is what Johansson calls the "Medici Effect"—the supercharged creative output that leads to radical innovation. Johansson shows how the Medici Effect has led companies to become global leaders; products and services to yield huge margins; and the most unlikely of people to outdo the experts in their own fields.
Diversity Drives Innovation
The movement of people, convergence of science and advances in technologies mean that companies, cities and nations must compete on a global basis. In this new order of rising economies and beleaguered markets, understanding how to use diversity as power is more important than ever. Frans Johansson redefines diversity beyond traditional social identifiers, and demonstrates how today's most innovative companies have used their existing diversity as a strategy to drive growth and profitability. Johansson clearly and persuasively delivers a roadmap for how any company can make diversity its most powerful competitive advantage on the innovation front.
Keynote Speech
"The chances of success are infinitely greater if the ideas you combine are far apart," explains Frans Johannson, taking the burkini as an example of a pair of incredibly diverse concepts that have come together to make a great success. "If you can find that connection," he goes on, "you can come up with something unique."
Frans Johansson Demo Video
TEDxNASA - Frans Johansson: The Future is Diverse and Unexpected