* Please note that while this speaker's specific speaking fee falls within the range posted above (for Continental U.S. based events), fees are subject to change. For current fee information or international event fees (which are generally 50-75% more than U.S based event fees), please contact us.
Top25 Speaker Voting

Eric Saperston needs 5 vote(s) to make it into the Top 25 speakers on Speaking.com!
Speaker Booking Tip
"Tip: find a speaker in your local area to save on travel costs. Most speakers will also reduce their keynote fee for local events. "
For Event Planners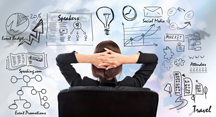 • Keynote Speaker Booking Toolkit.
• Booking a Celebrity Speaker.
• How to Find and Book the Right Speaker.
• Google+ Event Planning Forum.
• Tips for International Clients Booking U.S. Based Speakers.
Similar Speakers
Dave Pelzer

#1 New York Times Best Seller List and #1 International Best Selling Author, Recipient of The National Jefferson Award In a word, Dave Pelzer embodies…

Lance Allred

Born hearing impaired and raised in a polygamous commune, Lance Allred started playing organized basketball later than most future pro-athletes; he was in the eighth…

Rachael Chong

Named one of the World Economic Forum's Young Global Leaders, Rachael Chong is an exceptional young woman who has truly committed herself to making the…

I just wanted to send a quick follow-up note to say – THANK YOU! I appreciate your partnership, and perseverance in helping us to find the right speaker for our group. Our speaker was absolutely excellent! The group loved him; it was perfect.
DeVry Education Group
About SPEAKING.com
Established in 1994, we are exclusive agents for some of the world's leading experts, celebrities and professional speakers.
We offer event planners a fully staffed speaker logistics planning team, plus a personal SPEAKING.com Account Executive – a knowledgeable and trustworthy partner. We guarantee your satisfaction with your speaker and a smooth booking process.
Contact us today to book your favorite speaker.

"The standing ovation at the end was a response that Eric earned - he′s the real deal."
--Alan Weber
Founding Editor, Fast Company Magazine

"A year after brining Eric Saperston and his great film, ′The Journey′ to The Coca-Cola Company, people still thank me for sharing this powerful story of leadership, vision and persistence."
--Arlene Glaser
Controller, Customer and Alliance Marketing, The Coca-Cola Company

"Thanks for sharing ′The Journey" with us. The overwhelming response from Nike employees has been unbelievably positive."
--Les Badden,
Nike Design

"Eric Saperston′s personal vision and tenacious spirit ignited the room. Bring him to your company. I did and I′m still being thanked."
--Ronda Rogers
Human Resources, TBWAChiatDay

"Eric′s story is one of adventure, risk, intrigue and personal success. His message is one of insurmountable obstacles being overcome with hope, hard work, passion, perseverance and love. It is with great pleasure I recommend this outstanding and captivating storyteller and inspirational speaker."
--Brian Tenclinger
Director of Greek Affairs, Iowa State University

"Clearly, you are committed to challenging students to use their gifts and to realize their dreams. ′The Journey′ will live in the hearts and souls of our students for a long time to come."
--Kimberly Tittle
Program Coordinator, Loyola Marymount University

"Eric Saperston is a charismatic speaker with a very important message to be heard. I highly recommend his presentation for college students, parents, politicians, teenagers- basically for anyone with a heart."
--Jennifer Foley
Community Alternative Spring Break Coordinator, The University of Georgia

"The students are continuing to carry on ′conversations′ with each other about your presentation. Your energy and enthusiasm are contagious!"
--Shirley Fox
Student Center Director, North Dakota College of Science

"Your passion, enthusiasm and commitment to your journey are definitely inspirational."
--Elisabeth Broughton
Assistant Dean of Students, University of Florida

"You will not want to miss seeing "The Journey"! This program will motivate people to look at their lives in a significant way and desire to make a difference."
--Patty Aijian
Coordinator for Training and Development, University of California, Santa Barbara

Partial Client List:

Hospital Association of Southern California
Prudential Fox
Sharp Healthcare
Tennessee Hospital Association
Nat′l Assoc of Catering Execs
Hilton Hotels- Phoenix, AZ
AIG SunAmerica
Million Dollar Round Table - San Diego, CA
United Jewish Fed - Pittsburgh
HD Vest
Kaiser Permanente
Wausau Insurance
Fairview Health Services
California Association of Directors of Activities
Wachovia - Cincinnati, OH
Coast Hotels
Hilton Hotels- Houston, TX
Wachovia - Grand Rapids, MI
Longwood University
Concepts Worldwide
General Mills
Zeta Beta Tau Fraternity Conference
Iowa Assoc. for Business & Industry
Coca-Cola Company
United Jewish Federation
TBWAChiatDay
Illinois Home Care Council
Assurant Solutions
University of New Hampshire
Iowa State University
Iowa Chamber of Commerce
Suffield Academy
Texas Credit Union League Conference
Asst. Club Mgr. Assoc.
Western Illinois Univ.
Houston MPI
Accenturen
Toyota Community Scholars
Coast Hotels & Resorts
Fast Company Magazine
Northern St. Univ.
Syracuse Univ.
College of DuPage
Springfield College
LOMA Conference
AFFLINK-Univ. of Alabama
Northern Illinois Univ.
Loyola Marymount University
Nike
ERIC'S VISION
PERSONAL MISSION
To build a community of kindred minds and hearts through entertaining stories that capture the human spirit and inspire all of us to live extraordinary lives.

WHAT ERIC WILL SPEAK ABOUT
How to sell an idea, product or vision with a tenacious spirit and produce extraordinary results. How to build a phenomenal team of people who are excited, passionate and committed to your organization, themselves and to enrolling others in helping the company ensure a successful and profitable journey.

Why no matter how big the organization, never underestimate the power of the individual to make a difference.

Eric looks forward to coming to your organization and is able to provide the following performance options:

Show the award-winning feature film "The Journey" and have Eric talk afterwards (2 hours)

Have a special evening of music and storytelling with Eric and multi-platinum recording artist Edwin McCain on their award-winning "The Journey Unplugged." (2 hours)

Show the award-winning short film "Reflections from the Road" and have Eric build a talk around your event theme. (45 min. – 1 hour and 15 min.)

Eric Saperston's keynote address (20-40 min.)

In addition, if you have a special need, tell us about it and we'll work with you to create an entertaining and impactful event for your organization.