* Please note that while this speaker's specific speaking fee falls within the range posted above (for Continental U.S. based events), fees are subject to change. For current fee information or international event fees (which are generally 50-75% more than U.S based event fees), please contact us.
Top25 Speaker Voting

Don Peppers needs 4 vote(s) to make it into the Top 25 speakers on Speaking.com!
Speaker Booking Tip
"Tip: ask your speaker to do a book signing or attend a VIP meal with your guests. "
For Event Planners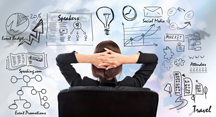 • Keynote Speaker Booking Toolkit.
• Booking a Celebrity Speaker.
• How to Find and Book the Right Speaker.
• Google+ Event Planning Forum.
• Tips for International Clients Booking U.S. Based Speakers.
Similar Speakers
Philip Kotler

Dubbed "The Marketing Guru" and "The Most Influential Marketer of All Time," Dr. Philip Kotler has secured standing as one of the great business thinkers…

Paul Orfalea

Bestowed with the task of Xeroxing his study group's research paper, Paul Orfalea discovered a hopelessly long line of people at his local copy center.…

Bill McDermott

One of the world's most recognized authorities at putting the customer front and center, Bill McDermott is widely credited for turning around tech giant SAP's…

My account executive was very professional as well as patient with us. The entire experience of working with your agency was cordial and professional, with attention to all the, sometimes complicated, important details.
U.S. Department of Agriculture
About SPEAKING.com
Established in 1994, we are exclusive agents for some of the world's leading experts, celebrities and professional speakers.
We offer event planners a fully staffed speaker logistics planning team, plus a personal SPEAKING.com Account Executive – a knowledgeable and trustworthy partner. We guarantee your satisfaction with your speaker and a smooth booking process.
Contact us today to book your favorite speaker.

"You were tremendous. On behalf of the Harvard Business School′s marketing faculty, thank you most sincerely for participating so effectively in the Conference on the Future of Interactive Marketing."
John Deighton, Associate Professor of Business Administration, Harvard Business School

"Thank you for your outstanding contribution to the Retail Advertising Conference ′96. Your efforts and devotion to the industry have made a tremendous impact on helping make this the greatest RAC in history!"
Doug Raymond, Kelly Lamb and Maureen Macke, Retail Advertising & Marketing Association

"To see a room full of members on the edge of their seats taking notes is an association′s dream! Thank you again for helping to make our convention such a tremendous success!"
Nancy J. Fletcher Leslie A. Donohue, Outdoor Advertising Association of America, Inc.

"I′m hearing nothing but raves from our attendees regarding your session. If ever there′s someone who wants a perspective on what you can contribute to a meeting, send them my way."
Jonathan C. Abbott, Senior Vice President, PBS

"We′ve received a lot of positive feedback on your plenary address, as indicated in the following sample comments: Outstanding presentation -- worth the price of the whole convention! Excellent plenary; motivational speaker who knows the marketing game. Dynamic... hits the key issues right on the head!"
Michael McCabe, The Canadian Association of Broadcasters

"Wow! What an eye-opener your presentation was at HSMAI′s Advertising & Public Relations University! I look forward to getting back to work so I can begin to start marketing a whole new way."
Ken Hawkins, Director of Sales & Marketing, Marriott
Extreme Trust: Honesty as a Competitive Advantage
How companies can stay competitive in a world of total transparency.

With their first book, 1993′s The One-to-One Future, Don Peppers and Martha Rogers introduced the idea of managing interactive customer relationships, long before the Web and social networking made it standard business practice. With Extreme Trust, they look to the future once again, predicting that rising levels of transparency will require companies to protect the interests of their customers and employees proactively, even when it sometimes costs money in the short term.

The importance of this "trustability" will transform every industry. Retail banks won′t be able to rely as much on overdraft charges. Consumers will expect retailers to remind them when they have unused balances on gift cards. Credit card companies will coach customers to avoid excessive borrowing. Cell phone providers will help customers find appropriate calling plans for their usage patterns.

Success won′t come from top-down rules and processes, but from bottom-up solutions on the part of employees and customers themselves. And the most successful businesses will earn and keep the extreme trust of everyone they interact with.
Order Here




Managing Customer Relationships: A Strategic Framework / Edition 2
Praise for Managing Customer Relationships A Strategic Framework

"Peppers and Rogers do a beautiful job of integrating actionable frameworks, the thinking of other leaders in the field, and best practices from leading-edge companies."
Dr. Hugh J. Watson, C. Herman and Mary Virginia Terry Chair of Business Administration, Terry College of Business, University of Georgia

"Don and Martha have done it again! The useful concepts and rich case studies revealed in Managing Customer Relationships remove any excuse for those of us responsible for actually delivering one-to-one customer results. This is the ultimate inside scoop!"
Roy Barnes Senior VP of Customer Strategy, Marriott Vacation Club International

"Every company that has customers has needed a reference guide like this for a long time. Peppers and Rogers are uniquely qualified to provide this essential tool for the field they helped to create."
Jim Ryan CEO, Carlson Marketing Group
Order Here




Rules to Break and Laws to Follow: How Your Business Can Beat the Crisis of Short-Termism
Praise for Rules to Break & Laws to Follow: How Your Business Can Beat the Crisis of Short-Termism

"A fascinating, highly readable synthesis of business principles, technology, sociology and common sense, Rules to Break and Laws to Follow persuasively shows the connection between customer trust and business profits, and then explains how to make it happen. As a bonus, you′ll learn how to make your company more innovative, how to ensure your employees actually enjoy what they′re doing, and how to deal with the kinds of service and quality breakdowns that occasionally plague any company, even a well-managed one. This book should be on your required reading list."
—Stephen M. R. Covey, bestselling author of The Speed of Trust: The One Thing That Changes Everything

"Over the years, Peppers and Rogers have given me valuable advice about navigating the changing business landscape. This book is a must-read for managers who want to empower their employees and customers to make change their ally."
—Jim McCann, founder and CEO of 1-800-FLOWERS.COM
Order Here





Culture of the Customer


The 3 C's of a Sustainable Business – Colleague, Channel, and Customer
If You're Seeking Customers for Your Products, You Need a New Navigation System
Global Efficiency, Local Autonomy and Competitive Advantage

Customer Experience


Bad Service Bulletin: You Can't Un-Google Yourself
Please Press " * " for Superlative: The Value of Your Front Line Contact Centers
Dancing Shoes for Honeybees: Word of Mouth, Buzz, and Social Networks
The Strontium-90 Effect: A Customer Experience Lasts Longer than You Think

Leadership in the New Economic World Order


Competing for Trust: Post Crisis Strategies for a Twitter Economy
Leadership in Times of Challenge and Opportunity
You Can't Outrun a Bear Market, But You Can be Ready for the Recovery
Radical Times Require Radical Action: Leaders Needed, Inquire Within

Enterprise Engagement—Enabling Your Brand Ambassadors


The Compelling Economics of Enterprise Engagement
You Can Lead a Force to Water, But You Can't Make them Think
Is Your Corporate Culture an Advantage or an Albatross?
The Company You Keep: Employee Culture for Competitive Survival

Ethics and Trust as KPI's for Success


Violate Your Customers' Trust, and Kiss Your Asset Good-Bye
Have I Ever Lied to You? Ethics as the Basis for Business Strategy
Cultivating Trust isn't Expensive – It's Essential!
Integrity Isn't Elastic: Ethics and Trust Can Never be Part-Time Values

Innovation


Bits, Bytes and Bucks: Monetizing New Technology and Relationships
She Blinded Me with Science: Tomorrow Comes Faster Than It Used To
Excellence or Innovation? Pick One
Innovation & Advantage: Driving Creativity for Competitive Stance
The Wisdom of Dissent: Innovative

Decisions Require Diverse Points of View Looking Forward


Social Networks and How to Leverage Them
Tweet, Google, Bing, POP - Ride the Bubble, Avoid the Drop
Merging with Our Machines: PMT, WOM and Society
The 1to1 Future: Are We There Yet? Metrics for the Long-term
Long-Term Leadership in a Short-Term World
Return on Customer: Breaking the Rules to Maximize Enterprise Value
Have You Looked at Your Data Lately? You Can Get More for Less
Customers Are Like Little Financial Assets, with Collective Memory

Relationship Strength and Loyalty


The Three Rs of Loyalty: Relationship, Reward, Recognition
At What Price Loyalty? ~ The Six Myths of Customer Loyalty
Loyalty IS the New Black: Best Practices and the Value of Relationship Strength
Keynote Speech
Demo Video
Interview
Keynote Speech
Induction into the DMA Hall of Fame