Top25 Speaker Voting

Doc Hendley needs 4 vote(s) to make it into the Top 25 speakers on Speaking.com!
Speaker Booking Tip
"Tip: some speakers might provide one of their popular book titles as a free gift to your audience. "
For Event Planners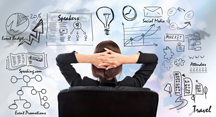 • Keynote Speaker Booking Toolkit.
• Booking a Celebrity Speaker.
• How to Find and Book the Right Speaker.
• Google+ Event Planning Forum.
• Tips for International Clients Booking U.S. Based Speakers.
Similar Speakers
E.J. Dionne

Syndicated columnist E.J. Dionne is one of the most widely read and highly respected political analysts in the country. In addition to writing for the…

Lenora Fulani

For over three decades, Lenora Fulani has tirelessly crusaded against social injustice and political corruption. The spirited development psychologist is perhaps best known for her…

Ellen Goodman

For decades, iconic columnist Ellen Goodman has shared her thoughts on the tumult of social change and its impact on families. Describing herself now as…

My account executive was very professional as well as patient with us. The entire experience of working with your agency was cordial and professional, with attention to all the, sometimes complicated, important details.
U.S. Department of Agriculture
About SPEAKING.com
Established in 1994, we are exclusive agents for some of the world's leading experts, celebrities and professional speakers.
We offer event planners a fully staffed speaker logistics planning team, plus a personal SPEAKING.com Account Executive – a knowledgeable and trustworthy partner. We guarantee your satisfaction with your speaker and a smooth booking process.
Contact us today to book your favorite speaker.

"Doc was not only charming and modest, he is one of the most inspiring speakers I have ever heard. He takes you on an emotional journey to communities whose living conditions are unimaginable to most of us, and his ability share his vision, his passion, his commitment and his excitement for his global mission has ignited a flame of passion in our membership as well. We have had the pleasure of Doc's company at all of our events since that one last winter, and we have united behind him and his efforts to make a difference in the world. We are better people as the result of knowing Doc... We think Doc is indeed a 'HERO!'"
Carol Owen, VP, Site Southeast
"Doc is a fantastic person in every way. His humility and dedication to making the world a better place is contagious for children and adults. His colorful and human stories of Africa and his work kept these youngsters captivated. I enthusiastically recommend him."
Scott Brogan, Founding Director, Brilliant Lecture Series—Conversations with Brilliance
"Doc Hendley is the epitome of the individual who has made a difference. He never planned to do this but when he saw a need, he saw that he had a talent to actually direct efforts at improving that need. As a result literally tens of thousands of people around the world now have clean drinking water they did not have before Doc Hendley came along. I am honored quite frankly to have Doc Hendley graduate as a graduate of NC State."
Dr. Jim Woodward, Chancellor, NC State University
"Doc Hendley is setting a compelling example of the value of hard work and a vision to help others. He has taken a common place object and used it to mobilize communities in America to help suffering communities around the world. He is truly an exceptional North Carolinian and I want to praise him for his dedication to serving needy and suffering people. He has taken personal risks to do the hard work of providing water and clean water education in far flung locations around the globe."
Rep. Virginia Fox, North Carolina, 5th District, Winston-Salem
Wine to Water: A Bartender's Quest to Bring Clean Water to the World
The captivating story of an ordinary bartender who's changing the world through clean water.
Doc Hendley never set out to be a hero. In 2004, Hendley—a small-town bartender—launched a series of wine-tasting events to raise funds for clean-water projects and to bring awareness to the world's freshwater crisis. He planned to donate the proceeds through traditional channels, but instead found himself traveling to one of the world's most dangerous hot spots: Darfur, Sudan.
There, Doc witnessed a government-sponsored genocide where the number—one weapon wasn't bullets—it was water. The Janjaweed terrorists had figured out that shooting up a bladder containing 10,000 liters of water, or dumping rotting corpses into a primary water source is remarkably efficient for the purposes of mass extermination. With limited funds, Doc realized that he couldn't build new wells costing $10,000 a pop, but he could hire local workers to restore a damaged well for a mere $50 each. He'd found his mission. Today, Doc and Wine to Water continue to help stricken peoples repair and maintain water-containment systems in places like Darfur, Cambodia, Uganda, and Haiti.
Doc is a regular, rough-and-tumble guy who loves booze, music, and his Harley—but he also wanted to help. Wine to Water is a gripping story about braving tribal warfare and natural disasters and encountering fascinating characters in far-flung regions of the world. It is also an authoritative account of a global crisis and an inspirational tale that proves how ordinary people can improve the world.
Digging for Hope: Turning Wine to Water & Other Modern Day Miracles
How to do what we can with what we have
Illustrates the immense power of relationships to transcend perceived barriers
Proves the power of one to transform the impossible into the inevitable
Doc Hendley - keynote presentation at LinkedIn Talent Connect
"I looked around at what I had, and I thought well I've got plenty of access to booze, which is essential to have a good event, and I got loud music from yours truly," says Doc Hendley as he remembers the early days of his charity Wine to Water. Extolling the virtues of making the most of what you have available, he recalls, "That was all I had and within a month and a half the first Wine to Water event was taking place."
CNN Hero Doc Hendley
Doc Hendley Wine to Water CNN Hero
Doc Hendley, Founder of Wine to Water, appears at Catalyst University
TEDxAsheville - Doc Hendley - Extraordinarily Ordinary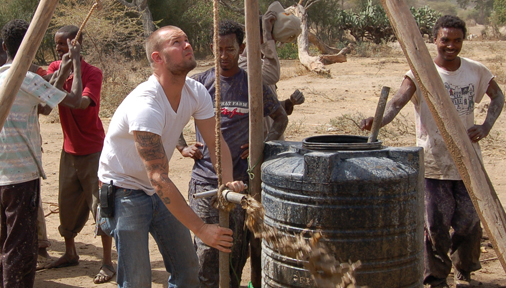 Doc Hendley is a CNN Hero and President and founder of the organization Wine to Water. The original concept of Wine to Water came from Hendley's experiences tending bar and playing music in nightclubs in Raleigh, North Carolina. Wanting to raise money to fight water related death and disease in a new way, he started ... more