* Please note that while this speaker's specific speaking fee falls within the range posted above (for Continental U.S. based events), fees are subject to change. For current fee information or international event fees (which are generally 50-75% more than U.S based event fees), please contact us.
Top25 Speaker Voting

David Nour needs 13 vote(s) to make it into the Top 25 speakers on Speaking.com!
Speaker Booking Tip
"Tip: some speakers might provide one of their popular book titles as a free gift to your audience. "
For Event Planners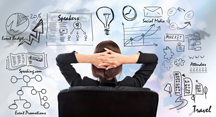 • Keynote Speaker Booking Toolkit.
• Booking a Celebrity Speaker.
• How to Find and Book the Right Speaker.
• Google+ Event Planning Forum.
• Tips for International Clients Booking U.S. Based Speakers.
Similar Speakers
Robin Koval

For over 25 years, Robin Koval has specialized in getting brands out of the shadows and turning them into household names. The marketing strategist was…

Troy Hazard

Entrepreneurial genius, Troy Hazard has founded and nurtured twelve businesses over two decades. He's taken charge of businesses that are a few days from bankruptcy,…

Jackie Huba

Jackie Huba challenges people to express the best in themselves while teaching them effective ways to market their brand through social media, participatory culture, and…

Working with your speakers bureau has been a pleasure. Everyone on your team was extremely responsive and informative, and really helped us to customize our event. I will be sure to reach out to your agency again in the future with any speaker needs that I may have.
The Advisory Board Company
About SPEAKING.com
Established in 1994, we are exclusive agents for some of the world's leading experts, celebrities and professional speakers.
We offer event planners a fully staffed speaker logistics planning team, plus a personal SPEAKING.com Account Executive – a knowledgeable and trustworthy partner. We guarantee your satisfaction with your speaker and a smooth booking process.
Contact us today to book your favorite speaker.

Select Corporate Clients
AmeriPark
Accretive Solutions
Cambridge Professional Staffing
Cambridge Southern Financial Advisors
Cisco Service Provider Video Technology Group—SPVTG (formerly Scientific-Atlanta)
Cohber Press
Cole Harford
Craftmade International
DBM International Center for Executive Options (ICEO)
Deloitte Consulting
Deloitte Financial Advisory Services (FAS)
EO Bahrain
EO Dubai
Flo Healthcare, a division of Emerson
Ford & Harrison
FTI Consulting
Georgia Lottery Corporation
Hi-Hope Service
HP Scitex
Horn Murdock Cole
IBBS
ImpactRX
InterContinental Hotels Group
KPMG Forensic / Advisory Learning & Development
Manning, Selvage & Lee PR
Marriott ExecuStay
Online Vehicle Exchange (OVE), a division of Cox
PC Connection / HealthConnection
Shepard Exposition Services
Siemens Energy & Automation
Syscom Technologies
ThePort Network
Vistage International
Select Academic Forums
Emory University Goizueta Business School
Georgia Tech College of Management
Innovation Hub Executive Forum—South Africa
Select Industry Associations
AMC Institute
American Cancer Society
ASAE & The Center for Association Leadership
Associated Luxury Hotels International (ALHI)
Association of Moroccan Professionals in America (AMPA)
Association of Financial Technology (AFT)
Association of Patent Practitioners (APP)
Association of Suppliers in the Paper Industry (ASPI)
Atlanta Convention & Visitors Bureau (ACVB)
Canadian Association of Professional Speakers (CAPS)
Canadian Association of Rehab Nurses (CARN)
Canadian Institute of Plumbing & Heating (CIPH)
CoreNet Global—Commerical Real Estate
Council of State Restaurant Associations (CSRA)
Georgia Chamber of Commerce
Georgia Society of CPAs
International Assoc. for Exposition Management (IAEM)
International Association of Speakers Bureaus (IASB)
Legal Marketing Association (LMA)
LOMA
Luxury Marketing Council
Material Handling Equipment Distributors Assoc. (MHEDA)
Meeting Professionals International (MPI)
Mississippi Manufacturers Association
Mississippi Workers Compensation Commission
MIT Enterprise Forum
National Association of Professional Organizers (NAPO)
National Association of Wholesaler-Distributors (NAW)
National Association of Woman Business Owners (NAWBO)
National Speakers Association (NSA)
Professional Convention and Meeting Association (PCMA)
Project Management Institute (PMI)
Provential Health Leadership Forum
Rotary Club International
Sales & Marketing Executives International (SMEI)
Society of American Consulting Arborists (SACA)
Society of Human Resource Management (SHRM)
Society of International Business Fellows (SIBF)
Technology Association of Georgia (TAG)—TAMY Awards
Water & Sewer Distribution Association (WASDA)
Women In Technology (WIT)
Young Jewish Federation (YJF)
Relationship Economics: Transform Your Most Valuable Business Contacts into Personal and Professional Success
What's the most valuable asset you or your business possesses? Is it your physical resources? Your intellectual properties? Your workforce? Your skills and knowledge?
All are important aspects of business success. But you can't get the most advantage from any one of them if you don't make the right strategic investments in your relationships. Relationship Economics takes a unique and strategic view of business relationships as a platform for long-term business growth and success. This goes far beyond simplistic "networking" or the exchange of business cards. Thinking strategically about business relationships is a proven way to move your business or career forward.
Based on interviews with more than 1,000 managers, directors, and executives from a wide range of companies, Relationship Economics reveals that success comes from investing in people for extraordinary returns. It introduces new concepts in relationship management, including the exchange of Relationship Currency, the accumulation of Reputation Capital, and the building of Professional Net Worth. These are the fundamental qualities and measures of busi-ness relationships, and once you understand them, you'll be able to turn your contacts into better execution, performance, and results.
Many of us are so busy we forget to take the time to build and nurture the key relationships that lead to long-term success. Relationship Economics turns business relationships into quantifiable variables based on proven concepts from the fields of business development and process optimization. You'll learn to develop the three major types of relationships—personal, functional, and strategic—and how to gain the most opportunity and value from each.
Relationship Economics isn't about taking advantage of friends or coworkers to get ahead. It's about building and maximizing relationships for a better career and a better life. In business and in life, nothing is more important than the company you keep.
The Entrepreneur's Guide to Raising Capital (Entrepreneur's Guide Series)
Ask any established business owner to identify his or her toughest challenge when just starting out, and you'll likely get this answer: raising capital. Most aspiring entrepreneurs know far too little about the sources of money that can help start a business or fuel its growth. Where do you get capital? What are investors looking for? How do you ask for money in a way that gets results? This book answers these and many other critical questions. Even more important, entrepreneur and consultant David Nour shows how to develop long-term relationships with financial partner—the people who can help keep a business humming throughout its life.
The Entrepreneur's Guide to Raising Capital, designed to help entrepreneurs navigate the money-raising maze, shows how to attract financing to fund the start-up and growth phases any business moves through. It answers the most common—and the most perplexing—questions entrepreneurs have about financing a business: How do I put together a credible request for funds? How do I choose wisely from among the plethora of financial and strategic investors, consultants, investment bankers, and other intermediaries? How do I identify and avoid the risks associated with various sources of capital? How do I plan for the right kind, amount, and source of smart capital as the business evolves? How do I get the highest return on invested capital? How do I avoid the biggest mistakes entrepreneurs make when raising capital?
This book provides real-life, pragmatic advice from entrepreneurs who have raised money from friends, family, angel investors, and banks, as well as institutional investors such as venturecapitalists and private equity firms. It details the process from start to finish while spotlighting the danger spots and ways to avoid them. It will be especially useful to those who are uncomfortable making important financial decisions, and to those who are confused by all the conflicting opinions offered by advisors—both well meaning and otherwise. By showing readers the financing ropes, Nour removes a major source of stress for budding entrepreneurs and moves them closer to their dream come true: a successful business.
Return on Impact—How Will You Lead Differently?
Based on David Nour's most recent book, Return on Impact—Leadership Strategies for the Age of Connected Relationships (ASAE), this session focuses on how disruptive technologies such as social and mobile have helped swing the power pendulum to members and customers while many industries and organizations continue to get disintermediated. Return on Impact isn't about Facebook, Twitter, or YouTube. It's about socially enabling the organization to listen louder and think faster, so it can respond in real time to changing market dynamics. And in the process, adapt new revenue models, reinvent itself and grow its bottom line, top talent, and deep relationships.
Relationship Economics®—The Art and Science of Relationships
David Nour's most acclaimed keynote based on the best-selling book, Relationship Economics Updated and Revised (Wiley), delivered to more than 50 corporate, association, and academic forums. This session focuses on the quantifiable value of business relationships and a systematic process to identify, build, nurture and leverage personal, functional and strategic relationships. Of exceptional value to most audiences are the battle-tested best practices in bridging relationship creation with relationship capitalization this session offers.
Adaptive Innovation—Adaptable Business Models for Changing Market Demands
How do you create greater market value than your competitors? How do you help your channel partners differentiate your products or services? Simple—disrupt your value chain! Adaptive innovation, by definition, is destructive in its character, open to a broad base of business models, and must be driven by high performing teams, focused on maximizing the current and future capabilities of their respective organizations. In order to create sustainable competitive advantage, companies must develop a relationship-centric culture with the courage to fail and learn from those failures.
#NewNorm—8 Strategies to Elevate Yourself Above The Market Noise
When an estimated 75 percent of your target market doesn't believe your advertising and marketing, how do you get their attention, influence their thinking, and issue a call to action? This session is focused on eight strategies to elevate your brand, team, or efforts above the market noise. From becoming an object of interest to provoking your relationships and gaining conceptual agreement on objectives, measures, and value (OMV), the content is practical, pragmatic, and applicable to a multitude of roles and desired outcomes.
Enterprise Evangelism—The Economic Value of Exceptional Experiences, Every Time
Exceptional experiences: we all know it when we have one, and seldom return to places where we don't. Beyond customer service, exceptional relationship experiences have become the expected norm by members, customers, patients, and employees. What will the same consumers who stay at brand-name hotels, purchase personally-delivered cars, and otherwise favor high-touch, high-care shopping, on- or off-line, expect from their experiences with your brand?
Sharing Economy—The Disruptive Nature of Collaborative Consumption
What do Airbnb, Lending Club, and City CarShare have in common? They're examples of disruptive innovation in peer-to-peer business models, empowered by real-time insights, highly personalized sharing, global distribution, and reuse of excess capacity in goods and services. All of which fundamentally increase the value of those goods and services for individuals, businesses and communities based on a set of values including extreme trust, transparency, economic empowerment, creative expression, authenticity, community resilience, and human connection. Will your industry be next? And what will you do about it?
Contextual Intelligence—How To Outthink and Outperform Your Competitive Peers
At the intersection of situational awareness and the ability to apply intuition to sense and respond to trends, are a mindset, a toolset and a roadmap that has been taught at our military institutions for years. This session brings to a broader audience a decade of consulting with high-performing individuals, teams, and organizations, most particularly, how they think, position, execute, analyze insightful data, and make course correction against their competitive peers. It is time to stop asking or wondering what happened and learn how to make it happen in 2014 and beyond.
David Nour: Reinventing Your Business Model
David Nour: Excite or Disturb People to Create Opportunities
David Nour: Speaking at NSA on Social Networking NEXT