* Please note that while this speaker's specific speaking fee falls within the range posted above (for Continental U.S. based events), fees are subject to change. For current fee information or international event fees (which are generally 50-75% more than U.S based event fees), please contact us.
Top25 Speaker Voting

Chris Bashinelli needs 6 vote(s) to make it into the Top 25 speakers on Speaking.com!
Speaker Booking Tip
"Tip: speakers bureaus provide added value that you cannot get by booking speakers directly. "
For Event Planners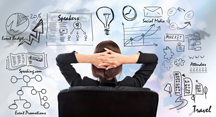 • Keynote Speaker Booking Toolkit.
• Booking a Celebrity Speaker.
• How to Find and Book the Right Speaker.
• Google+ Event Planning Forum.
• Tips for International Clients Booking U.S. Based Speakers.
Similar Speakers
Arun Gandhi

Arun Gandhi is a global figure and social activist dedicated to teaching the non-violent philosophy of his grandfather, Mahatma Gandhi. He has tirelessly sought to…

Bill Sinunu

Bill Sinunu is one of America's leading experts in cross-cultural communication. A passionate leader and professional speaker, he is committed to helping people understand and…

Dave Pelzer

#1 New York Times Best Seller List and #1 International Best Selling Author, Recipient of The National Jefferson Award In a word, Dave Pelzer embodies…

My account executive at SPEAKING.com was very professional as well as patient with us. The entire experience of working with SPEAKING.com was cordial and professional, with attention to detail that's so important.
U.S. Department of Agriculture
About SPEAKING.com
Established in 1994, we are exclusive agents for some of the world's leading experts, celebrities and professional speakers.
We offer event planners a fully staffed speaker logistics planning team, plus a personal SPEAKING.com Account Executive – a knowledgeable and trustworthy partner. We guarantee your satisfaction with your speaker and a smooth booking process.
Contact us today to book your favorite speaker.

CHRIS'S RECENT APPEARANCES


UN Launch of International Year of Youth- UN General Assembly Hall, NYC
United Nations Alliance of Civilizations (UNAOC), Bridging Cultures Forum- Brazil
United Nations World Forum on Intercultural Dialogue- Baku, Azerbaijan
Empower Youth 2011 Conference, Reach out to Asia- Doha, Qatar
Jane Goodall's Roots & Shoos National Leadership Retreat- New Orleans, LA
Girls Who Rock Benefit Concert w/ Shontelle- NYC
Global Issues Conference, American Community School of Abu Dhabi- UAE

"Chris was outstanding and willing to go the extra mile to meet students. Every young person should hear his message."
North Central Michigan College
(Event booked by Speaking.com)

"Bridge the Gap is a great idea and it's need has never been greater."
UN Ambassador Ombeni Sefue (Tanzania)

"Chris's project is exciting and helpful to the people of our world."
Princess and Ambassador Mbikusita-Lewanika (Zambia)

"Chris is beyond inspirational. Before, I thought 'I'm just one person, what can I do?' But now I feel I can really make a difference."
Mackenzie Stack (15 years old), Student at Qatar Canadian School

"Chris is a trailblazer in that he is able to entertain and educate simultaneously."
Damian Wampler, Photographer, Founder of Colony Magazine

"Chris has a one of a kind entrepreneurial spirit coupled with an overwhelming desire to be a positive influence for his generation."
Alfred Hanssen, former COO for Miracle Corners of the World
Global Leadership
Leadership, CSR, Diversity
How can a kid from Brooklyn raise $100,000 from companies like Ben and Jerry′s Ice Cream and have a TV show on PBS? Join this expedition from the slums of Haiti to the peak of Mt. Kilimanjaro to push your boundaries of what′s possible in business and in life.

Rules of the "Stoop"
Diversity, Inclusion, Cultural Awareness
Chris takes attendees on a trek across continents, discovering places of common ground, aka "stoops", around the globe. From his multicultural stoop in Brooklyn to the shade of trees in Tanzania, we′ll discover the importance of "finding the stoop" to build cohesion in the workplace.

From Brooklyn to Africa
Direction, Social Responsibility, Global Awareness
Have you ever been uncertain of your life′s direction? Actor, PBS TV Host, and UN Emcee, Chris Bashinelli, shares concrete examples colored by international adventures that help us ignore the noise and find meaning.
Chris Bashinelli - Speaking Reel
This video reel features Chris Bashinelli's engaging, inspirational presentation style. He talks about meeting Abasai in Africa, who told him he was going to become a filmmaker, no matter what, and describes the long journey down his road to success. He discusses "finding the stoop" – a place where people in your community or workplace can congregate and solve problems. He talks about finding meaning, finding your passion, and finding common ground.
Chris Bashinelli - TEDx
Chris explains his concept of "Finding the Stoop," the place where people come together to meet and create. He says, "On Brooklyn, everyone lives on the street, which we call the block, and on our block there is a place where we sit, that's called the stoop. Now this stoop, it's a very special place… we all grew up on the same block, and we all hung out on the same stoop, it was our meeting ground, a connection point, the place where we could come together and have an open dialogue, say what we wanted, and we knew there wouldn't be any consequences down the line from our teachers."
Remembering back to the influence this multicultural meeting point had on his thinking, Chris explains, "The stoop was the first place I found out about difference, about equality, and the reason I bring up the stoop is that I believe each of us has a stoop in our lives, in everyone's neighborhood there is a gathering place where everyone can go and have an open conversation and not be judged, be equal with the person next to you."
Chris looks at his life experience and tells his audience how he has confounded expectations and followed his own path: "I want you to imagine that your whole life people have told you you are supposed to be an actor, you like being in front of people, you like attention, you're kind of funny, you should be an actor, and you think alright, I can try that… then you get a role on one of the biggest shows on the planet, The Sopranos… and one day you finish filming and you realize that even though you did a great job and it's the greatest day of your career, you're totally unfulfilled."
Chris Bashinelli - Keynote Speech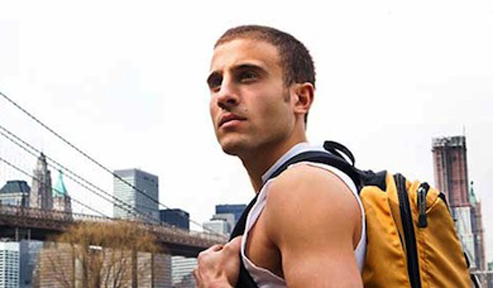 Chris Bashinelli ("Bash") is one of the most exciting young inspirational speakers in the world today. He's acted (on The Sopranos), spoken on the floor of the United Nations General Assembly Hall, been a TV host (Bridge the Gap) and more. But, the most important thing to him is being a positive, powerful, productive global ... more