* Please note that while this speaker's specific speaking fee falls within the range posted above (for Continental U.S. based events), fees are subject to change. For current fee information or international event fees (which are generally 50-75% more than U.S based event fees), please contact us.
Top25 Speaker Voting

Catherine McCarthy needs 14 vote(s) to make it into the Top 25 speakers on Speaking.com!
Speaker Booking Tip
"Tip: speakers bureaus can provide: speaker fee negotiation, insurance, smooth logistics and value add-ons such as extra sessions. "
For Event Planners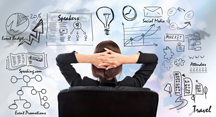 • Keynote Speaker Booking Toolkit.
• Booking a Celebrity Speaker.
• How to Find and Book the Right Speaker.
• Google+ Event Planning Forum.
• Tips for International Clients Booking U.S. Based Speakers.
Similar Speakers
Doug Lipp

Disney University training veteran, Doug Lipp is sought after for his expertise in helping organizations build adaptive, world-class service cultures that fuel growth and long-term…

Anders Sorman-Nilsson

Futurist and trend spotter Anders Sorman-Nilsson changes the way companies do business, helping them "win the digital minds and analogue hearts of tomorrow's customers." He…

Gary Bradt

Clinical psychologist Dr. Gary Bradt is an expert in the field of adapting to, and leading through, change. He was awarded a BA in psychology…

The retreat was extraordinary, professional, and personable. Everyone is still raving about it. They said it was the best experience of their lifetime. And, I would have to agree. I most certainly hope we have the opportunity to work together in the future.
YPO: Young Presidents' Organization
About SPEAKING.com
Established in 1994, we are exclusive agents for some of the world's leading experts, celebrities and professional speakers.
We offer event planners a fully staffed speaker logistics planning team, plus a personal SPEAKING.com Account Executive – a knowledgeable and trustworthy partner. We guarantee your satisfaction with your speaker and a smooth booking process.
Contact us today to book your favorite speaker.

"Many thanks for sharing your expertise at the 2005 Marriott International Golf Annual Meeting. Your presentation greatly contributed to this year′s meeting success as the feedback from the attendees has been outstanding!"
Marriott International

"Please accept my sincere praise for Catherine. She did an outstanding job of presenting. I was amazed that Catherine held the attention of 66 managers for four hours and I believe many wished like me that we had more time with her. Catherine led several dynamic discussions and provided us with much food for thought. In short, she exceeded my expectations and added great value to our Symposium."
Karen M. Wall,
Sr. VP of Corporate Infrastructure,
Akibia, Inc.

"Superb! Left me hungry for more, but gave me a number of immediately applicable ideas for improving my leadership skills. Catherine is a great presenter!"
Chris Swanson,
President,
Flex Execs

"I thought Catherine McCarthy′s presentation was very effective-her delivery was masterful and her story line and visual aids made her engaging and non-threatening. She could present her ideas to any composition of audience and not come across as preaching. She put her authority into her stories and pictures. Certainly impressive."
Mary V. Whaley,
President,
MVW Enterprises, Ltd

Partial Client List:

Kraft
Starbucks
GenRe
Microsoft
UBS
Ford Motor Company
The Way We′re Working Isn′t Working: The Four Forgotten Needs That Energize Great Performance
The Way We're Working Isn't Working is one of those rare books with the power to profoundly transform the way we work and live.

Demand is exceeding our capacity. The ethic of "more, bigger, faster" exacts a series of silent but pernicious costs at work, undermining our energy, focus, creativity, and passion. Nearly 75 percent of employees around the world feel disengaged at work every day. The Way We're Working Isn't Working offers a groundbreaking approach to reenergizing our lives so we're both more satisfied and more productive—on the job and off.

By integrating multidisciplinary findings from the science of high performance, Tony Schwartz, coauthor of the #1 bestselling The Power of Full Engagement, makes a persuasive case that we're neglecting the four core needs that energize great performance: sustainability (physical); security (emotional); self-expression (mental); and significance (spiritual). Rather than running like computers at high speeds for long periods, we're at our best when we pulse rhythmically between expending and regularly renewing energy across each of our four needs.

Organizations undermine sustainable high performance by forever seeking to get more out of their people. Instead they should seek systematically to meet their four core needs so they're freed, fueled, and inspired to bring the best of themselves to work every day.

Drawing on extensive work with an extra-ordinary range of organizations, among them Google, Ford, Sony, Ernst & Young, Shell, IBM, the Los Angeles Police Department, and the Cleveland Clinic, Schwartz creates a road map for a new way of working. At the individual level, he explains how we can build specific rituals into our daily schedules to balance intense effort with regular renewal; offset emotionally draining experiences with practices that fuel resilience; move between a narrow focus on urgent demands and more strategic, creative thinking; and balance a short-term focus on immediate results with a values-driven commitment to serving the greater good. At the organizational level, he outlines new policies, practices, and cultural messages that Schwartz's client companies have adopted.

The Way We're Working Isn't Working offers individuals, leaders, and organizations a highly practical, proven set of strategies to better manage the relentlessly rising demands we all face in an increasingly complex world.
Order Here




Leading at the Edge: Leadership Lessons from the Extraordinary Saga of Shackleton′s Antarctic Expedition
Part adventure story, part leadership guide, this intriguing book examines Shackleton′s legendary Antarctic expedition through the lens of business — to reveal a set of powerful strategies for corporate leaders.

In the chronicles of extraordinary adventures and against-the-odds survival, nothing compares to the story of Sir Ernest Shackleton and his team of South Pole explorers. Stranded in the frozen sea for nearly two years, they endured extreme temperatures, hazardous ice, dwindling food, complete isolation, and perpetual blackness.

Yet, despite the seemingly insurmountable obstacles, the group remained cohesive, congenial, and mercifully alive — a fact that speaks not just to luck but to an unparalleled feat in leadership.

Now, for the first time ever, Leading at the Edge draws on this amazing story to reveal the power of effective organizational leadership under conditions of uncertainty, ambiguity, and rapid change. The book uncovers 10 lessons — complete with stirring examples from the Shackleton expedition, as well as contemporary business case studies of the strategies in action — on what it takes to be a great leader. Readers learn how to:


Set a personal example with vivid symbols and behaviors
Instill optimism while staying grounded in reality
Reinforce the team message constantly
Find something to celebrate and something to laugh about
Have the courage to take big risks, and more.

For managers and executives who feel stressed out or stretched thin, these memorable strategies will help bring order to chaos--and success in the face of the most daunting adversity.
Order Here





Transforming the Way We Work: The New Rules of Engagement
Demand in our lives is increasing relentlessly. Our capacity isn′t keeping pace. The way we′re working isn′t working. Far too many organizations expect their employees to operate in the same way that computers do: continuously, at high speeds, for long periods of time, running multiple programs at the same time. It′s a prescription for failure. Rather than trying to get more out of their employees, employers are better served by investing in meeting their multi-dimensional needs, so they are freed, fueled and motivated to bring the best of themselves to work every day.

Other suggested topics:


Women, Risk, and Leadership: Lessons from Great Women of the Past and Present
Managing Energy to Maximize Performance
Cultivating Sustained Performance: Thriving in a World of Challenge and Change
Speech Excerpt