* Please note that while this speaker's specific speaking fee falls within the range posted above (for Continental U.S. based events), fees are subject to change. For current fee information or international event fees (which are generally 50-75% more than U.S based event fees), please contact us.
Top25 Speaker Voting

Cary Mullen needs 14 vote(s) to make it into the Top 25 speakers on Speaking.com!
Speaker Booking Tip
"Tip: ask your speaker to do a book signing or attend a VIP meal with your guests. "
For Event Planners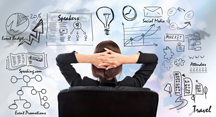 • Keynote Speaker Booking Toolkit.
• Booking a Celebrity Speaker.
• How to Find and Book the Right Speaker.
• Google+ Event Planning Forum.
• Tips for International Clients Booking U.S. Based Speakers.
Similar Speakers
Jack Shaw

Jack Shaw has been a Technology Futurist for over 30 years – which is about 15 years longer than anyone, including Jack, realized such a…

Rich Bendis

Consultant to international organizations such as the United Nations, NATO, the European Commission and the UK Department of Trade and Industry, Rich Bendis has experienced…

Michelle Stacy

Michelle Stacy has been the driving force behind the international multi-million dollar growth of Proctor & Gamble, Gillette, and Keurig. An influential leader in product…

Finding the appropriate speaker for an event is a challenge. Your stellar speakers agency made the process extremely easy. I would recommend your agency to anyone.
Mercury University
About SPEAKING.com
Established in 1994, we are exclusive agents for some of the world's leading experts, celebrities and professional speakers.
We offer event planners a fully staffed speaker logistics planning team, plus a personal SPEAKING.com Account Executive – a knowledgeable and trustworthy partner. We guarantee your satisfaction with your speaker and a smooth booking process.
Contact us today to book your favorite speaker.

"Cary Mullen is hands down the best value of any speaker I′ve worked with in recent years. I work from a database of over 10,000 speakers and its safe to say... Mullen is under priced!"

Darrin Powell
International Speakers Bureau

"Thanks for energizing our team. We all really enjoyed meeting you and hearing your story ... it was awesome! The next day, several people were using "lines" from your presentation - a sure sign that they enjoyed it and picked up something meaningful to them!"

Joanne T. Hewitson
DuPont

"Cary Mullen is a true professional. His life as a competitive ski racer and World Champion has undertaken an incredibly successive transition to that of a businessman and coach. Cary exhibits rare communication skills and is a man who can aid and abet our players victory."

Ken King
President and CEO
Calgary Flames NHL Hockey Club

"As a result of your presentation, you ended up making me look like the champion in front of my team and my boss. We all thank you for the energy, humor, and tools for success. Cary, we′ll definitely book you again."

Larry Sloan
Branch Manager
RBC Dominion Securities

---

Client List

Agrium Inc.
Alberta Home Warranty
Apache Canada Ltd.
Alpine Canada Alpin
Beta Machinery Analysis
BMO Investments
BMO Nesbitt Burns
Bow Valley Club
Calgary Exhibition and Stampede
Calgary Flames - NHL Hockey Club
Calgary Science Centre
Cambridge Residential
Canadian Association of Financial Planners
Canadian Frieghtways
CompuCorp
Creative Doors
Dale Carnegie Training® International Convention
Digger Bits and Oil Field Supplys
Dream Worldwide
DuPont Canada
Fairmont Hotels International
Fidelity Investments Canada
Forzani Group Ltd.
Gibson Petroleum Company
Giobi Web Solutions
H & R Block
Hyprotech
Imperial Oil
Intercontinental Seismic
Investors Group Inc.
JORI International Ltd.
Kellogg Canada Inc.
MacKenzie Financial
Maritime Life
National Ski Coaches Federation
Nexen Inc.
NORTEL NETWORKS
Nova Chemicals Ltd.
Petro-Hunt Resources
Q Group Financial Inc.
Ramex Exchange Inc.
RBC Dominion Securities Western
T & T Honda
The Calgary Herald
The Cedarglen Group
The Excalibar Gemini Group
The Glencoe Club
University of Calgary
Former Olympic athlete, World Cup Ski Champion, author, and serial entrepreneur, Cary Mullen's unique presentation transcends the world of sports and helps organizations succeed at a higher level. Motivating and entertaining, he provides a talk that energizes your event and inspires different thinking. His 5 Winning Secrets™ leave your team with concrete tools that move any organization forward and beyond any adversity they may be facing. In addition to his "Best speaker we've ever had" delivery, Cary challenges attendees to:

Innovate their systems and processes
Lunge forward into "best in sales" mentality
Get new results through "team captain" leadership

Four valuable attendee gifts are included in all of Cary Mullen's presentations:

An interactive, multi-media self-development program valued at $ 297 per person
Mp3 download of his talk
Articles with tips for winning
The 5 Winning Secrets ™ audience card

PROGRAMS

Lunging Forward
In today's extreme conditions fear, doubt and uncertainty are paralyzing people's power, both professionally and personally. As outlined in Cary Mullen's book, HOW to WIN - Achieving Your Goals in Extreme Conditions, your attendees will discover the important distinction between the two kinds of fear we all experience. They will learn the four reactions to fear and which ones they are over or under using. Through the IDLE formula and Lunge Forward Approach, Mullen shows attendees how to reduce their stress, overcome their fears and improve their execution in the following areas. Sales people are liberated and motivated; leaders are empowered and inspired; staff are energized and engaged!

Blast out of their comfort zone
Take on change
Make the tough decisions
Hold team members accountable

Innovation
One way or another, individuals who consistently achieve the best results have the courage to innovate even when it is very uncomfortable. On a shoestring budget and a finite amount of time to innovate and implement something new, Cary Mullen carved his way into the record books by using measurement, innovation and the 5 Winning Secrets™. This presentation addresses two challenges facing leaders and top producers in any industry:

Identifying your brightest techniques…those places where you are brilliant
Recognizing the industry paradigms or the status quos that may be holding you back from innovating.

Cary shares how to identify and measure your brilliance, how to breakthrough what seems 'logical' to the industry and innovate new approaches, even if they might seem crazy to others.

Team Captain Leadership
Thriving in extreme conditions, building stronger relationships and increasing your team's performance are the leadership hallmarks of a Team Captain. During this presentation, Cary Mullen shares the 5 skills of world class leaders: Focus, Execution, Adaptability, Teamwork and Self-Improvement. He shares insights on how leaders can improve each of these skills personally and in their team.

Cary's five part learning cycle provides a map for leading each of your team members to new heights and new results. You will discover:

How to work and lead at the same time…like a Team Captain.
How to crystallize intention while maintaining attention.
How to customize your leadership to the situation and the team member.
10 visualization types garnered from sport that apply to leadership and business.
The 1 leadership attribute that inspires teams, especially in extreme conditions.