* Please note that while this speaker's specific speaking fee falls within the range posted above (for Continental U.S. based events), fees are subject to change. For current fee information or international event fees (which are generally 50-75% more than U.S based event fees), please contact us.
Top25 Speaker Voting

Brian Parsley needs 5 vote(s) to make it into the Top 25 speakers on Speaking.com!
Speaker Booking Tip
"Tip: speakers bureaus can provide: speaker fee negotiation, insurance, smooth logistics and value add-ons such as extra sessions. "
For Event Planners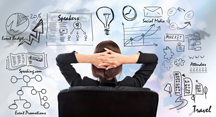 • Keynote Speaker Booking Toolkit.
• Booking a Celebrity Speaker.
• How to Find and Book the Right Speaker.
• Google+ Event Planning Forum.
• Tips for International Clients Booking U.S. Based Speakers.
Similar Speakers
Cam Marston

Cam Marston is the leading expert on how generational change is influencing the marketplace and the workplace. Marston and his firm, Generational Insights, have provided…

Jackie Huba

Jackie Huba challenges people to express the best in themselves while teaching them effective ways to market their brand through social media, participatory culture, and…

Ted Rubin

Ted Rubin is a leading social marketing strategist, keynote speaker, brand evangelist and acting Chief Marketing Officer of Brand Innovators. Ted began his online career…

My Account Executive was able to work within my quick turn around time and price limitations to find the perfect speaker for the job. Although I thought finding and booking a speaker for our sales meeting would be the most difficult part of the planning process, your agency made it the easiest.
Ales Group USA, Inc.
About SPEAKING.com
Established in 1994, we are exclusive agents for some of the world's leading experts, celebrities and professional speakers.
We offer event planners a fully staffed speaker logistics planning team, plus a personal SPEAKING.com Account Executive – a knowledgeable and trustworthy partner. We guarantee your satisfaction with your speaker and a smooth booking process.
Contact us today to book your favorite speaker.

"When it comes to identifying, hiring, and retaining employees, Brian Parsley′s insight into hiring and retaining employees is akin to Newton′s first mathematical formulation of gravity."
Todd Stancombe
President, Enventys


"Being a dynamic leader requires the ability to balance one′s personal and professional life. I have seen Brian Parsley live out this balance in his own life and now he has beautifully illustrated these principles in inspHIREd. I highly recommend that those in positions of leadership read this book and dare to be different."
James H. Morgan
Chairman of the Board, Krispy Kreme Doughnuts


"The audience was spellbound! We first engaged Brian to address over 200 Blockbuster Video Franchise Owners and Operators. He did his homework! He was dynamic and engaging, and very well versed on the issues they face day-to-day, and addressed the issues head-on!"
Don Kosler
National Sales Manager, Video Products Distributors Inc.


"I heard so many compliments from attendees with regards to both the content of your presentation and your humorous presentation style. Some said it was the best seminar they had ever attended, and all agreed that you make it easy and fun to learn some new and useful management and customer service principles."
Melissa Robinson
VP of Operations, Secure Point


"Brian is funny, insightful and highly entertaining. At our regional manager′s meeting, Brian shared sales ideas that will impact the way I sell and serve my customers. I learned practical and powerful ways to sell against the competition in a soft market that have already had an impact. Brian shared invaluable wisdom about creating memorable experiences from our customers that will turn them from satisfied to loyal."
Colleen Wilson
General Sales Manager, Rent Magazine


"Brian is energetic, engaging, & inspiring! His presentation drilled into our key issues, leaving us with nuggets to consider and execute for immediate improvement."
Stephen Haines
Senior Training Director, Centex Homes

inspHIREd: novel ideas for novel leaders


InspHIREd is not an HR handbook, or even a book that just tells you how to hire. The purpose is to tell you why and how to become a more effective leader. Whether you′re currently a CEO of an organization, or one day aspire to become a great leader, this book will teach new philosophies, help you to understand your beliefs, and learn how to put them into action. Most people think they know how to hire, and they believe they know how to inspire, but reality says something different. Most people think they′re great leaders (most people with body odor think they smell good too). Set aside your current belief system and how you think you should be a leader. Incorporate the principles of this book into your career and you will walk away with a renewed outlook on not just your work, but also your life.

Brian Parsley, President of WeSkill, guides business leaders on how to increase sales performance, solidify customer loyalty and build profits. Brian teaches timetested business strategies and customer loyalty programs across all industry sectors including financial services, technology, retail, healthcare, manufacturing, and professional services.

Brian's speaking engagements and workshops take him around the world and into companies that are devoted to achieving unparalleled results. Along with being a recurring guest on FOX News, Brian is a management consultant for several fortune 500 thought leaders and the author of InspHired, which gives leaders the tools and steps to hire extraordinary individuals who produce results and remain loyal.

Brian speaks internationally to a wide range of companies, organizations and professional associations.

Brian's speaking engagements focus on 5 core areas that create and sustain profit for your organization:

Customer Buying Motives
Employee Loyalty
Dynamic Customer Experiences
Leadership
Finding Purpose in Business and Life
Demo Video
"I look at every new person I meet as an opportunity, not to use them but to be a connector," says Brian Parsley as he explains how to maximize the benefit of contacts. "Change your mindset; stop selling, try to connect."