* Please note that while this speaker's specific speaking fee falls within the range posted above (for Continental U.S. based events), fees are subject to change. For current fee information or international event fees (which are generally 50-75% more than U.S based event fees), please contact us.
Top25 Speaker Voting

Betty Nguyen needs 5 vote(s) to make it into the Top 25 speakers on Speaking.com!
Speaker Booking Tip
"Tip: find a speaker in your local area to save on travel costs. Most speakers will also reduce their keynote fee for local events. "
For Event Planners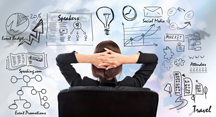 • Keynote Speaker Booking Toolkit.
• Booking a Celebrity Speaker.
• How to Find and Book the Right Speaker.
• Google+ Event Planning Forum.
• Tips for International Clients Booking U.S. Based Speakers.
Similar Speakers
Saj-nicole Joni

Saj-nicole Joni, Ph.D. is a gifted business strategist and confidential CEO advisor, speaker, and author who works with top leaders and boards to solve their…

Warren Macdonald

A catastrophic moment redefined Warren Macdonald's life in April 1997 when a one-ton boulder fell on him during an excursion on a remote Australian island.…

Catherine McCarthy

Performance expert, Catherine McCarthy helps senior leaders bring out the best in their teams by breaking the paradigm of heavier workloads and longer hours. Over…

Everyone at your speakers agency were professional and helpful throughout the process, making it easy to book, communicate, and prepare for our event.
Hewlett Packard
About SPEAKING.com
Established in 1994, we are exclusive agents for some of the world's leading experts, celebrities and professional speakers.
We offer event planners a fully staffed speaker logistics planning team, plus a personal SPEAKING.com Account Executive – a knowledgeable and trustworthy partner. We guarantee your satisfaction with your speaker and a smooth booking process.
Contact us today to book your favorite speaker.

"Betty Nguyen′s presentation was most successful! She was so generous with her time and stayed long after the program had concluded, posing with students for photos and speaking with them individually. Comments from students talked about how inspirational they found Betty to be and the most often adjective they used was "authentic."
West Texas A&M University
Betty Nguyen: From Saigon to Today
The road to success may seem long, but it doesn't have to take a lifetime. A little luck and a lot of hard work can get you there quickly. You just have to be up for the challenge. You have to make the choice to excel. In this presentation, Nguyen offers her secrets to a successful career and provides an inside look at covering the story.

Diversity: Don't Hide from It, Celebrate It!
Diversity is all around us—in our schools, in our offices and in our communities. Often, what sets us apart is what makes us great. By pooling together our diverse backgrounds and experiences, we increase our knowledge and find new solutions to the problems we all face as humans. Nguyen shares stories of how diversity has enriched the media and our lives.

Humanitarian Work: It Will Change Your Life
We're all searching for that sense of purpose. The answer to the question: why am I here? While family and career may drive your life, helping those in need will change your life. You'll be surprised how much you truly get from the act of giving. Nguyen takes audiences to some of the poorest regions of the world by sharing stories from her humanitarian aid trips.
Interview with Betty Nguyen on Building a Career in Journalism
Betty Nguyen discusses breaking into the increasingly competitive field of journalism and the biggest lessons she learned from the fascinating career she's had so far. Though the faces of journalism are becoming more diverse, Nguyen notes that when she started out, she didn't see anyone in the field with a background similar to hers, so rather than looking to a role model, she focused on building up her skills and gaining a competitive edge.
Broadcast journalists generally differ little in what they do, she points out, so setting yourself apart can be a challenge. Bringing her authentic self to her craft rather than aspiring to someone's style proved to be the "best way forward" for Nguyen. "It allowed me to be the best me that I can be, and that's really your only calling card in this business," she says. "That's the way you get ahead, because there's no one else like you."