* Please note that while this speaker's specific speaking fee falls within the range posted above (for Continental U.S. based events), fees are subject to change. For current fee information or international event fees (which are generally 50-75% more than U.S based event fees), please contact us.
Top25 Speaker Voting

Barbara Sanfilippo needs 6 vote(s) to make it into the Top 25 speakers on Speaking.com!
Speaker Booking Tip
"Tip: find a speaker in your local area to save on travel costs. Most speakers will also reduce their keynote fee for local events. "
For Event Planners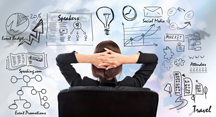 • Keynote Speaker Booking Toolkit.
• Booking a Celebrity Speaker.
• How to Find and Book the Right Speaker.
• Google+ Event Planning Forum.
• Tips for International Clients Booking U.S. Based Speakers.
Similar Speakers
Don Cooper

There are three key components to being an outstanding speaker and Don Cooper possesses all of them: 1. He knows what he's talking about. 2.…

Rory Aplanalp

A motivational speaker of extraordinary experience, Rory Aplanalp has made well over 6500 presentations, influencing more than a million people across the planet. When inviting…

Jason Young

Jason Young has been called a "rare breed" when it comes to developing leaders and customer service initiatives. As a former senior-level manager at Southwest…

This has been one of the most outstanding speaker agencies I have had in my 25+ years in the hospitality industry. They have helped my company secure speakers for years to the delight of my attendees. They have secured high profile speakers, even within the confines of a tight turnaround and an even tighter budget. I recommend their services without hesitation. They are truly leaders in their profession looking out for their clients: excellent is all I can say!
AHIMA
About SPEAKING.com
Established in 1994, we are exclusive agents for some of the world's leading experts, celebrities and professional speakers.
We offer event planners a fully staffed speaker logistics planning team, plus a personal SPEAKING.com Account Executive – a knowledgeable and trustworthy partner. We guarantee your satisfaction with your speaker and a smooth booking process.
Contact us today to book your favorite speaker.

We have rarely had a keynote that received as many positive comments as yours. Comments like, "best ever", and "bring more people like Barbara!" helped make this session the highest rated program at this meeting. The amount of time you spent prior to the meeting getting to know our members - their needs, their challenges - and making sure that your message provided information they could actually use was tremendous! We are looking forward to your return keynote at our June Focus meeting! 
National association of insurance executives

It was very apparent from the onset of your presentation that you spoke with several attendees in advance of the meeting. I watched as our management's eyes opened with amazement at the knowledge and preparation you made in understanding our products and challenges.
Hewlett-Packard Company

Congratulations on your smash hit presentation, "Passion, Power & Prosperity: Put More in Your Life!" It was obvious from your packed, "standing room only" sessions that our sales associates loved your energy, powerful message and entertaining, yet genuine, style.
Coldwell Banker

On a scale of 1 to 5 the vast majority rated you a "5" with comments such as "Excellent!" "The Best!" I was impressed that you took the time to call several of our people ahead of time and actually used their stories throughout the program.
AT&T

I was initially nervous how a female speaker would be received by my sales organization, which is highly technical, highly educated and predominantly male. Your engaging style and content had their rapt attention. Your message was clear and it was the message I wanted the sales representatives to receive.
Dionex Corporation

We were looking for a tailored program with take-home value and motivation and you delivered. Our Management Development Manager exclaimed you hit the bull′s eye in what we were looking for.
American Family Insurance Group

On a scale of 1-10 you are a 100!
Western Car Wash Association

I have received nothing but "rave" reviews. You're the first speaker I've worked with (and I've worked with several) who did her homework to meet the needs and expectations of my group.
South Central Bell

You'll be pleased to know that on a 5-point scale, you received a 4.65. Our general managers appreciated your solid ideas to develop a strong guest mentality at their properties.
American Hotel & Motel Association

Congratulations! Your "world class" presentation at our QUEST meeting once again left us "very satisfied customers."
Gulf Power Company

You'll be pleased to know that on a 1-10 rating scale, your evaluations averaged 9.6 -- one of the highest-rated programs for our chapter.
San Diego Society of Association Executives

As you can imagine being in the insurance and investment business, we have seen hundreds of speakers. So I agree with our president when he thanked you on stage and said to the audience, "In all my years of listening to speakers, Barbara is by far the best! Her material was excellent, filled with useful ideas and delivered in an engaging style."
L. Regan, CEO, Legacy National

Wonderful presentation-thanks! I′ll implement some of these ideas in my practice.
Jeff Levington, New York Life (agent)

"I'd like to thank you for delivering an outstanding program at our annual conference. Your keynote, "Focus on Service and Relationships and Revenue Will Follow" was highly rated with a perfect score of "5". In fact, one attendee gave you a 6 and wrote,'excellent concepts—super presentation –more, more!"
G.G, President, Investment Centers of America

As you can imagine being in the insurance and investment business, we have seen hundreds of speakers. So I agree with our president when he thanked you on stage and said, 'In all my years of listening to speakers, Barbara is by far the best! Her material was excellent, filled with useful ideas and delivered in an engaging style."
L.R. CEO, Legacy Marketing Group

Well, the results are in and you scored a "hit" once again! We're pleased we invited you back to present to our top producers at our National Sales Conference. The pre-call planning, positioning and strategies were right on target and provided excellent take home value. Plus your Dream Big! motivational message was a great way to close your session.
LM, VP, Primevest

---

Partial Client List:


American Bankers Association
America′s Community Bankers
Iowa Bankers Association
Michigan Bankers Association
Michigan League of Community Banks
New York Bankers Association
First Horizon Corp.
Invest
Investment Centers of America
Jackson National Life
Legacy Marketing Group
MarketShare Financial
Starwood Resorts
Symitar Systems
Tri-Lakes Medical Center
Trompeter Electronics
U.S. West Communications
Virigina State Lottery
Westin Maui Resort & Spa
Whirlpool Corporation
Full list available upon request
Dream Big! What′s the Best That Can Happen?

Every one of us has hopes and dreams. You do. I do. For years I′ve been sharing my Dream Big message with audiences around the world. Many of my friends have told me, "Barbara, you have a talent for creating everything that you want. You imagine a dream and then it just happens." I get numerous letters from people in my audiences who write, "I tried your suggestions and you won′t believe what happened." With excitement they write about their wonderful new relationship, dream job, or new house.

"One big dream of mine now is to be able to support myself while going to school by teaching private music lessons and performing at weddings, banquets and other such events that call for hired musicians. Your book could not have arrived in the mail at a more opportune time! With all the negative things and destructive thinking patterns in my life of late, reading and thinking about what you wrote was refreshing, and is helping me to realize that I am not a victim of circumstances in life and that there is always hope. The whole book made perfect sense and made me think in a new way about this adventure we call life and about how I interact with it. I am tired of being a frustrated pessimist, and have vowed to be so no longer. Thank you ever so much for writing such an inspiring, intelligent and honest book."

Collen Kavanagh Baltimore, MD.
How to Attract Business, Sell Value and Dream Big in a Down Economy!

In these chaotic and economically challenging times, we must out-sell, out-serve and out-smart the competition! Whatever worked in the past, may not work now. The days of order-taking are over. We must be order-seekers, sales is no longer just a numbers game. It's a game of strategy, focus and discipline. Whether you are a business owner, sales professional or sales manager, in this idea-packed, interactive and inspirational keynote, you'll receive specific strategies you can apply immediately to increase sales, differentiate with value and create opportunities. As a bonus, Barb will also share powerful and fun ideas to maintain a success mindset and Dream Big!

Objectives: In this program you'll discover:

The secret to attract business and clone your best customers
How to position yourself as a strategic consultant and professional partner
The four most common pitfalls to winning business
How to use education to turn customers into buyers and add value
How to embrace the Olympic Athlete mentality and Dream Big! despite the difficult economy

Note: Keynote or mini-workshop format available.

Dream Big! What′s The Best That Can Happen? or
Dream Big! Success or Significance?

In these busy times, we may be questioning our priorities and what success means to us. Are we addressing the important areas in our life such as: family, friends and service to others? Truly successful people have a sense of purpose, focus and personal fulfillment. In this idea-packed, interactive and entertaining program, Barbara will help you rate your life satisfaction index, define what success and happiness means to you, make time to enjoy more Cappuccino MomentsTM and create your biggest dreams. You'll leave energized with a renewed sense of priorities and actions you can take to achieve success and live a life of significance. So be sure to attend this special program by an awardwinning speaker.

NOTE: This entertaining, inspirational and popular keynote program is based on Barbara′s book, Dream Big! What′s The Best That Can Happen? Give a copy to every audience member and ask about a volume discount.

Target Audience: General -- has broad appeal

Life is a Cappuccino – When is Enough, Enough?

What is "success"? For some, it may be reaching a specific income level, having a "fat" bank account or a beautiful home. For others, it may be taking special vacations, spending more time with our family or enjoying nature. As we rush down the road of life — a key question to ask is, "Am I making a living or living my life?" In this idea-packed and energizing session, Barbara will help us evaluate the critical choices necessary to slow down, live with an attitude of gratitude, and find time to sip cappuccino!

Target Audience: General -- has broad appeal

Outclass Your Competition with Five-Star Service or
The Evolving Sales and Service Culture – What's Next?

Thousands of dollars are spent annually on what many CEOs think will develop a sales and service culture in their organization. Usually these are short-term "quick fixes" like training and incentives. Why are the effects fleeting? Why are these approaches ineffective over the long term? Those who are successful in sales and service take steps that reach to the very core of their organization. Topical solutions won't work. In this idea-packed, interactive program, Barbara Sanfilippo outlines a comprehensive, step-by-step process to build a high performance service and sales culture. Topics include: measuring internal and external service, developing standards, setting goals, instilling accountability, providing incentives and recognition, orienting new employees and much more. You′ll receive a detailed handout, useful exhibits, suggested timetables, pitfalls to avoid and a process you can begin immediately.

Target Audience: CEOs, senior/mid-management, sales and marketing directors, business owners and customer service professionals.

Staff Engagement – The Key to Bring Your Service and Brand Alive!

Do you have staff that are physically present but mentally absent? Now that you've invested in training, incentives and marketing programs, how will you earn the commitment of your staff? Engaged and involved staff is the key to build customer relationships and bring your brand alive. A new logo and brochures do not serve your customers—your people do. In this idea-packed, energizing and interactive program, you'll discover how to: identify the signs and causes of disengagement, prevent this "disease" from spreading, increase productivity and most of all win the hearts and minds of your staff!

Target Audience: CEO's, manager, supervisors, business owners, service quality directors and customer service/HR professionals.

Build a Business, Advise a Client, Get a Life!

Are you building a business or are your building a book of business? In today's competitive and fast moving environment you may get so caught up in attracting and advising your clients that you neglect to plan for your own future. If you want to take your business to the next level, you must put on your CEO hat, leverage yourself, build value, and identify those opportunities and strategies that will get you there. Maybe it's time to bring in a junior professional, upgrade technology, change your marketing program, evaluate profitability, outsource key functions or create an exit strategy to enjoy life more. In this idea-packed, energizing and interactive session, you'll discover the key ingredients necessary to grow your business, mastermind with your peers and begin planning for your future success. You'll leave energized with a clear direction to build your business and get a life!

Target Audience: Entrepreneurs, business owners, investment and insurance professionals with a client list and seeking to grow their business.

Winning Sales Strategies of Top Performers – The Critical Edge!

What does it take to thrive as a sales and marketing professional or entrepreneur in the future? How can you attract warm calls and gain a competitive advantage? In this idea-packed and energizing program you′ll discover proven secrets you can use to:

• Attract business to you easily and make warm calls
• Promote and position yourself as an expert and a "mini celebrity"
• Demonstrate customer appreciation and retain loyal client
• Follow-up and touch prospects and clients in a persistent manner with email and other creative methods.
• Conduct pre-call planning to focus on getting the business • Critique calls to improve overall effectiveness
• Dream big and achieve your goals

Target Audience: Sales Representatives, entrepreneurs and consultants

Build a Winning Sales Team – Sales Management Best Practice

To be successful, sales representatives, business development professionals and calling officers need motivated and talented sales managers to improve performance. Unfortunately, many managers have never been given any training in "sales management" skills. As a result, they just focus on "reaching their numbers". What they don′t realize is to reach their sales targets they must spend the time to develop and help people succeed. Just like a coach who is committed to helping an athlete win a gold medal, committed sales managers can make a significant difference in the performance of their team. Whether you have the title of sales manager or not, if you are responsible for generating revenue through your team--this idea-packed program will give you practical tools you can use immediately to increase performance. Barbara will review best practices utilized by top sales managers.

As a result of this program you1ll discover proven strategies such as:

• How to get your people focused on the right activities that get results as opposed to just focusing on the bottom line
. • How to observe and critique sales calls to help your people master the consultative sales process.
• How to ensure your people have a consistent and persistent system to follow up effectively and build relationships. The power of email marketing and follow up will also be discussed.
• How to reenergize your sales meetings and create a stimulating, valuable and participative experience for your team.

Target Audience: Sales managers and business owners who want to improve the performance of their sales team.

Five Star Service and Sales – It starts with Me!

Each contact with a customer or member is a "moment of truth". Front-line staff must always be ready and willing to go the extra mile. Support staff also play a key role by being responsive to their "internal customers" or fellow employees. All staff must make the change from order takers to order seekers. In this highly entertaining and informative program, attendees will learn why service is so important, how to acknowledge and greet people, how to serve our internal customers, how to recognize cues and approach the customers about our services, and, most importantly, how to take responsibility for motivating ourselves

. Target Audience: Customer contact and support staff

How to Manage Your Book of Business – The Secret to Expanding Customer Relationships

Chances are some of your VIP customers are feeling neglected and are ripe for being stolen. What are you doing to reach out and touch your best customers, build loyalty, and nurture profitable relationships? As a relationship manager or sales representative your primary role is to retain your "A" customers and expand relationships with your "B" customers. In essence, your job is to effectively manage your "book of business." In this program, you′ll get valuable information you can use to begin confidently contacting your key customers.

In this idea-packed and energizing program, you′ll discover:

• Your primary duties as a relationship manager
• Best practices to manage your book of business
• How to create a profiling form to get to know your customers
• How to make the initial introductory call with confidence
• How to build trust and engage your customers in conversation
• How to recommend a service or product
• How to set up an effective follow up system • How to add value to the customer relationship with VIP service and education
• How to conduct client review meetings

Target Audience: Relationship managers, sales and investment professionals, account executives, and anyone seeking to expand relationships with an assigned list of customers or members.

Break the 80/20 Rule – How to Get Peak Performance from Your "B" Players

As a CEO, sales manager or HR professional your job is to get results through both your "A" and "B" players. "B" players make up the majority of your staff and are often mismanaged and undervalued. Yet they execute, are loyal and get the job done. What would it be worth to you to reverse the 80/20 rule so more of your people are operating at peak performance? Too many firms focus on their strongest or weakest links, yet success or failure often lies in that solid middle, the 75% of workers who have been ignored. You′ll leave armed with tools to re-engage your staff and create meaningful recognition programs. In this idea-packed session, Barbara will share:

• the difference between A & B players --how to identify and appreciate them
• why most coaching models are ineffective
• how to coach and determine what motivates your B players
• why cash incentives don′t always work and what types of recognition will inspire your "B" players to perform
• why you may not need or want more "A" players and much more!

Target Audience: CEO′s, managers, supervisors, sales managers, HR professionals, business owners and anyone interested in increasing staff performance

The HR Director's Role – Be Savvy, Be Strategic, Be Smart!

In today′s fiercely competitive environment, savvy human resource professionals who add value and impact revenue will win the respect and support of CEO′s and senior management. In addition to hiring staff and monitoring benefit programs, HR can be the driving force behind strategic initiatives. In this idea-packed, energizing and interactive program, Barbara will outline proven strategies you can use to be viewed as a key contributor and business partner. This program was highly-rated at SHRM′s 2003, 2005 and 2006 national conventions. Topics include how to:

• Think like a strategist, not simply an executor
• Support your firm′s strategic initiatives
• Tie HR initiatives to actual sales results
• Deliver internal service to key business units
• Score a big win, promote your accomplishments and much more!

Target Audience: All human resource professionals

Consider a Sales and Service Management Planning Retreat

The Sales and Service Management Planning Retreat is an interactive workshop outlining a comprehensive, step-by-step process for building and/or advancing a sales and service culture. Participants at our retreats identify their strengths and weaknesses, determine key priorities and set specific action steps. With a unified management team, they are then able to develop a list of implementation priorities.

Participants receive a detailed handout, useful exhibits, suggested timetables, and pitfalls to avoid. The program is tailored to your organization. This retreat is ideal if your team needs education on what the sales and service culture development process entails, a greater sense of urgency and buy-in and a step-by-step action plan. The planning retreat will create substantive discussion around pertinent issues and become a catalyst to move forward and determine future priorities.

Who Should Attend?

• CEO, President, entire senior management team including directors of quality, sales, training and human resources, branch managers, department heads, and possibly supervisors and key officers. Smaller companies may include midmanagers and all staff.

Value of the Retreat

• Develop a common understanding of what a sales and service culture is
• Create awareness of what is involved in developing a sales and service culture
• Create better understanding of the magnitude of the task
• Increase understanding of the commitment of time and resources • Identify "infrastructure" items that need to be in place
• Create a sense of urgency around instilling a sales and service culture
• Instill a sense of accountability for results
• Become aware of potential obstacles to success
• Create understanding of the role of each manager in the process
• Address individual management concerns about the process
• Unite your management team in a common vision
• Gain commitment and buy-in to embarking on a long-term formal process
• Start to improve internal service and teamwork by involving all departments
• Achieve increased enthusiasm for moving forward
• Determine priorities for implementation

Note: Please contact us for additional retreat topics and consulting information

Format

• Group discussions and interactive presentation
• Incorporation of supporting data from your sales and service culture along with phone interviews with CEO and key managers
• Energetic pace and entertaining style

Audience/Duration

• Executive management team, key mid-level managers: 3.5 - 4 hours (a.m.)
• optional executive management team private debriefing and next steps: 3.5 - 4 hours (p.m.) including lunch.
Demo Video