Andres Oppenheimer is the Latin American editor and syndicated foreign affairs columnist with The Miami Herald. His column, The Oppenheimer Report, appears twice a week in The Miami Herald and more than 60 U.S. and foreign newspapers. He is the author of Saving the Americas (Random House, 2007) and four other best-selling books, is a regular political analyst with CNN en Espanol, and anchors his own Spanish-language television show, Oppenheimer Presenta, which airs in the United States and 19 countries.

His previous jobs at The Miami Herald included Mexico City bureau chief, foreign correspondent, and business writer. He previously worked for five years with The Associated Press in New York, and has contributed on a free-lance basis to The New York Times, The Washington Post, The New Republic, the BBC, and CBS's 60 Minutes.

He is the co-winner of the 1987 Pulitzer Prize as a member of The Miami Herald team that uncovered the Iran-Contra scandal. He won the Inter-American Press Association Award twice (1989 and 1994), and the 1997 award of the National Association of Hispanic Journalists. He is the winner of the 1993 Ortega y Gasset Award of Spain′s daily El País, the 1998 Maria Moors Cabot Award of Columbia University, the 2001 King of Spain Award, given out by the Spanish news agency EFE and King Juan Carlos I of Spain, the Overseas Press Club Award in 2002, and the Suncoast Emmy award from the National Academy of Television, Arts and Sciences in 2006.

Born in Buenos Aires, Argentina, he studied law, and moved to the United States in 1976 with a fellowship from the World Press Institute. After a year at Macalester College in St. Paul, Minnesota, he obtained a Master′s degree in Journalism from Columbia University in New York in 1978.

Oppenheimer's book, Saving the Americas: Latin America's Dangerous Decline, and What the United States Must Do, was described by New Mexico Governor Bill Richardson and former Brazilian President Fernando Henrique Cardoso as a "must-read." Costa Rica President Oscar Arias called it "a landmark work" and "an engaging study that politicians, academics, journalists and other leaders will be citing for years to come."

His previous book, Ojos Vendados: Estados Unidos y el Negocio de la Corrupcion en America Latina (Editorial Sudamericana, Buenos Aires, 2001; and Plaza & Janes, Mexico, 2001), on the role of U.S. corporations in recent Latin American corruption scandals, topped Argentina′s list of best-sellers in May, 2001, and was on the best-sellers′ list in Mexico and several other Latin American countries in 2001 and 2002.

Oppenheimer's best-selling book, Bordering on Chaos: Guerrillas, Stockbrokers, Politicians and Mexico's Road to Prosperity was profiled by CBS′s 60 Minutes in June, 1996, and by PBS′s Frontline in May, 1997. The book was described by Mike Wallace of 60 Minutes as "A fascinating account of political and financial corruption in Mexico," and was selected by The Los Angeles Times′ Book Review as one of the "best books" of that year. The Los Angeles Times review concluded, "Not only a must read, a great read."

Oppenheimer′s first book, Castro's Final Hour: An Eyewitness Account of the Disintegration of Castro's Cuba (Touchstone, Simon & Schuster,) was described by Bob Woodward, of The Washington Post, as "a spectacular job of reporting, investigating and observing," and by The Dallas Morning News as "the definitive book on Cuba in the past decade."

Oppenheimer has also written Cronicas de Heroes y Bandidos, (Editorial Grijalbo, Mexico, 1998) a collection of reports from various Latin American countries over the past two decades, was a best-seller in Mexico and several other Latin American countries.

He was selected by the Forbes Media Guide as one of the "500 most important journalists" of the United States in 1993, and by Poder Magazine as one of the "100 most powerful people" in Latin America in 2002 and 2008.
Speeches / Speaking Engagements
Saving the Americas : The Dangerous Decline of Latin America and What the U.S. Must Do
Bordering on Chaos : Mexico Roller-Coaster Journey to Prosperity
Latin American Economic Outlook
Cuba: The Rise and Fall of Fidel Castro
Other Suggested Topics:
Latin America
China
Development
Latin American and World Politics
The Economy
* Please note that while this speaker's specific speaking fee falls within the range posted above (for Continental U.S. based events), fees are subject to change. For current fee information or international event fees (which are generally 50-75% more than U.S based event fees), please contact us.
Top25 Speaker Voting

Andres Oppenheimer needs 13 vote(s) to make it into the Top 25 speakers on Speaking.com!
Speaker Booking Tip
"Tip: speakers bureaus provide added value that you cannot get by booking speakers directly. "
For Event Planners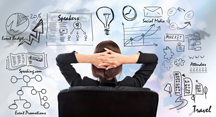 • Keynote Speaker Booking Toolkit.
• Booking a Celebrity Speaker.
• How to Find and Book the Right Speaker.
• Google+ Event Planning Forum.
• Tips for International Clients Booking U.S. Based Speakers.
Similar Speakers
Jeremy Rifkin

Author of 19 books which are available in more than 35 languages, leading futurist thinker Jeremy Rifkin's works are required reading in a multitude of…

Jim Cramer

Financial expert Jim Cramer's mission is "not to tell you what to think, but to teach you how to think about the market like a…

Mark Zandi

A respected economist who has the ear of policy-makers around the world, Mark Zandi is a "go-to" source in helping to understand the complexities behind…

Our Account Executive is an extraordinary person. Always available, very kind and funny. Eager to help and always quick to respond. I have so much fun working with him. A very delightful experience. I hope continue working together for years to come!
Credicorp Bank
About SPEAKING.com
Established in 1994, we are exclusive agents for some of the world's leading experts, celebrities and professional speakers.
We offer event planners a fully staffed speaker logistics planning team, plus a personal SPEAKING.com Account Executive – a knowledgeable and trustworthy partner. We guarantee your satisfaction with your speaker and a smooth booking process.
Contact us today to book your favorite speaker.

Saving the Americas: The Dangerous Decline of Latin America and What the U. S. Must Do
This new book out in October illustrates in detail how the current administration's policy towards Latin America is actually creating the very immigration issues President Bush is fighting to solve. Saving the Americas: The Dangerous Decline of Latin America… and What the U.S. Must Do, by Pulitzer-prive co-winner and The Miami Herald syndicated columnist Andres Oppenheimer, highlights the Bush administration's failure to reach out to its own neighbors in order to create a stable environment for the people of the United States.

"When it comes to everyday issues that affect most Americans —whether immigration, trade, the environment or, increasingly, energy— no region in the world has a bigger impact on the United States than Latin America," writes Oppenheimer.

As an acknowledged expert on Latin America, Oppenheimer uses his experience and reporting skills to show how this region is becoming increasingly less important on the world stage, and the resulting negative effects on the lives of Americans. "This book began as a message to Latin Americans about the decline of their region into global irrelevance. But it soon became clear to me that what I was learning was equally important to people in the United States," says Oppenheimer. "Though less apparent to most Americans —and less costly— than its blunders elsewhere in the world, the Bush Administration was making major mistakes in Latin America, among other things by declaring the region a major U.S. priority while ignoring it almost entirely, and reflexively pushing free trade as if that alone would ensure hemispheric prosperity."

Oppenheimer traveled to China, India, Poland, the Czech Republic, Ireland and more than a dozen Latin American countries to see first-hand what is pushing some nations ahead and others back. And in his characteristic style – mixing travel anecdotes, humor and political analysis – he came to surprising conclusion: that despite its current troubles, Latin America can rise from economic and political obscurity, to become a booming market and an influential player in world affairs.

The Spanish-language version of Saving the Americas: The Dangerous Decline of Latin America… and What the U.S. Must Do (Cuentos Chinos) has sold nearly 200,000 copies throughout Latin America and made the region to take a hard look at itself. Costa Rican President and Nobel Prize laureate Oscar Arias has called Oppenheimer′s book "A landmark work... that politicians, academics, journalists and other leaders will be citing for years to come," and former Brazilian President Fernando Henrique Cardoso described it as "a must-read."

Now the English version is set to cause the same reaction within the United States.
Order Here




Castro′s Final Hour
Reported from inside Cuba by Pulitzer Prize-winning reporter Andres Oppenheimer, Castro′s Final Hour chronicles the dramatic events that have crippled the more-than-three-decades-old Marxist regime of Fidel Castro.

From the execution of the country′s most celebrated Army general in 1989 to the devastating effects of the loss of all Soviet aid, the picture Oppenheimer paints is extraordinarily detailed and engrossing, revealing a country on the brink of disaster. He uncovers Castro′s never-before reported efforts to radicalize Noriega′s regime in Panama, the failure of his "Zero Option" plan to restore economic stability without outside aid, and tells how, in a last ditch attempt to save the country from its dire slide, Castro′s top aides pushed a plan to strip him of some of his powers.

Including exclusive interviews with Soviet officials, Latin American leaders - including Daniel Ortega and Manuel Noriega - as well as the top echelon of current Cuban leadership and Fidel′s dissident daughter, Alina, Castro′s Final Hour is a compelling and intimate portrait of the Cuban leader, and an authoritative evaluation of what the future may hold for his country.
Order Here





Saving the Americas : The Dangerous Decline of Latin America and What the U.S. Must Do
Bordering on Chaos : Mexico Roller-Coaster Journey to Prosperity
Latin American Economic Outlook
Cuba: The Rise and Fall of Fidel Castro
Other Suggested Topics:
Latin America
China
Development
Latin American and World Politics
The Economy
Keynote Speech
Keynote Speech in Spanish