* Please note that while this speaker's specific speaking fee falls within the range posted above (for Continental U.S. based events), fees are subject to change. For current fee information or international event fees (which are generally 50-75% more than U.S based event fees), please contact us.
Top25 Speaker Voting

Alan Thicke needs 21 vote(s) to make it into the Top 25 speakers on Speaking.com!
Speaker Booking Tip
"Tip: some speakers might provide one of their popular book titles as a free gift to your audience. "
For Event Planners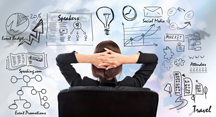 • Keynote Speaker Booking Toolkit.
• Booking a Celebrity Speaker.
• How to Find and Book the Right Speaker.
• Google+ Event Planning Forum.
• Tips for International Clients Booking U.S. Based Speakers.
Similar Speakers
Joseph Coughlin

In the eighteenth century Benjamin Franklin wrote that there are two things certain in this life: death and taxes. Three centuries later Dr. Joseph Coughlin…

Ronan Tynan

Singer, physician, athlete, and inspirational speaker Dr. Ronan Tynan is no stranger to adversity. The renown "Irish Tenor" and Paralympics gold medalist has been referred…

Maddy Dychtwald

Maddy Dychtwald, author, speaker and Age Wave co-founder, works at the cutting edge of demographic analysis, predicting the ways in which both generation and gender…

Everyone at your speakers bureau was incredibly attentive and easy to work with; you have been a conference organizer's dream!
ABS Capital Partners
About SPEAKING.com
Established in 1994, we are exclusive agents for some of the world's leading experts, celebrities and professional speakers.
We offer event planners a fully staffed speaker logistics planning team, plus a personal SPEAKING.com Account Executive – a knowledgeable and trustworthy partner. We guarantee your satisfaction with your speaker and a smooth booking process.
Contact us today to book your favorite speaker.

"Alan was an absolutely perfect fit. He was excellent. Accommodating and just outstanding!"
Canadian Council of Grocery Distributors

"We had a fantastic chat with Al Thicke today. He was TOTALLY prepared and had even read the docs we sent him -- that may be a Wynford first. He′d given it some thought and had a couple of bits for us to use ... man oh man, what a pro this guy is. Really sounded like he was looking forward to the gig."
Wynford Group and TD Canada Trust

"The compliments keep coming in. You spoke with humor and grace and were straightforward about a very serious subject. Any group who invites you as a speaker will be rewarded with a very successful event."
JFK Medical Center
How to Raise Kids Who Won′t Hate You: Bringing Up Rockstars and Other Forms of Children
It's a question parents have asked since the beginning of time: Is it possible to raise a child that doesn't blame you for everything? According to actor, author, and real-life father of three Alan Thicke, the answer is a resounding "Maybe!" With chapters like "Honey, I Screwed Up the Kids!," "Why Does Daddy Throw Like a Girl?," and "When Grownups Go Bad," How to Raise Kids Who Won′t Hate You takes the reader on a wild yet informative ride through the perils of parenthood. Thicke tackles everything from homework to the prom, fist fights to unrequited love, dead pets to peer pressure, with humor and grace, and with the insight gleaned by one who has been there, done that — and survived. In a bonus chapter, Thicke covers a topic close to home: how to raise an international pop music über-sensation. This entertaining yet thoughtful guide offers a fresh look at a serious subject.
Order Here





One of America's most sought-after emcees, Alan has hosted event specials including THE EMMY AWARDS; ABC's OLYMPIC KICK-OFF GALA; CBC's NHL AWARDS; ABC's DISNEY CHRISTMAS and EASTER PARADES; ABC's and NBC's FALL PREVIEW SPECIALS; the MISS UNIVERSE, MISS WORLD USA, and MISS USA Pageants; SHOWTIME'S COMEDY ALL-STARS; TV's FUNNIEST FAMILIES and NBC's WORLD'S GREATEST MAGIC. His series hosting includes ABC's ANIMAL CRACK-UPS; the EMMY-nominated PICTIONARY; A&E's TRAVELQUEST; Game Show Network's ALL NEW 3'S A CROWD; and the current MIRACLE PETS for PAX-TV, and TODAY'S MAN airing on CNBC.
As a headliner and speaker, Alan's distinctive charm and humor have established him as one of America's all-purpose entertainers. Motivational lectures: including IBM, Ford, Borland Technologies, Slim-Fast.
Keynote speaker: including Utah Governor's Conference, Humana Hospitals, OrthoBiotech Industries, Des Moines Medical Society, Miami Health Day, Sacramento Earth Day.
Host/Comic: includes everything from Awards Ceremonies for California's Building Industry and Atlanta's Real Estate Conference to The Chiropractic Centennial Celebration and the NHL's All-Star Banquet.
As a headliner, Alan has played the main Vegas showrooms of the Hilton, Desert Inn and Sands, as well as Atlantic City's Resorts International, numerous cruise ships, and corporate events for Borden, Nestle, Mattel, Baskin-Robbins, Brite-Smile, and the Tournament Golf Association.
Health Care and Health Careless
A popular luncheon address for health-related groups such as cancer, diabetes, heart foundations, and care-givers of all descriptions. Alan is the self-appointed poster boy for affliction, from Alzheimer′s to Alcoholism, Stroke, Leukemia, Heart Disease and Diabetes, he′s seen it all in his family. Prevention is Rule One...then...."Making the best decisions on treatment, therapy, rehab, and recovery...or..." The Psychology of Disease: When the medics have done what they can and science ends, there are endless lifestyle adjustments affecting the entire network of loved ones....including an emotional toll for everyone. Alan even gets laughs on this serious subject with anecdotes about "Sickos and Psychos and the Families who Love Them"....and his own experience with kidney surgery, knee replacement, having teeth knocked out, etc.
"BOOMEROLOGY"
A humorous look at the transition in World Dominance from Baby Boomers to the Obama Boomers. "Passing the torch so no one gets burned," "Lessons the Now Generation needs to learn from our triumphs and tragedies with money...parenting...health care...sex....technology...government...environment...and Reality Television."...From Stephen Hawking to the Kardashians....
How to Raise Kids that Won′t Hate You
Based on Alan′s book of the same title...-what "Cool Parents" need to know about potty-training, T-Ball, bullies, swear words, church, puberty, sexting, and Miley Cyrus. (Includes tips on Raising a Rock Star, which Alan has done, and the challenges faced by the parents of Britney, Lindsay Lohan, Chris Brown, etc.)

2013 Canada's Walk of Fame Awards - Alan Thicke
In 2013, Thicke received an award on Canada's Walk of Fame Tribute Show. In his acceptance speech, he thanked the hosts, including his on-screen wife, Joanna Kerns, saying, "We syndicated four children together." He held back tears as he announced that two of his sons were in the audience, and joked about how "the controversial one" was in Asia.
Thicke concluded his speech by expressing his love for his fellow Canadians, saying that his "grand reward" was "to visit every corner of our country," adding, "If there's a Canadian heart, it beats in me."
Alan Thicke - Funny or Die Clip