* Please note that while this speaker's specific speaking fee falls within the range posted above (for Continental U.S. based events), fees are subject to change. For current fee information or international event fees (which are generally 50-75% more than U.S based event fees), please contact us.
Top25 Speaker Voting

Adam Grant needs 25 vote(s) to make it into the Top 25 speakers on Speaking.com!
Speaker Booking Tip
"Tip: ask your speaker to do a book signing or attend a VIP meal with your guests. "
For Event Planners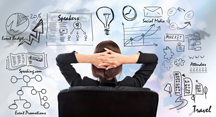 • Keynote Speaker Booking Toolkit.
• Booking a Celebrity Speaker.
• How to Find and Book the Right Speaker.
• Google+ Event Planning Forum.
• Tips for International Clients Booking U.S. Based Speakers.
Similar Speakers
David Rock

Dr. David Rock is the founder and CEO of the NeuroLeadership Group, a global consulting and training firm with operations in 12 countries. He also…

Jerry Porras

Success Built to Last Jerry Porras co-authored international business bestseller Built to Last: Successful Habits of Visionary Companies, with Jim Collins. The book is based…

Keith Yamashita

Consultant, author and speaker Keith Yamashita helps companies turn their struggling businesses around and rebrand themselves. He helps organizations become stronger by encouraging their members…

SPEAKING.com / Core Agency were very helpful in every way possible. I would recommend them to others and we will most definitely secure all our future conference speakers through them again.
Babcock & Wilcox
About SPEAKING.com
Established in 1994, we are exclusive agents for some of the world's leading experts, celebrities and professional speakers.
We offer event planners a fully staffed speaker logistics planning team, plus a personal SPEAKING.com Account Executive – a knowledgeable and trustworthy partner. We guarantee your satisfaction with your speaker and a smooth booking process.
Contact us today to book your favorite speaker.

"Adam Grant is, plain and simple, one of the finest social scientists of his generation. But if that weren't enough, he is also one of the most accessible. He is the rare scholar whose work combines academic rigor with real-world practicality—which is why I read everything he writes and why an ever-growing audience is benefiting from his insights.
Dan Pink, bestselling author of To Sell Is Human, Drive and A Whole New Mind
Adam Grant was fantastic and response from the audience was also extremely positive. We had good engagement from the audience during the Q&A, and the majority who responded to our post-event survey rated Adam as Excellent. All in all, I'd say it was a success.
Skillsoft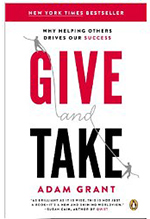 Give and Take: Why Helping Others Drives Our Success
A groundbreaking New York Times and Wall Street Journal bestseller that is captivating readers of Malcolm Gladwell, Daniel Pink, The Power of Habit, and Quiet.
For generations, we have focused on the individual drivers of success: passion, hard work, talent, and luck. But today, success is increasingly dependent on how we interact with others. It turns out that at work, most people operate as either takers, matchers, or givers. Whereas takers strive to get as much as possible from others and matchers aim to trade evenly, givers are the rare breed of people who contribute to others without expecting anything in return.
Using his own pioneering research as Wharton's youngest tenured professor, Grant shows that these styles have a surprising impact on success. Although some givers get exploited and burn out, the rest achieve extraordinary results across a wide range of industries. Combining cutting-edge evidence with captivating stories, this landmark book shows how one of America's best networkers developed his connections, why the creative genius behind one of the most popular shows in television history toiled for years in anonymity, how a basketball executive responsible for multiple draft busts transformed his franchise into a winner, and how we could have anticipated Enron's demise four years before the company collapsed—without ever looking at a single number.
Praised by bestselling authors such as Dan Pink, Tony Hsieh, Dan Ariely, Susan Cain, Dan Gilbert, Gretchen Rubin, Bob Sutton, David Allen, Robert Cialdini, and Seth Godin—as well as senior leaders from Google, McKinsey, Merck, Estée Lauder, Nike, and NASA—Give and Take highlights what effective networking, collaboration, influence, negotiation, and leadership skills have in common. This landmark book opens up an approach to success that has the power to transform not just individuals and groups, but entire organizations and communities.
Give and Take: A Revolutionary Approach to Success
In an interdependent world, interactions are a fundamental building block of success. To be effective in teams and service relationships, employees need skills in building networks, collaborating, talent management, persuasion and negotiating. Is there a consistent interaction style that drives both individual and organizational performance across these domains? Drawing on his new book, Give and Take: A Revolutionary Approach to Success (April 2013 from Viking), Adam introduces three fundamental styles of professional interaction, and demonstrates their profound implications for individual and collective performance. Adam reveals surprising insights about what it takes to develop productive interactions, and how leaders, managers and employees can use this knowledge to build richer networks, more innovative teams and more rewarding service relationships.
Innovation, Collaboration and Social Networks: Where Do Good Ideas Come From?
To innovate, organizations need access to fresh ideas for developing original, useful products, services, and process. Many of these ideas are hidden in our professional networks, but most of us fail to access them. We make the mistake of relying on close colleagues, whose knowledge and perspectives tend to be redundant with our own. Although we can gain more efficient access to novel information through our acquaintances, these weak ties pose a different challenge: it is difficult to trust them. Synthesizing new evidence and the habits of exceptional networkers and innovators, Adam examines strategies for managing this innovation paradox of balancing trust and novel information in our networks. Adam shows audiences how to identify the key contacts in their networks and leverage untapped opportunities for innovation.
To the Giver Go the Spoils: Driving Organizational Success by Building a Culture of Contributors
Culture is a foundation from which successful organizations are built—but many struggle in creating an environment in which employees can be both fulfilled and effective in their work. What exactly is it that makes some organizations paragons of growth and success, while others have a hard time getting the right things done? Based on a decade of research and consulting with Fortune 500 companies, Wharton professor and author Adam Grant argues that the highest-performing organizations are the ones that embrace an ethos where helpfulness—and sharing knowledge and skills across an organization—is at the core of organizational values and norms. In this dynamic presentation, Grant outlines the strategies and practices that leaders can use to build a culture of contributors, which in turn proven to increase revenue, efficiency, and stakeholder satisfaction.
The Power of Powerless Communication: The New Rules for Influencing Others
In the quest for influence, we often strike a dominant pose, relying on assertiveness and authority to overpower others. Although this approach can succeed in the short run, it often sacrifices the respect and trust of the very people we hope to influence in the long run. Is there a more sustainable path to influence? Using revolutionary studies and rich stories from inside companies, Adam highlights the power of powerless communication. He shows how counterintuitive techniques such as asking questions, expressing uncertainty, and talking tentatively can actually increase success in selling, persuading, and negotiating. Adam delivers actionable insights for leaders, managers and employees about how to be modest and influence people.
Building and Leading Effective Teams: How to Foster Teamwork and
We regularly rotate people in and out of teams, assuming that employees can carry their knowledge and skills with them. Yet pioneering evidence shows that in a wide range of settings, from surgery and software development to airline cockpits and professional basketball, when it comes to teamwork, the whole is usually less than the sum of the parts. Combining cutting-edge science and experience consulting with renowned organizations, Adam highlights pitfalls and best practices in designing and managing teams, outlining novel, practical steps for increasing team performance.

Adam Grant: A Bit of Give
TED Talk
Adam Grant: The Three Universal Styles of Interaction
Adam Grant: "Give and Take", Authors at Google